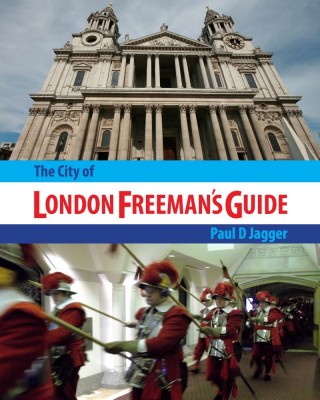 Many Londonphiles may not know there are actually two London's – there's Greater London which is governed under the Mayor of London (currently Boris Johnson) but there is also The City of London, which comprises of the approximately square mile spit of land in the center of London which has it's own mayor and form of government and has done its own thing for almost a thousand years.
The City of London is perhaps one of the oldest forms of government in the UK and it enjoys many special rights and privileges not enjoyed by any other governmental organization in Britain.  Much of what the City of London does is shrouded in mystery because it can be a rather impenetrable web of old laws, traditions and people.
Thankfully for keen Londonphiles who are curious about the City of London, there's a handy new guide out now called The City of London Freeman's Guide by Paul D Jagger. It's a mercifully small pocket book dedicated to all the strange laws and traditions in the City.
It explains in detail the various guilds, alderman, positions, etc that keep the city of London humming along. I've read other books about The City but this one is a great primer on picking up the basics for anyone that wants to learn. It's easy to get through and there are ample color photos. My only complaint about the book is that it can be rather technical and that might not totally interest the casual Londonphile. But I found it endlessly fascinating.
The book is written by a Freeman of the City of London. A freeman is someone who has been granted the 'freedom' of the City of London. A freeman has special rights and privileges in the City and you must be a freeman to run for political office in the City. Becoming a freeman has such interesting rights as the right to drive a flock of sheep across London bridge without paying a toll (something they still do regularly).
The book also has a handy reference in the back for further reading if you want to learn more about the subject. There's also an appendix on what you would be expected to wear in the unlikely event you were invited to a guild banquet in the City.
The book is available from Amazon on the Kindle and also in print from Blurb.co.uk.
[amazon-product]B00I5V3JGI[/amazon-product]