We're always on the lookout for unique and useful apps for travelers in London and we now have a new favorite: London Thru Cafes.
London Thru Cafes, developed by Tabtoo, is focused on London's vibrant cafe culture and features 70+ cafes (with continual updates) as well as hundreds of nearby tourist attractions in London.
The app features a unique and interesting user interface. Each listing has information on how to get there, maps, opening times, pictures and even reviews so you know whether to avoid a place or not.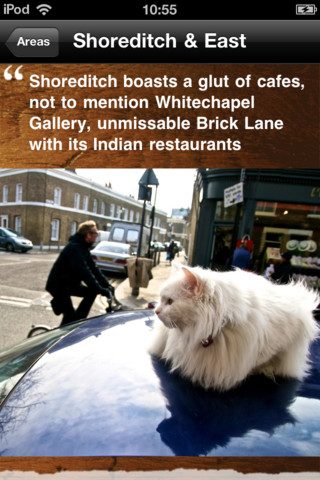 This app is a fountain of useful travel information in London. One of my favorite little features is that they indicate whether or not a place has WiFi – much needed in London.
All the information is stored in the app – so you don't have to worry about it eating up your data in international roaming mode. You can also update the app with the latest Cafes and keep up to date with London's cafe scene.
I would expect this app to cost a lot more than it does – but it's only £1.49 (in the UK) or $1.99 (in the USA). This is a must have app if you're planning a trip to London.
You can download the app now in the iTunes App Store: