London has always been popular with artists. It is also a major political city, so you will often see many political and social influences in the city's art scene. There are many renowned galleries like the Tate Modern, The National Gallery, Royal Academy of Arts, Hayward Gallery, Barbican, and others that showcase the best talents. The London street art is also vibrant, which is why there are so many street art tours in the city.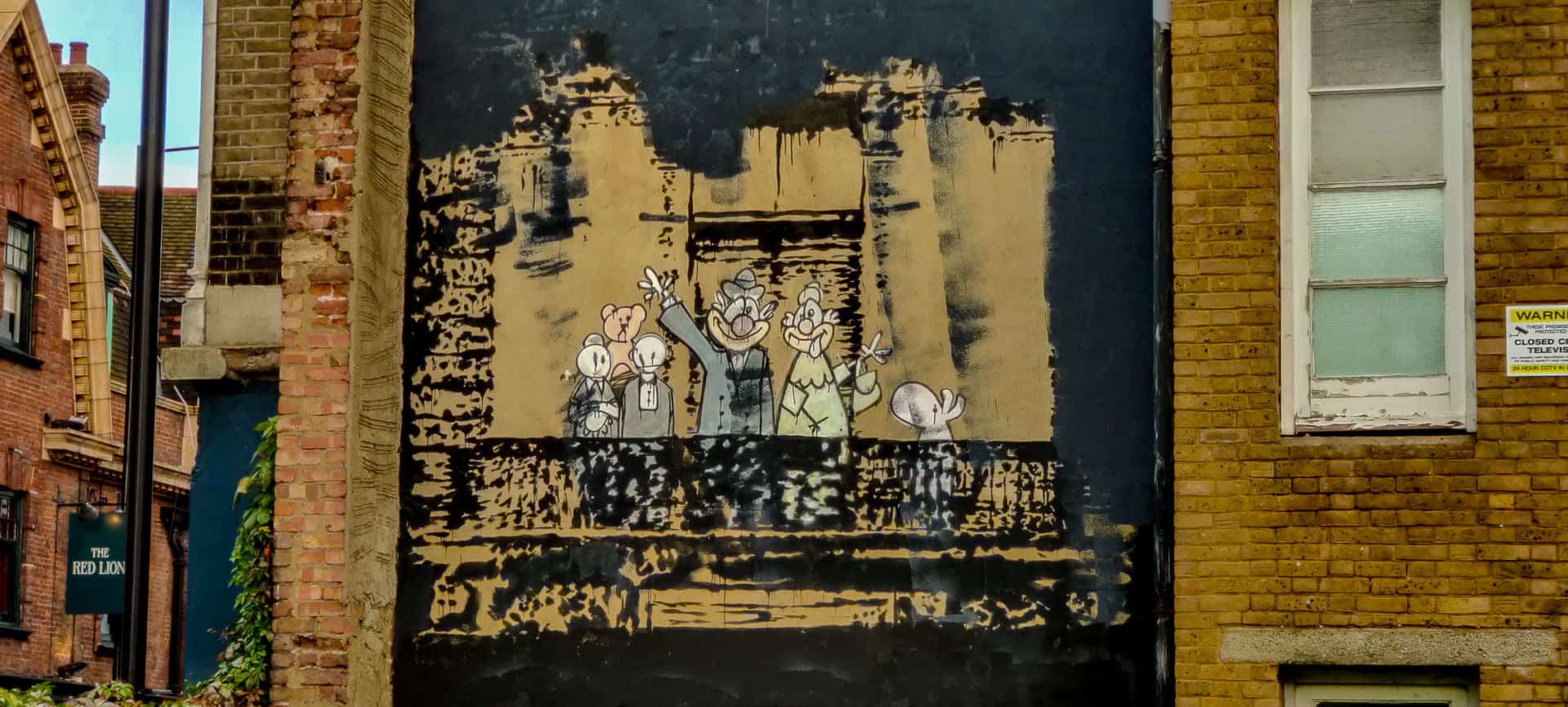 Can you see Banksy art in London? Banksy artwork first appeared in Bristol in the early 2000s. But now, you will find a lot of Banksy work if you go on a walking tour of London and will certainly fall in love with many of the street art pieces. Banksy art in London has, in fact, become so popular that it has become a kind of a subculture. The disruptive vision and political statements of Banksy have impacted many locals and people from around the world. The street art graffiti has provoked alternative viewpoints. It has also encouraged a revolution in the art world.
Who is Banksy?
Banksy is actually a pseudonymous for a Britain-based street artist, film director, and an activist. The person's real name and identity remains unknown even though the art graffiti has been around for a long time. However, in 2008, The Mail on Sunday came out with a report saying that Robin Gunningham is actually Banksy. However, this remains unconfirmed.
Banksy has worked in different street and wall art mediums and also in many styles. The work has broken down expectations and boundaries.
Banksy art combines graffiti with dark humor, in a distinct stenciling technique. The work often includes controversial images, which is one reason for its rapid spread. It grew out of the underground scene of Bristol, but now, you can see the work of this powerful graffiti artist on bridges and street walls. Banksy graffiti has become so popular now that you can now see the work in Paris, New York, and other places.
Where to Find the Art of Banksy in London 2023
There are many street art locations where you can see the work of this street artist. You will also find a Banksy London tour that will take you to these places. Here are some of our top locations for seeing the art of Banksy. Make sure you visit these best places –
Tooley Street – The Rat
This is one of the most staple Banksy pieces that you will find in many places. If you want to see it in a central location, then go to the underpass of London Bridge. It is just before the underpass. It is smaller than most works of the graffiti artist Banksy, but many believe this was one of the earliest works of the artist.
Rivington Street – His Masters Voice
You are sure to find cultural events online and offline that discuss graffiti, other forms of art, and the work of this artist. To understand Banksy better, see His Masters Voice, which is also one of his earliest works. It features a dog holding a bazooka at a gramophone. The artwork represents younger liberals hitting out their more conservative elders.
Portobello Road – Graffiti Painter
An art walking tour in London will also take you to Portobello Road. It is a famous street that also has a vintage market. Banksy artwork here shows his outlook towards art in general, so you will gain an insight.
Clipstone Street – Fitzrovia
This work reads… "If graffiti changed anything it would be illegal". The rat that has become famous stands on its hind legs. It is in one of the most affluent areas of London and packs a punch easily. If you are visiting London and want to see a different side of the city, then you should try finding Banksy here.
Chrisp Street – Phone Tap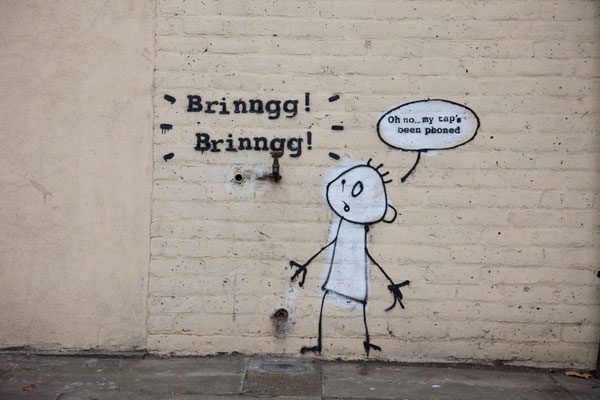 Chrisp Street is a market area. The work of this artist has put this area into the city's art scene. Walk past the River Lea and you will see this subtle mural that refers to the 2011 phone hacking scandal of Rupert Murdoch.
Bruton Lane – Shop Till You Drop
This art location is in the West End. You will find this mural on the side of an office building. It shows a woman falling while carrying a shopping trolley, which depicts the term "Shop till you drop". Be very careful on your art tour because it can be missed easily. You can buy the London Underground ticket to reach this place.
Essex Road – Very Little Help
This mural shows two children pledging their allegiance to a Tescos bag on a flagpole instead of a flag. This artwork in London adds a dash of humor.
Regents Canal – Graffiti Wallpaper
This is one of the easiest to reach art locations in the city. In the Camden neighborhood of London, it is close to Paddington and Regent's Park. Here, a painter is painting graffiti. The wall became a battleground between King Rob and Banksy as the two painters would often compete.
Basquiat (Location: Golden Lane, Barbican)
You will find this street art of Banksy on Golden Lane close to the Barbican. It is a tribute to the American artist Jean Michel Basquiat and appeared in 2017 when there was an exhibition of his work nearby. The tribute actually pays homage to an old Basquiat work named "Boy and Dog in a Johnnypump" where two policemen are seen frisking the central figure. You can a second smaller Banksy piece opposite to this mural.
London has an active art scene. You will see many art works from famous artists in museums like Tate Modern. But it would be a huge mistake to miss the London street art, especially the work of Banksy.