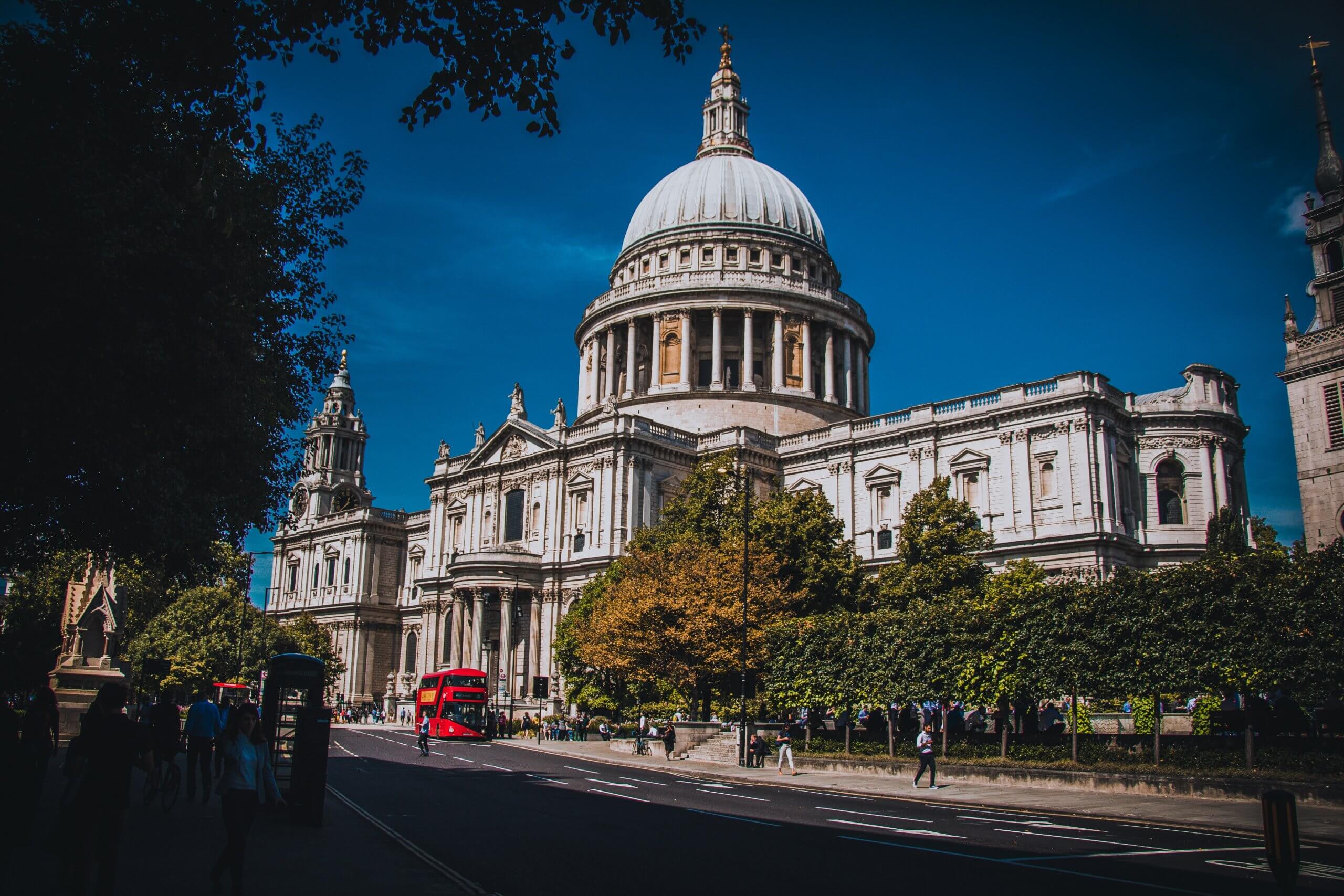 It's one of the UK's top attractions – but we bet there are tonnes of things that you might not know about St Paul's Cathedral!
It's a fascinating building, spanning back 348 years, with one of the world's largest cathedral domes.
So, here are all of the main facts about St Paul's Cathedral that you might not have heard before!
It has a long history dating back to the 7th century
While the building itself "only" dates back to 1711, there has actually been a church on the site (on Ludgate Hill) since 604 AD.
The original church was constructed to be dedicated to the Apostle Paul. Hence – St Paul's Cathedral!
It was originally made the home of the Bishop of East Saxon and was a wooden building.
It's been destroyed four times
As you might be able to guess – and as the people of London learned time and time again (notably in the Great Fire of London in 1666!) wood isn't generally a great material for building, especially not at a time when most heat and light sources are fire.
The original St Paul's Cathedral was destroyed by fire after only standing for a few decades and was then rebuilt from 675 AD to 685 AD.
This next Cathedral lasted a little longer, but when the Vikings invaded, they committed a lot of arson, and the second building burned down in 952 AD. It was rebuilt quickly – too quickly really, as it was soon burned down again!
The "Old St Paul's Cathedral" was built in 1087 AD, and a quire was also constructed. The cathedral was slowly built open, with a new Gothic quire in 1313 AD and a spire that made it the tallest church in Europe at the time (at 489 feet tall).
But Old St Paul's Cathedral fell into disrepair, particularly after it was struck by lightning in 1561. Then, in 1666, the Great Fire of London caused significant damage; so the decision was made to reconstruct it.
The building that we see today was planned meticulously
After the church was destroyed so much, the townspeople of London wanted to make sure they got it right!
Architect Christopher Wren was chosen to design the new Cathedral. He spent a whopping nine years going over the reconstruction to ensure that it was as sound as possible.
The building was finally completed on Christmas Day 1711, and it has stood the test of time since.
There have been modern renovations
Possibly with the building's history in mind, modern renovations of St Paul's Cathedral have taken place. At the end of the 20th century, a 15-year renovation programme began, which was completed in 2011.
It was bombed in World War Two
During the Blitz in World War Two, St Paul's Cathedral was bombed twice.
There was damage to the East End in October 1940, and another bomb exploded over the North Transept in 1941.
While these bombs did affect the cathedral, they fortunately weren't enough to damage it beyond repair.
The UK's first lottery took place at St Paul's Cathedral
It's a little-known fact that the drawing of the UK's first-ever lottery took place right here, at St Paul's Cathedral!
UK gambling regulations were very different in Tudor England – in fact, Henry VII passed a law stating that those from the lower class weren't allowed to gamble, as he thought it encouraged crime – nobility was still allowed to though!
However, his granddaughter Elizabeth I oversaw the first lottery in the UK, which was supposed to raise funds to repair the country's dilapidated harbours.
The drawing of this lottery took place in front of St Paul's Cathedral on 11th January 1569. In fact, every single lottery participant won a prize, which meant that the drawing of numbers actually took until May to be completed!
Its dome is the second largest in the world
St Paul's Cathedral's dome, which is 366 feet high, is the second-largest in the world.
It's beaten only by St Peter's Basilica in Vatican City in Rome!
St Paul's Cathedral also has a unique three-dome structure which makes it stand out over other Cathedrals in Europe and across the world.
It's the final resting place for quite a few famous British characters
Westminster Abbey is probably more famous for being a burial site for famous British people, but a fair few have been buried in St Paul's as well.
The first person to be buried here was Christopher Wren, the architect. Other notable characters like Lord Nelson, Arthur Wellesley, the 1st Duke of Wellington and Sir Alexander Fleming are buried there, and even more have memorials dedicated to them.
Conclusion
St Paul's Cathedral is one of London's most arresting buildings, but it's easy to visit without learning some of its most fascinating stories. Next time you visit, come equipped with this guide, and you'll see the attraction in a whole new light!