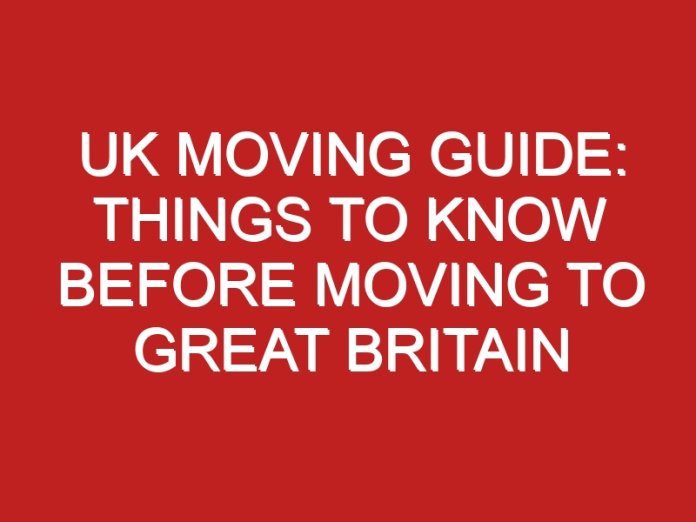 It is easy to see why so many people move to the UK when you consider the opportunities, culture, history and lifestyle (the weather not so much!). The UK has a lot going for it and it can be a great place to build a new life – this post will look at a few things to know before moving to Great Britain so that you can be prepared and get settled quickly once you arrive.
UK Culture
The UK is well-known for its culture and this is part of the charm. This includes a wicked sense of humour (that can take some getting used to) along with some of the best music, TV and film in the world. As such a diverse place, you will also find it to be incredibly multicultural and it should not be too hard to find your own community no matter where you are coming from.
UK Weather
The weather may not be great in the UK and you need to be prepared for unpredictability (as well as to have a lot of discussions about the weather). It can get very cold, wet and windy in the winter months while the summer can scorching (this summer was the joint hottest on record), but the weather can also change quickly and even on the same day. This is why you should always check the forecast and ensure that you have clothes for all conditions!
UK Jobs
One of the main reasons that people move to the UK is job opportunities. The UK has many thriving sectors and plenty of job opportunities for expats, especially in the major cities. If you do not have a job lined up, it is a good idea to meet with a recruitment agency that will be able to help you to find work.
UK Transport
Most people drive in the UK as this is the best way to get around. Therefore, you will want to obtain a UK driver's license and this can be a real game changer. You will want to find a good driving instructor as well as practice plenty in between lessons – just make sure that you have temporary learner driver insurance in place.
UK Healthcare
One of the greatest things about the UK is free healthcare in the form of the NHS.  You can get free appointments and treatments with the NHS but be warned that it is high in demand which means that wait times can be long.
UK Housing
In terms of housing, it can be tough in the UK with demand much higher than supply. This means that you need to be on the ball and flexible in where you are willing to live.
Hopefully, the information in this post will help you to get prepared for life in the UK and make the most out of everything available to you.