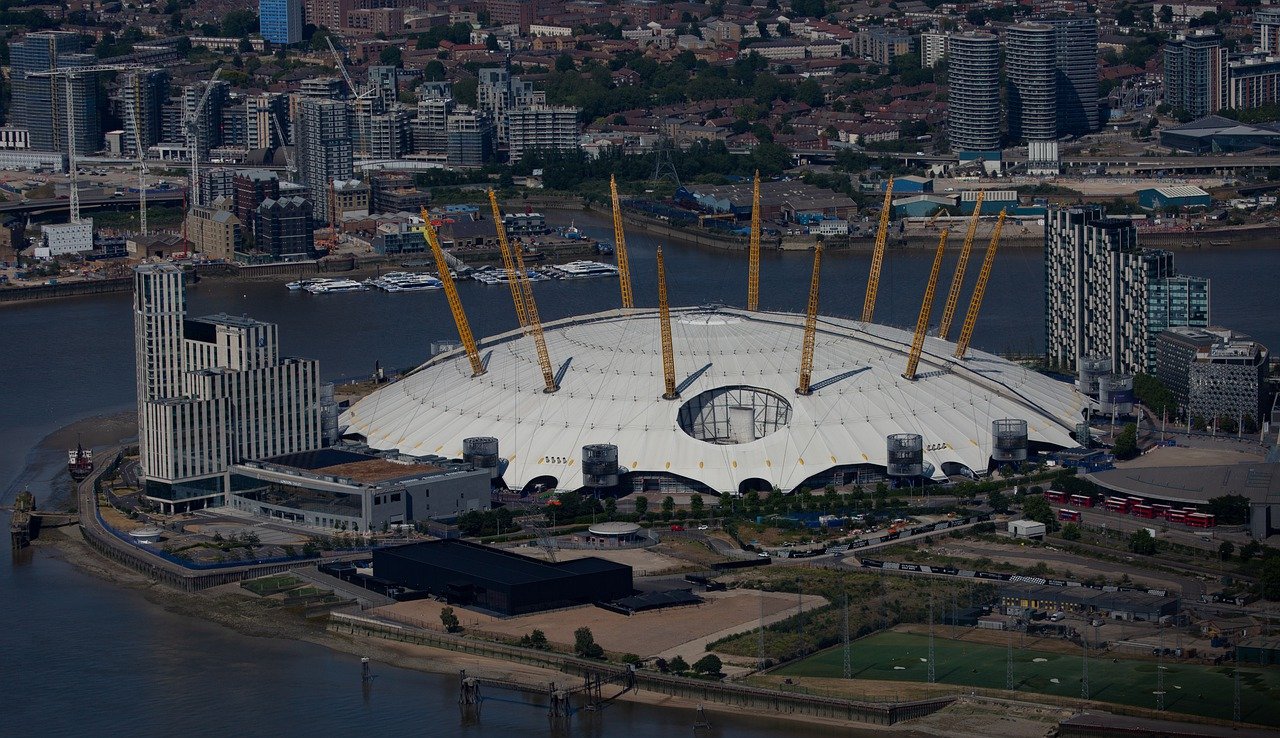 For sports enthusiasts in the UK and even worldwide, there are few more desirable cities to visit than London.
Whether you want to appreciate iconic venues that go back centuries, or state-of-the-art multi-purpose stadiums, London offers a range of options that span across a wide range of events.
There is high-quality action to take in all-year-round at some of the most renowned arenas on the planet, and we have narrowed it down to a top-five – all of which should be on your bucket list.
5) The O2 Arena 
Having opened in 2007, the O2 Arena is not only the busiest music arena in the world in terms of ticket sales, but it also plays host to a breadth of top sporting events.
Even though the ATP Finals' 12-year stint at the O2 came to an end in 2020, tennis fans in southeast London will still be able to see their favourite players in 2022 courtesy of the Laver Cup.
The sport that the O2 is most known for is boxing. Anthony Joshua won his maiden world title there, and there are multiple huge fight nights at the venue each year.
Darts, basketball, MMA, and several other sports can be watched at the O2 at various points throughout the calendar.
4) Lord's Cricket Ground
Whether you love cricket or find it mind-numbingly dull, Lord's – referred to as the Home of Cricket – is a ground that all sports enthusiasts simply need to make a trip to.
It is over 200 years old and has been the home of Marylebone Cricket Club since 1814 as well as that of Middlesex since 1877.
The MCC Museum is the oldest sports museum in the world, and its collection of memorabilia will have cricket enthusiasts purring and anyone who has any appreciation of general history will undoubtedly be impressed.
If you are able to take in a game, as well (preferably an England Test match), it is not an opportunity you should pass up.
3) Emirates Stadium
While Arsenal fans might miss their old stadium, Highbury, where they achieved a level of success that has since gone unmatched in north London, it cannot be denied that the Emirates is absolutely breathtaking.
The quality of the pitch itself wouldn't typically make a huge difference in terms of enhancing the experience, but with Arsenal, the slick turf and outstanding facilities combine to make this one of the most magnificent settings in all of football.
Getting in and amongst the loyal supporters is terrific, but if you do want to splash out on a hospitality package (which doesn't come cheap), that is a very worthwhile treat.
2) Wembley Stadium
Every kid growing up in England dreams of playing at Wembley, and in football, those opportunities are restricted mostly to domestic cup finals, playoff matches, and international encounters.
Tickets for England friendlies or lower league playoff games are fairly easy to come by, so everybody should get the chance to take in a match at the 90,000 seater stadium.
The NFL also pays a visit every year, and if a boxing fight is deemed too big for even the O2 Arena, Wembley has been the natural step up in years gone by.
1) All England Club, Wimbledon
It just doesn't get any more classy than Wimbledon. Nothing is more satisfying than watching the greatest players in the world showcase their remarkable skill and athleticism at The Championships.
For those unsuccessful in the annual ballots, the sheer desire to get into the grounds has resulted in fans camping out overnight to get into the queue for tickets to see the likes of Roger Federer, Rafael Nadal, Serena Williams, Novak Djokovic, and in the coming years, British superstar Emma Raducanu.
The teenager has many years left to amass more Grand Slam titles, but if you want to witness the others before they retire, then time is of the essence.
Raducanu is among the favourites to win the Ladies' Singles in 2022, while on the men's side, Djokovic is a very short price to retain his title with just about any bookmaker you'll find on top betting sites comparison platforms.