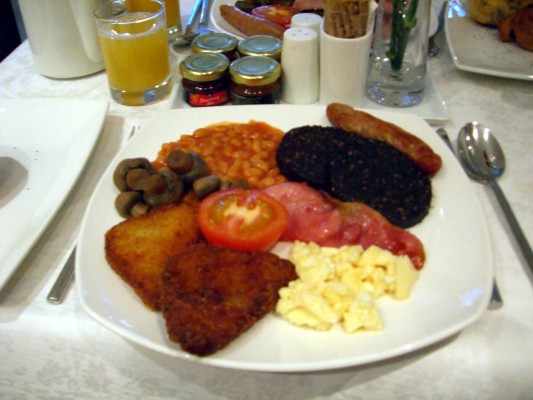 London is a gastronomic smorgasbord of delicious delicacies. The capital is full of amazing restaurants, hip cafés, and greasy spoon hangouts favoured by trendy young things and taxi drivers relaxing between shifts. Just about every world cuisine under the sun is represented somewhere in one of the capital's eateries, but when in London it would be churlish not to sample one or two of our wonderful British classics.
A Full English Breakfast
Top of the list has to be everyone's favourite: the full English breakfast, dripping with grease and guaranteed to restore equilibrium in your stomach after an evening spent partying in some of the city's top night spots. Cooking a full English breakfast to perfection takes great skill. The bacon needs to be crispy, the egg soft, and the fried bread crunchy. Other tasty added extras include sausages, fried tomatoes and mushrooms. Needless to say, a full English breakfast should be served up with a mug of tea so strong that the spoon stands up in it.
Pie and Mash
Pie and mash is a very English dish. Steak cooked with kidney or ale is the most traditional filling, but don't discount minced beef and even chicken and vegetable. You may come across some weird and wonderful fillings, but for a taste of England, do stick to the classics. The pastry crust should be crispy and the meat must fall apart on the fork. Pie is traditionally served with mashed potato and mushy peas—look out for takeaway pie and mash served up in popular London markets such as Old Spitalfields.
Fish and Chips
As a northerner, I am inclined to say that fish and chips is rarely worth eating 'down south', but if you have never before tried traditional English fish and chips served in newspaper and doused in salt and vinegar, you are definitely missing out. There are a few places in London that offer fish and chips cooked to perfection. Look out for cod or haddock deep-fried in a batter so light it melts in the mouth, served up with a generous helping of crunchy chips.
A Proper Roast Dinner with all the Trimmings
A roast dinner is traditional Sunday fare in many British homes. The type of meat served up may vary, but expect to see beef, lamb and pork on the menu. Beef is perhaps the most quintessentially 'British' choice for a proper Sunday roast, but lamb and pork are equally as delicious when cooked to perfection. Make sure you have roast potatoes, a good selection of seasonal vegetables, and if you are having roast beef, Yorkshire puddings are a must-have accompaniment (along with some tongue-tingling horse radish sauce).
Spotted Dick
Contrary to what you may be thinking, Spotted Dick is not a nasty personal affliction. Rather it is a delicious traditional British pudding made from suet sponge and dried fruit, typically raisins and currents. Brits eat Spotted Dick with custard and it is a warm and hearty pudding that is perfect for cold winter days. Think of Spotted Dick as 'comfort food' and you won't be too far wrong. But if the thought of eating dried currents and raisins sends you into a spin, order sticky toffee sponge pudding instead. It is a sweeter, but no less delicious alternative.
Eateries in the capital vary greatly in quality, so make sure you read restaurant reviews before you book a table. And if you prefer to have a picnic in the park, buy some nice locally produced snacks from food outlets such as Co-operative Food.