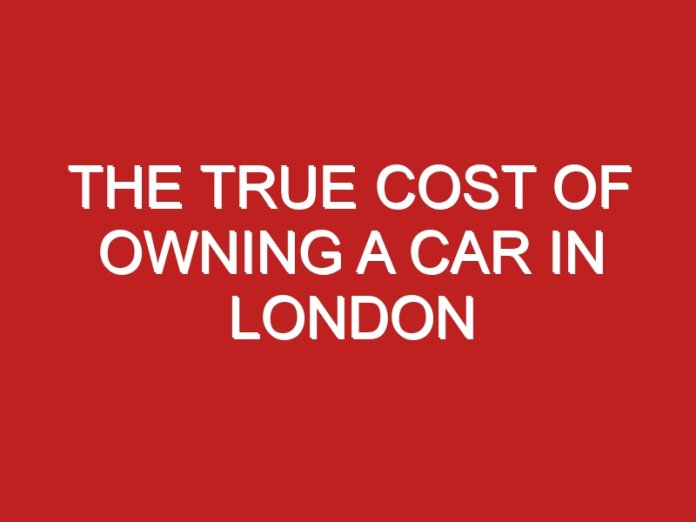 One of the first things that new arrivals in London notice is that barely anyone drives. When you have so many people packed into so little road-space, the congestion quickly becomes unbearable. And so most London commuters take the tube system, which, for all of its failings, certainly beats sitting in traffic.
Research by car-sharing network Zipcar put the cost of driving at £18.88 per hour, based on 182 hours spent behind the wheel each year. This amounts to £3,436 spread across the entire year, which is more than double the cost of a zone 1-3 London Travel card. The research found that the cost of car-ownership in London was marginally more than Paris (£18.55 per hour), and significant more than Barcelona and Madrid (which sit at £11.64 and £12.13 per hour respectively).
So exactly where are all of these costs coming from? Let's take a look.
Parking Spaces
If you own a car, then you'll need to find a place to park it. For many Londoners, that means renting out a space. Prices vary dramatically depending on where in the city you are, but some prestigious parts of Soho will charge several thousand pounds every year, sometimes to the point that renting a room works out cheaper than a parking space.
Fuel
London has recently become the most expensive place to buy fuel in the UK, but the difference is marginal, at just a few fractions of a penny per litre for both petrol and diesel. One thing that might tip the balance in favour of the capital is the availability of charge points, which make it easier to go electric and thereby slash emissions and reduce your road tax liability.
Congestion Charge
If you're driving through the congestion charge zone, then you'll have to pay a hefty £11.50 daily for the privilege. This is on top of an annual charge of £10 for registering for auto-pay (which slashes the cost marginally). If you live in the congestion charge zone, then you can apply for a 90% discount on the charge.
And the rest…
As well as all of these extra costs you'll find in London, you'll also have to deal with all of the problems that motorists everywhere need to contend with, like depreciation, insurance, the MOT and general maintenance.
With all of this said, owning your own car in London can grant you a freedom that most of your fellow citizens won't have access to. Buy a new Vauxhall from Peter Vardy and you'll be able to get around without breaking the bank.
Another quick note is not to forget the value of your old car. You can use a company such as Junk That Car to buy your car here is the site.  That way you can put money towards your new purchase. Otherwise, you might be stuck with two cars and paying for storage or parking can add up.