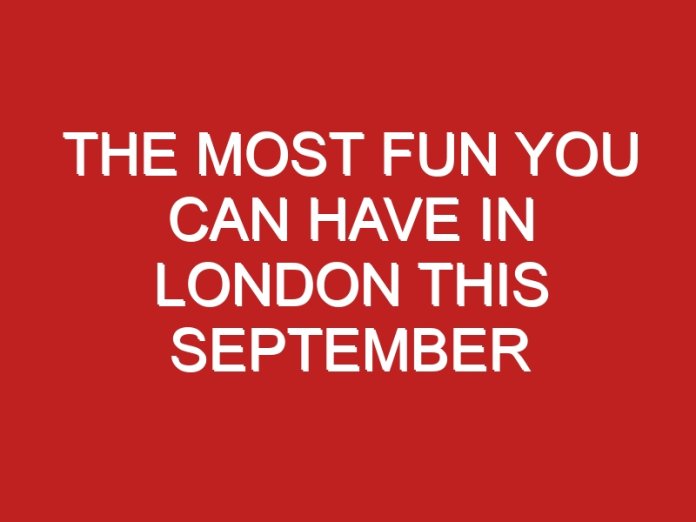 London is one of the buzziest cities in the world, there's always something going on somewhere. However, amidst all the noise, it can be tricky to find the events that really speak to you. If you feel like you're being pulled in all kinds of different directions, then take a pause and select just two or three events that you really want to attend each month. We've rounded up some of September's highlights for you right here, to get your list of must-do's kickstarted.
Challenge Yourself at the Hippodrome
There is always something going on at the Hippodrome, usually, Magic Mike or Burlesque Idol, which it has to be said are really great fun. However, this September something a little different is coming to the Hippodrome, PokerStars is bringing its September Super Series to the lower ground floor. This poker tournament promises to be the biggest in the Super Series tour, so it's one that players will be sure to want to sign up for. There are games at a variety of buy-in prices, starting at £150, whilst this might seem pricey, the player who has what it takes to make it to the top will win a spot at the table for the main event. If you're not a poker player, then fair enough, this event isn't for you, but if you are then it's a brilliant opportunity to play against some of the best in the business.
Explore The River Thames
Most Londoners will remark on the beauty of a bridge viewed from afar, will enjoy the colourful beauty of narrowboats lining the canal, or have their favourite riverside pub, but how many really pay attention to the river? The Thames Festival Trust wants to change all that and they're really kicking things up a gear in September. For the whole month, there'll be a wild celebration of everything to do with the Thames. Expect art installations, guided walks, concerts and more. With 99 events planned, it was difficult to sift through and find some of the most fascinating, but we've managed to find perhaps the most worthy cause. Sing For Water will bring together 500 singers who'll perform some incredibly moving songs, all in aid of the charity Water Aid, which aims to bring clean water to those in need. This event will take place on the 18th of September and will be free to watch, but donations will be gratefully received. Catch them at The Scoop on the banks of the Thames.
Unleash the Beauty of Opera
If the incredible choirs at the Sing For Water event have wet your whistle for more beautiful voices then this next event will not disappoint. Just sneaking into September with his first date on the 30th and his second date on the 1st of October, Andrea Bocelli is making his way to the O2 arena to dazzle fans with his incredible voice. This series of shows promises to focus heavily on his operatic abilities in the first half, before livening things up with his biggest hits after the interlude. Any Bocelli fan would be delighted to be bought a ticket for this event, but even those who haven't listened to Bocelli before will be amazed at his voice. He boasts the title of being the best-selling classical artist of all time in the US, so the fact he's coming to London is something to get seriously excited about.
Marvel at World Class Design
Just taking a stroll around the center of London is sure to be awe-inspiring thanks to all of the incredible historic buildings. However, if you like your design a little more contemporary then the London Design Festival is where you need to be. Running from the 17th until the 25th of September, the festival will allow designers from all walks of life to exhibit their works all around London. The really brilliant thing about this festival is that it is totally free for everybody to visit, whether you're from industry, or just interested in having a look around. There are some bold new designers exhibiting exciting works this year, so it's really something not to miss out on.