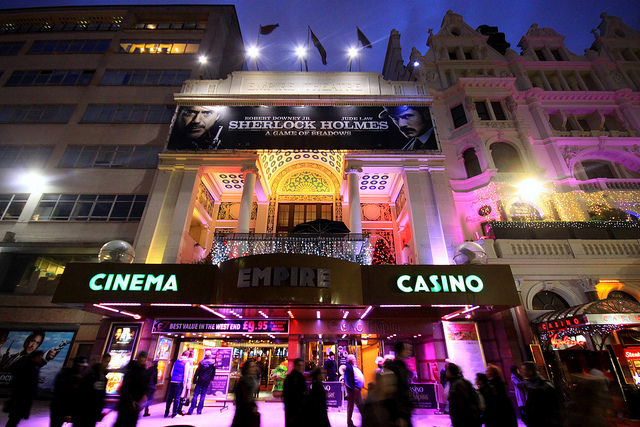 It goes without saying that the gambling scene in London is a reflection of the United Kingdom's overall gambling scene which boasts of some very avid gambling fans. The country has nearly all forms of online gambling available and each type has legions of followers who play the games every single day. As such, even though there are certain gambling hotspots such as London, the activities are considered to be a national phenomenon thanks to the impacts they have had on the economic and social aspects of the United Kingdom.
How It All Started
London is mostly known for its rich cultural tapestry but these are not the only highlights of the city. Gambling is one of the most overlooked aspects of the city even though such activities can be traced to as far back as the Romanian period. Even though it was only commercialized in the course of the 18th century, gambling has always been an integral part of British culture especially because it serves not just as a commercial activity but also a leisure endeavor that people find joy in being a part of.
With the commercialization of the activity, there was a need for regulation since it began to be associated with crime and other vices. Besides, there was also the need to boost tax revenues and commercialized gambling was one of the best avenues to achieve this. As such, gambling officially became a regulated activity in the 20th century. A number of fully-fledged casinos were opened in the decades that followed, setting London up as one of the premier gambling destinations not just in the United Kingdom but Europe as a whole.
Modern Gambling in London
Unsurprisingly, the gambling scene in the beautiful city of London picked up very well and this can be seen to this very day. Gambling in the United Kingdom is a multi-faceted activity that encompassed a vast range of products and services. These include sports betting, slot machines, fixed betting terminals, and online gambling among others. It is truly exceptional. There is so much to the modern gambling industry and this is partly because of how tremendously it has evolved to become a multi-billion-pounds industry.
The Rise of Online Gambling
Being one of the most popular gambling hubs in the United Kingdom, London hosts a number of online gambling operators. Moreover, a significant chunk of the city's population enjoys gambling online through their computers, smartphones or tablets. There has been a steady but solid growth in the popularity of online gambling activities across the planet with the United Kingdom posting some of the highest growth rates. Now, you can play at the best UK casino sites from wherever you may be, something that would have seemed almost impossible a few decades ago.
The online gambling scene in London is just as robust as one would expect from a city that has gambling activities of almost all kinds since ancient times. Not only has it helped the gambling operator to boost their revenues by offering round the clock online gambling services but it has helped in boosting tax revenue.
But this is not the only way that the internet has impacted the world of gambling. There have been improvements in other sectors of the industry especially with regards to advertising and marketing both of which are key to the commercial aspects of the country's gambling scene.
Emphasis on Consumer Protection
Regulation has been a huge part of the United Kingdom's gambling industry, or any gambling industry for that matter and this is simply because of just how vital regulators are for any industry. As more and more advancements continue to come up, there are more and more problems that continue to crop up – these need to be addressed to ensure that the customers, the general public, the country, and the gambling operators all benefit from a fair and safe gambling environment.
One of the biggest issues in that regard is problem gambling which has escalated even further thanks to technological advancements and, of course, the internet. That said, it is almost impossible to dismiss the fact that consumer protection is important now more than ever. Fortunately, the United Kingdom Gambling Commission has been taking the issue very seriously by tightening up regulations and issuing new guidelines to gaming companies. While it is certainly not where we hope to see it, both the United Kingdom's and London's gambling scenes are set to become even safer and much fairer thanks to better regulatory policies.
There is also the issue of responsible advertising which is now being given quite a lot of attention. Gambling activities are still reserved to people of the right age and of the right mind which means that anyone who does not fall in those two categories should not be targeted by advertisements related to gambling. Things have certainly gotten better in this regard but there is, without a doubt, room for improvement.
Globalization of Gambling: London's Role
While the core focus of this article is to focus on the gambling scene in London, is it safe to say that London pretty much represents one of the next steps in the evolution of the global gambling industry. Not only does it have some of the best gambling companies, but it is also leading when it comes to being a benchmark. Online gambling continues to break barriers and this is a very exciting idea for both the consumers, the city and the gambling companies.
Companies in the United Kingdom have already extended their footprints to international markets and foreign companies have been able to offer their gambling services in the country. In fact, London has hosted a number of high-profile international gambling tournaments and this has helped the city and its businesses bring in billions in revenue – these businesses include the gambling venues themselves, accommodation facilities and transportation among other things.
London is strategically positioned to make a huge impact on the future of gambling all across the globe. This can play out in a number of ways, but it will definitely be exciting to witness it.