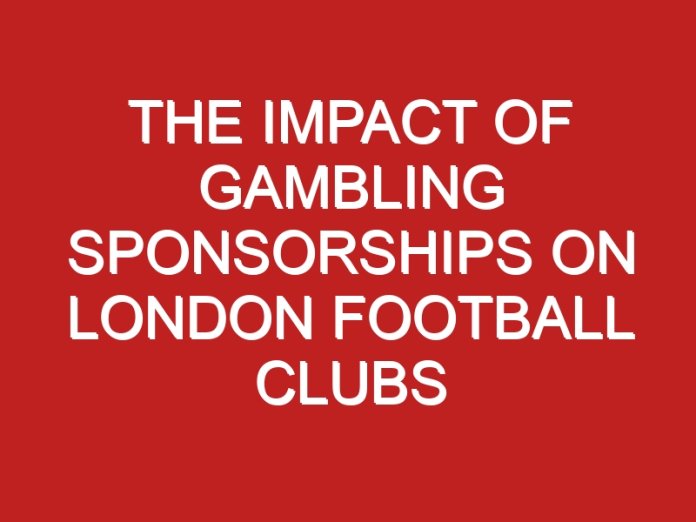 Football shirt sponsorship has been part of football in England for many years. The first club to feature a sponsor on their shirt was Coventry City in 1974 and Derby County were the first club to secure an official sponsorship deal but the sponsor was only used once in a photoshoot.
Come 1987, all English football league clubs had a sponsor on the front of their shirt, including all the teams based in London. In the modern game, there are multiple sponsorship deals in place with football clubs, some of which can be seen on match days and others which are behind the scenes.
In the 2023/24 English Premier League season, there are seven football clubs based in the Greater London area and Luton Town is close to the capital city. What sponsorship deals do these clubs have in place and what is the impact of gambling sponsorships on London football clubs?
London Clubs in the 2023/24 Season
At the time of writing, Arsenal, Brentford, Chelsea, Crystal Palace, Fulham, Tottenham Hotspur, and West Ham United are the Greater London clubs competing in the Premier League.
Of those seven teams, three currently have a shirt sponsorship deal with an online gambling company. Brentford have a deal with Hollywoodbets, Fulham are sponsored by SBOTOP, and West Ham United's shirt is sponsored by Betway. Many of these operators offer enticing bonuses for players to join, such as 120 free spins on sign up, and free deposit plays and the gambling companies know their name is going to be seen by millions of people when displayed on a London football shirt.
However, Premier League clubs have agreed to end gambling shirt sponsorship deals for the front of shirts by the end of the 2025/26 season. The ban does not extend to other parts of the shirt, such as the sleeve.
Gambling brands can also be advertised using the boards surrounding the pitch and in other areas of the stadium. Some London Premier League clubs, such as Crystal Palace, have partnerships with trading platforms, which can lead to losses like gambling. These are commonplace, with some clubs opting to have an official betting partner.
Ivan Toney Ban
Brentford player, Ivan Toney, has been banned from playing football for eight months having placed bets on football matches.
The Football Association wanted to hand Toney a fifteen month ban from football because he attempted to hide his betting but it was reduced when the player was diagnosed with a gambling problem. The manager of Brentford, Thomas Frank, said "Football and gambling's relationship needs a review. We got a massive reminder. Do we do enough to educate our players? The authorities have a massive task to make sure we do this much better."
Toney's addiction to gambling can be seen as a negative impact of gambling sponsorship in football. Brentford have a gambling sponsor on the front of their shirt yet a player is being punished for participating in an activity that has a partnership with his London based club. Many onlookers believe Toney has been treated unfairly by the FA and that clubs need to do more to educate players on the potential pitfalls of gambling.
Top level football players, especially in London, earn a lot of money and are restricted to what they can do in their free time based on their commitments to their football clubs. That can lead to some players gambling and because they earn a lot of money, the sums being bet can seem astronomical to regular people.
Financial Dependency on Gambling Sponsorship
There are many football clubs in London who play below the Premier League and such has been the impact of gambling sponsorships on these teams, they may struggle to survive if a complete ban was put in place by the FA.
There is no other industry that is willing to step in and make the same financial commitment clubs and leagues are receiving from the gambling companies and there is the potential for some London football clubs to fold if they cannot replace the money they receive from gambling sponsorship deals. The English Football League has said if a complete ban was placed on gambling sponsorship, teams would lose £40 million per year. That is a significant amount of money to replace and running costs for clubs based in London are higher than many other parts of the UK.
It could lead to clubs having to raise ticket prices and that would come as a huge disappointment to fans. Gambling sponsorship has had a massive financial impact on London football clubs and they may not be able to cope without the current deals that are in place.