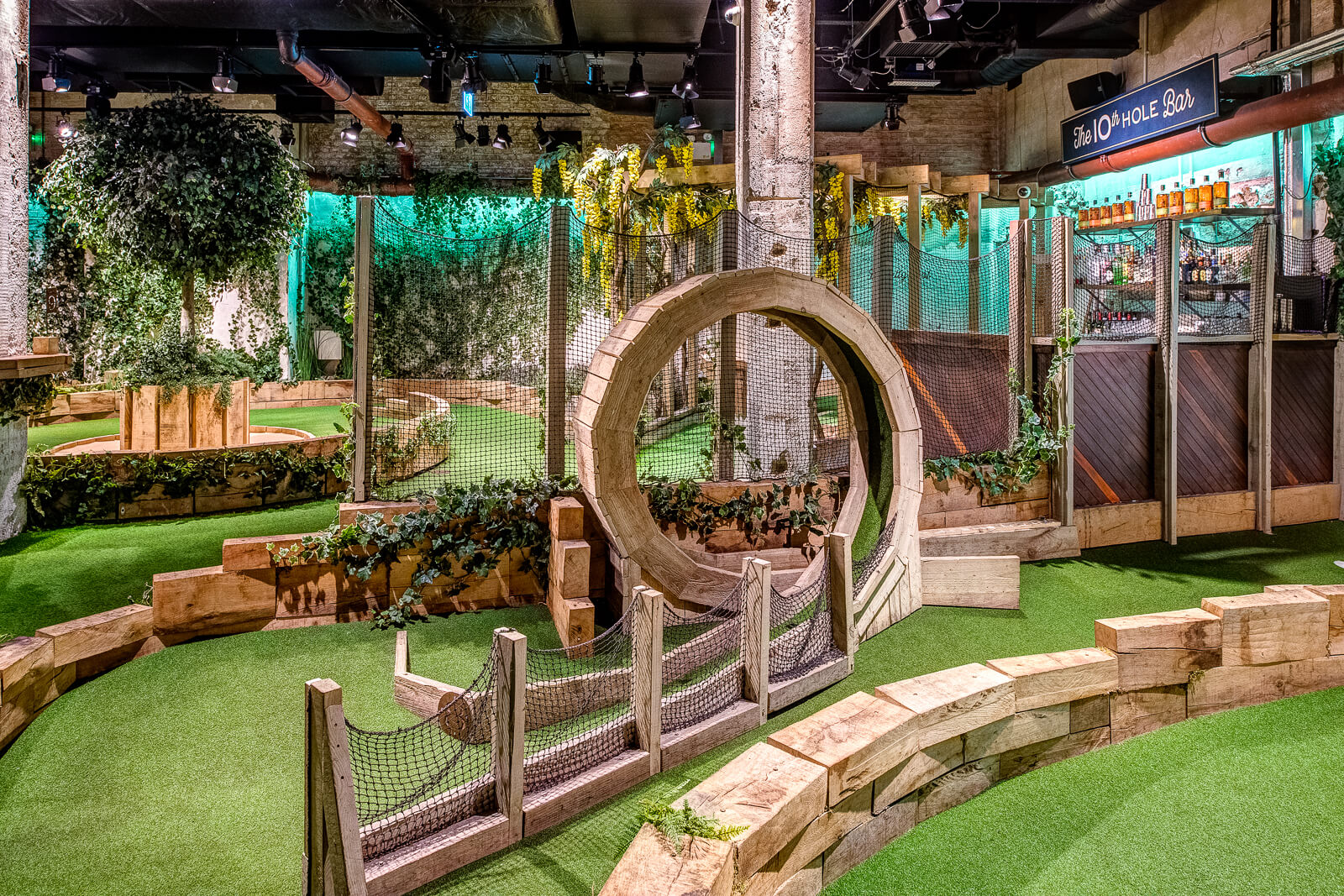 The Swingers 'golf club is one place to have utmost fun when in London. Right in the heart of the city, this gorgeous place is the go-to location for anyone who wants a crazy 1920s themed golfing experience. This makes it a unique place with the incredible 16000 feet golf course stretch for ultimate enjoyment and competitive socialising.
The idea was to have a place with the hipster touch for the millennials to have fun. The founders had a way of blending this high-end theatrical space into a ridiculous yet perfect space for golf. The inspiration to have a 1920s Tanqueray golf club in Central London must have been a success.
1920s Swingers Theme
This golfing club is set on the ambience of the 1920s English Rivera, the details that make up the place can take you back in the time of glamorous eras. The golf courses are laid out for you to emphasise on the theme.
Swingers' is a 1920s country club that has the British Seaside style with lush foliage. The serene environment and the epic designs make the place cozy and classy to spend time at. Besides, the top notch furnishing with the 1920s set touch give the venue a luxury old-school type of vibe.
The large stretch of foliage, bars for the unlimited drinks, food joints for street desserts and the competitive games make it an exciting fantasy.
Fun
Swingers' golfing club gives room to reserve by booking your space. A 1920s golf themed place is where all the fun is, from the rounds on the green to the splendid mixologists at the bars.
Games
Swingers' is a place of buzzing and cool activities. You can be sipping a sensational cocktail while playing golf l. This combo of booze and game makes Swingers a fun venue. Other than mini golf, it is a place that can shift your usual to a totally unique experience.
Design
The venue takes after the 1920s British country clubs model with extensive spaces of nine-hole courses for golfing. The indoor mini golf course is next to the bars and food stalls. Enjoy your night with your mates playing a tournament. Additionally, the founders' choice of the contemporary and old combine to give swingers an immersive atmosphere for a good experience.
Experience
If you want to have a lifetime experience, the crazy golf, tempting food and booze are exactly what you need. The quality hospitality and services at your reserved area make it luxurious. The staff dress beautifully and coordinate excellently.
Furthermore, the music from the bars is a tonic after a long day, you can play darts as you enjoy some margarita. This premium venue incorporates everything that meets your expectations.
Conclusion
The 1920s theme flashbacks at Swingers' golf club are worth it. Prep for your golf game with booze at your convenience.