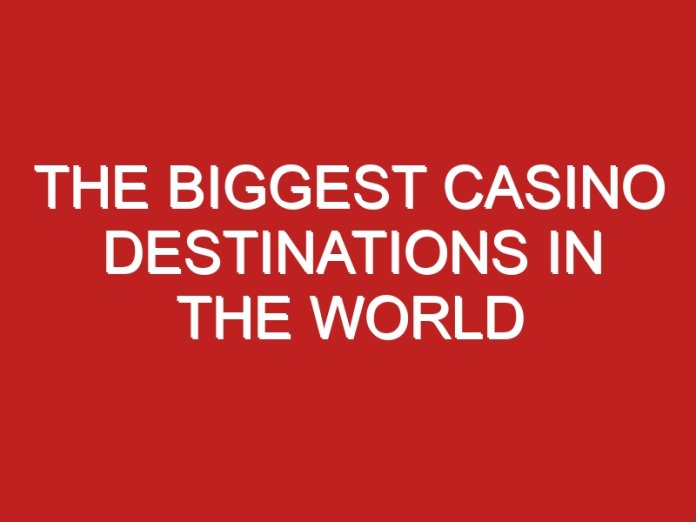 Online casinos come with many benefits, but for a truly immersive gambling experience, you simply need to try a land-based venue. Every country where gambling is legal plays host to several stellar casinos; however, some regions stand out more than others. The Hippodrome, Crockfords and Empire Casino make up some of the best UK casinos, but what about elsewhere?
Las Vegas
There are around 30 casinos on the Las Vegas Strip, 60+ in the immediate area, and a total of 232 (on the 1st of January 2021) in Clark County, as recorded by the Nevada State Gaming Control Board. It's a little surprising with numbers like these; Las Vegas remains the Mecca of gambling worldwide.
The MGM Grand, Bellagio, Mirage, Wynn, and Caesars Palace are just a few of the icons of this city. There are multiple locations with 2,000+ slot machines and the floor space at some of these venues is – like all things in the United States – huge! All of this action generates close to $800 million a month in gambling revenues for Las Vegas alone, with the statewide revenue topping $1.36 billion in July 2021.
London
Although it's one of the smaller 21st-century cities, London is fast becoming one the best places to visit for a gambling weekend and is home to the best UK casinos. There are some highly rated casinos in London, and you can combine a number of activities in the capital with a visit to the casino, such as London's Famous fashion week in the iconic Leicester Square. London's wealthy west end is home to casinos offering private rooms for high rollers and Chinatown is another location in the city where you will find a buzzing nightlife. Genting Casino, Hippodrome Casino, Palm Beach Casino, and Aspinall's are all worth a visit when in London. You could even combine the viewing of a film at the famous cinema in Leicester Square with a visit to the casinos to complete a memorable stay.
Monaco
For the super-rich who like to gamble, there really is only one location on their GPS, and that's Monaco – or Monte Carlo – to be more specific. Monaco is very likely the world's first gambling resort. There are only four casinos within the sovereign city-state: Sun Casino, Monte Carlo Bay Casino, Casino Cafe de Paris, and the world-famous Casino de Monte Carlo.
Yet, before packing your suitcase, you can't simply roll up to these casinos ready to play. The Casino de Monte Carlo, for instance, is invite-only; unless you're world famous, then exceptions can be made. Monaco is ultra-glamorous, and the whole atmosphere oozes sophistication, class, and money – lots of money.
Macau
Macau has the nickname 'Las Vegas of Asia', but some might say that this is doing this autonomous region on the Pearl Delta River a disservice. More money is gambled in Macau than anywhere else in the world. To offer some context, prior to the coronavirus, the gross gaming revenue for Las Vegas was $6.4 billion compared to $28.04 billion in Macau. In fact, the casino industry paid nearly $13 billion in taxes to the city, which is double the revenue of Vegas by itself.
There are around 40 casinos in Macau, with the highlight being the Venetian Casino Resort. This is the world's largest casino, where inside, you'll see gondoliers floating up and down purpose-built canals, shopping malls, over 600 gaming tables, 1750+ slots, and a 3,000-room hotel. The Venetian is completely over the top, but that just adds to its appeal. Other top destinations in Macau are City of Dreams, Sands Macau, Grand Lisboa and Wynn Macau.
Bahamas
The Bahamas may not be the first place that springs to mind when thinking of the world's best gambling hotspots, but it has a thriving casino industry, particularly in Nassau and Paradise Island. Being so close to the United States, it's a popular destination for Americans who also want to soak up some sun on the white sandy beaches.
Baha Mar Casino is the largest casino in the Caribbean with more than 1,000 slot machines and 18 individual table games. What makes the Baha Mar and numerous other casinos in the Bahamas a unique gambling hotspot is that the venues boast floor to ceiling glass windows offering exquisite views of the sparkling turquoise seas around the islands. This goes against the grain when compared to Las Vegas because you'll struggle to find a single window in some of the venues on the Strip.