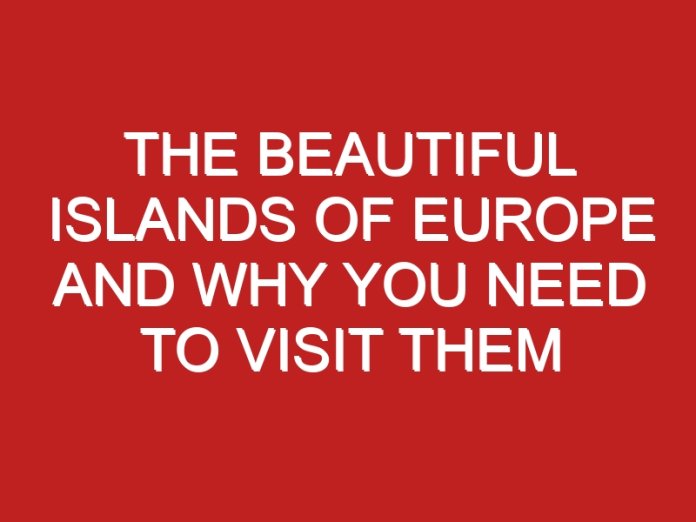 Have you been thinking about a European vacation? If so, why not consider one of the stunning islands that dot the continent? From Greece to Malta to Iceland, there are plenty of idyllic destinations. And each one has its own unique charm and appeal. Here are a few reasons to add an island getaway to your travel plans.
Cyprus
Cyprus is an idyllic Mediterranean island with so much to offer. This little slice of paradise abounds in breathtaking beaches, charming villages, and energetic cities. Whether you seek solace by visiting the Salamis Ruins or adventure in the Troodos Mountains, Cyprus has something to tantalize all your senses. And what's even more impressive is that it's only a short flight away from some of Europe's biggest and best cities. Need to spring into action? Hit the streets of bustling cities for mind-blowing cuisine, unique shopping experiences, and exciting nightlife. Alternatively, you can enjoy a leisurely beach day next to the azure sea, followed by an evening of exploring old-world architecture in rustic hillside towns. 
Malta
This island paradise has a lot to offer, from its unique culture and fascinating history to its crystal-clear waters. The entire archipelago has a rich tapestry of architectural styles, including the iconic 16th-century capital city, Valletta. Meanwhile, the beaches are pristine, and the marine life is mesmerizingly diverse. And with several UNESCO World Heritage sites to explore, there's never a shortage of things to do on the island—from enjoying local seafood restaurants to strolling through ancient towns. Whether you're after relaxation or adventure, Malta will amaze and enchant you.
Sicily
Sicily is an exceptional destination that's like no other place on earth. With its lush, verdant hills and snow-capped Mt. Etna volcano towering majestically over the city of Catania, it's easy to see why visitors linger here, entranced by the centuries-old towns with their cobblestone streets and stunning views. The culture is vibrant, with thriving markets full of seafood and regional fruits and vegetables, eccentric Sicilian music, fire-dancing performances during religious ceremonies, and exquisite Italian cuisine in all its forms. Sicilians are proud people who love celebrating life; they embrace strangers and welcome everyone. Whether you're looking for adventure, art, or a different way of life that nurtures the soul, Sicily has something for everyone.
Sardinia
Sinking your toes in the powder-fine sand of Sardinia's beaches and feeling the warmth of its crystal clear waters is a sensation that will make you never want to leave. Enchanting limestone cliffs, lush valleys, rolling hills, and secluded coves—Sardinia is a paradise for nature lovers. Away from the beauty of its pristine environment, its local cuisine is an epicurean delight; think fresh seafood served with tomatoes, olives, and flavorful cheese from sheep-herding traditions on the island. Smiling faces and cheerful locals are delighted at welcoming visitors here. Their contagious zest for life further complements this stunning getaway island.
Corsica
Corsica could be your ideal spot if you're looking for a vacation destination that combines the best of both worlds. This stunning island is rich in Italian influence and culture off the French Mediterranean coast, making it a must-visit destination. With picturesque beaches, fascinating historical attractions, and musically-infused traditions to explore, while sipping on local wines and scents of herbs wafting in the breeze, Corsica has something unique and exciting to offer every traveler. For an unforgettable holiday experience, look no further than this charming French Island.
Crete
One of the most diverse Greek islands, Crete is an exciting place to explore. It's a land of many wonders, from sandy beaches to dramatic mountains, lush olive groves, to winding gorges. Though small, it packs a lot into its landscape: for example, the Heraklion Archaeological Museum offers insight into the long and complex history of the island. At the same time, Santorini National Airport gives travelers easy access to amazing natural sites like Knossos or Samaria Gorge. If you're looking for an unforgettable adventure in Greece, you won't go wrong with a visit to Crete – its array of attractions has something for everyone.
The Mediterranean is a region of beauty, culture, and adventure. But, as illustrated by these six islands, something unique about each one should be explored in its own right. If a vacation to this storied cultural center is on the horizon, visitors have multiple options that all fulfill their own specific dreams. Whether relaxing on picturesque beaches in Malta or exploring the historical sites of Crete, the Mediterranean offers an unforgettable experience no matter where you choose. Whether your choice is the Cradle of Civilization or the playground for the gods, embarking on a journey to the Mediterranean will leave you with happy memories that last a lifetime.