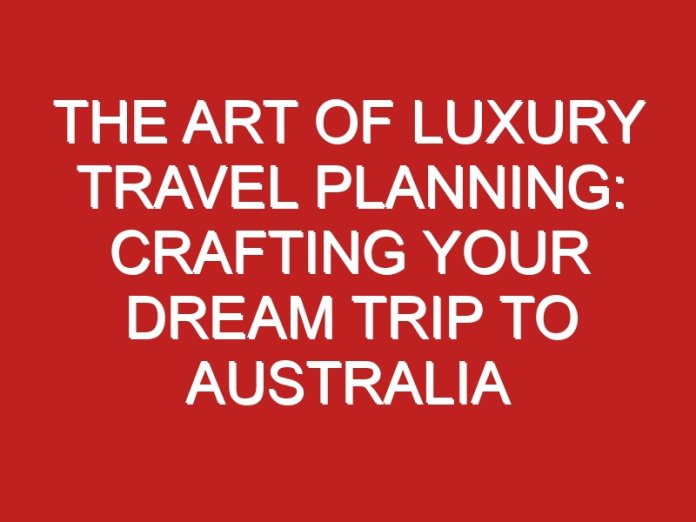 Luxury travelers yearning for extraordinary experiences often find Australia to be a dream destination. Its varied landscapes, lively cities, and exceptional wildlife offer an unparalleled adventure. To curate the ideal luxury trip in Australia, one must engage in careful planning, meticulous attention to detail, and a profound admiration for the nation's awe-inspiring natural splendor and cultural opulence.
1. Setting Your Travel Goals
Before embarking on your luxury journey to Australia, it's essential to define your travel goals and preferences. Consider the following:
Travel Dates: Decide when you'd like to visit Australia, taking into account the best seasons for your desired experiences.

Budget: Determine your budget for the trip, including accommodations, activities, dining, and transportation.

Interests: Identify your interests, whether it's wildlife encounters, wine tasting, outdoor adventures, or cultural exploration.

Travel Companions: Consider whether you'll be traveling solo, with a partner, family, or a group, as this will impact your itinerary.
2. Crafting Your Itinerary
Australia offers a vast array of experiences, from exploring the Great Barrier Reef to wine tasting in the Barossa Valley. 
Start with iconic cities like Sydney, Melbourne, and Brisbane. Explore their cultural attractions, dine at top restaurants, and stay in luxury hotels.
Plan wildlife adventures, such as visiting Kangaroo Island, swimming with dolphins, or spotting unique Australian animals like kangaroos and koalas.
For outdoor enthusiasts, include activities like hiking in the Blue Mountains, snorkeling in the Great Barrier Reef, or exploring the Outback.
Australia boasts world-renowned wine regions like Margaret River and the Yarra Valley. Include wine tours and fine dining experiences in your itinerary.
Research and book luxury accommodations, such as boutique hotels, lodges, or beachfront resorts, for an indulgent stay.
Immerse yourself in Aboriginal culture, art, and history by visiting cultural centers or attending indigenous performances.
3. Working with a Travel Advisor
Consider enlisting the services of a luxury travel advisor who specializes in Australia. They can provide invaluable insights, access to exclusive experiences, and seamless planning, ensuring your trip exceeds expectations.
4. Experiencing Exclusive Activities
Australia offers a range of exclusive activities that cater to luxury travelers, including casino enthusiasts:
Private Casino Experiences: If you enjoy gambling on platforms like

Tower Bet

, in Australia, you can arrange private casino experiences, such as high-stakes gaming tables or personalized gaming lessons.

Helicopter Rides: Experience breathtaking aerial views of natural wonders like Uluru or the Twelve Apostles.

Gourmet Dining: Book tables at renowned restaurants with award-winning chefs for a culinary journey.

Yacht Charters: Explore Australia's coastline by chartering a private yacht or catamaran.

Luxury Wildlife Safaris: Opt for private wildlife safaris with expert guides for up-close encounters, followed by evenings of casino entertainment.
5. Fine-Tuning the Details
Pay attention to the finer details:
Travel Insurance: Ensure you have comprehensive travel insurance to cover unexpected events.

Visa and Documentation: Check visa requirements and ensure your passport is up to date.

Health Precautions: Stay informed about health and safety guidelines, especially regarding COVID-19.

Pack Thoughtfully: Pack suitable clothing, comfortable shoes, and essential travel documents.

Local Currency: Familiarize yourself with the Australian dollar and have access to local currency.
6. Embracing Spontaneity
While meticulous planning is essential, allow room for spontaneity. Leave time in your itinerary for serendipitous discoveries and local interactions that often lead to the most memorable experiences.
Conclusion
Crafting your dream luxury trip to Australia is an art that combines meticulous planning, insider knowledge, and a passion for exploration. With careful attention to your preferences, the guidance of experts, and a sense of adventure, you can create an unforgettable journey that showcases Australia's natural wonders, cultural richness, and the epitome of luxury travel experiences. Whether you're exploring the cosmopolitan cities, diving into the Great Barrier Reef, or savoring world-class wines, your trip to Australia promises to be a masterpiece of travel.