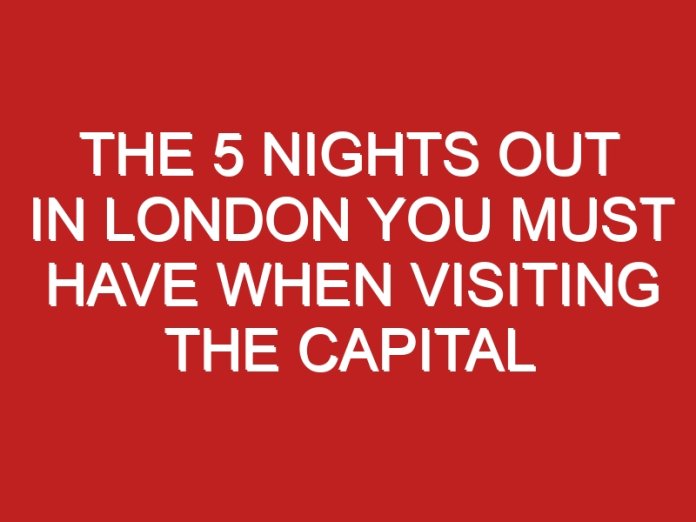 London is a city that truly comes alive at night and it can entertain all interests and hobbies. It's a city that can provide the best in the world in many things and it's half the reason people visit in their millions, enjoying the bright lights after a day discovering the likes of Buckingham Palace and Big Ben.
There are hundreds, even thousands of different nights you could have, but there are also some that are simply must tries. But what are they?
Well, in no particular order, here are our top five must dos when it comes to a London night out…
Hit up a casino
The casino industry in the UK is booming and over the last few years more and more people are logging on to enjoy online casino games on sites like Casino777, which is having a direct impact on the numbers now inspired to go and play the likes of blackjack and roulette for real.
There's something for everyone in terms of casinos in the city, from exclusive clubs in Mayfair and world famous casinos like The Ritz, to casinos that are suited to a lower budget such as The Hippodrome, slap bang in the middle of Leicester Square. Here you'll find tons of games that you'd also find online, offering up an unforgettable night in one of London's most interesting and historic former theatres.
Enjoy a West End show
Outside of Broadway, there's no better place on the planet to watch a show than in London's West End. You'll find some of the biggest and best productions from the likes of Andrew Lloyd Webber, while also many famous actors are in the lead roles.
In total there are 39 different theatres in the West End, meaning you've plenty to choose from, with many also offering good value for money, whether you're wanting to see The Mouse Trap or Phantom of the Opera. You'll also find a number of shows you won't find anywhere else, like the Only Fools and Horses musical and the excellent Harry Potter show, which is split over two shows.
A gig in Camden
For music lovers, London is very much still swinging. The music scene may have been booming during the 1960s, but every decade has seen its own unique take on musical culture and heritage, from Britpop to grime.
Camden continues to be a hotbed of live music, having previously been instrumental in the progression of many artists from The Who and Madness to the great Amy Winehouse.
In Camden today you'll find gigs on each night, from major artists in places like the Roundhouse to up-and-coming acts in legendary pubs like the Dublin Castle. Apps and websites such as Songkick are always useful for seeing what's upcoming in terms of shows, and you'll even be able to book tickets if you see a band you know you'll love.
Cruise the Thames
You'll find many boat trips available during the day, but you get a really different picture taking one at night. It's almost fairytale-like, with landmarks such as the London Eye and Houses of Parliament lit up, as well as the likes of the Shard and the Gherkin in the distance.
There are a number of different tours that can be booked and you'll find them run every night, with them especially popular in the summer months just as the sun is going down.
Alternatively, if the weather is a bit choppy or you suffer with sea legs, consider the London Eye in the evening, which again offers stunning nighttime views.