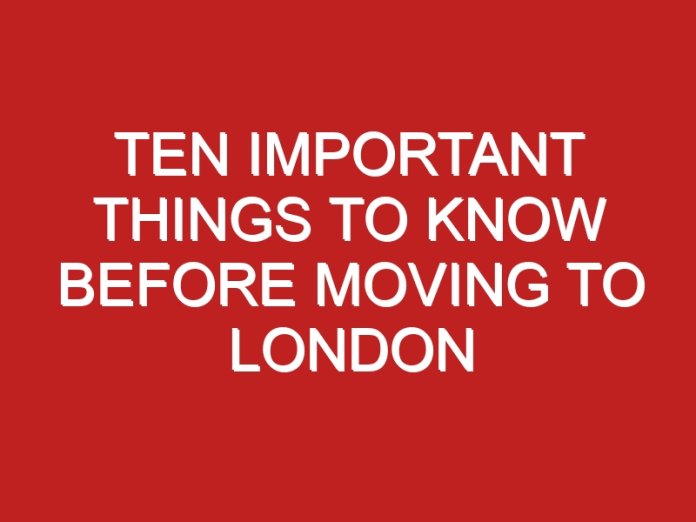 Like life in any other capital, living in London quickly gets expensive. Just like other major capital cities, London is big as well. If you're moving to London, you may not realise the extent of this until you're actually in the city and trying to make your way in it. Below we explain 10 important things to know before you get here so that you can start to live your best life once you start settling in.
1.
Rent is ridiculously expensive
You'll hear all sorts of tales about London, but one thing you can expect to be true: rents are high. Very high. You can pay anything starting at around £970 for a basic, one bedroomed apartment. It might not be an especially brilliant one at that. In fact, some are more than 'not especially brilliant' for the price the tenant is paying; they're truly underwhelming, as you can see in these examples on the VICE website.
Remember to factor in your council tax as well, which is another big expense, depending on where in London you're living.
2.
You'll need to learn how to budget
It's not just the rent and bills that are expensive. Takeaway coffees, public transport, restaurants, food shopping… they all add up to a not-so-pretty penny. That doesn't mean living in London is impossible, but it does mean you need to budget. Do that and you can make life here work fantastically.
3.
London is much more spread out
London is something akin to a collection of small towns and, as nice as this is, it doesn't follow automatically that everything is bunched conveniently together. In fact, things are spread out quite far apart and getting to them can entail a bit of a commute, so when you need to get from A to B, factor in at least an hour of travel time. This is something to consider when transporting items from part of the city to another, whether as part of a move or for an event. Something may seem just around the corner on a map, but in reality….
4.
London has certain 'rules'
When you move to London, it pays to get to know people because there are certain 'rules' to learn if you want to lower your cost of living in London. Locals will tell you to avoid Madame Tussauds on a weekend because it's way too busy. They'll tell you, too, to steer clear from the rooftop bars in the city and head out to a lesser-known bar out in Peckham or elsewhere. They know it will be cheaper there. Make friends with the locals and follow their advice.
5.
Driving into the capital is inconvenient and expensive
If you're a fan of slipping on the driving gloves and turning up the tunes, London isn't the place to do it. Driving into the city can be stressful. It's busy, as you might expect, and parking is limited. If you drive into the Congestion Zone, you'll also have to pay the Congestion Charge. Basically, you'll be happier if you use public transport, on which you can save money by using an Oyster card.
6.
Use Pay As You Go on your Oyster card
Currently, in this age of the pandemic, passenger watchdogs have shown concern that people are triggering the automatic top-up facility on their Oyster cards but only making one or two trips per week. They may be spending beyond their means without even getting the use out of their cards. The automatic top-up is £20, but there have been calls to lower it to just £5.
7.
Don't rent an apartment until you've visited it
If you're planning to rent an apartment, don't sign anything or hand over any money until you've actually visited it. As terrific as the people of this city are, there are some still rotten eggs in it who may trick or deceive you. Properties are too expensive to lose money over. It can help to work with a local agent who will keep an eye on what's going on in the area property-wise and alert you to decent properties there.
8.
The bus is cheaper than the Tube
Jumping on the Tube is a very London thing to do, but the costs will soon mount up. A single journey can start at £5.50 on the Tube, whereas if you catch a bus, you'll pay less whether it's for a single journey or for a day ticket. As busy as London is, you also stand a better chance of getting a seat on the bus, unlike on the Tube where you could be packed into the carriage like sardines (which is especially undesirable in the time of COVID-19).
9.
You'll need to use apps much more
How much space have you got on your phone? You might want an upgrade to one that has a lot more storage because using apps can make life much easier in London. Pub Finder, to help you find a watering hole; the Santander Cycles app, to make the most of exploring the city by bike; and Citymapper, just to find your way around; are all useful apps.
10.
Life moves fast in London
The nights out, the pop-up bars and restaurants, coupled with the long commutes… fitting everything in, even on weekends, is a challenge. You'll do yourself a favour if you accept that life is fast moving in this city and that it's simply not possible to always cram in everything. Be prepared to take a break from time to time and just chill.
So this is the most awesome city on the planet, but life can get expensive quickly here. To get the most out of living in London, it pays to get on a budget, leave the car at home and plan a little. Then you can start to live your best life in the capital.