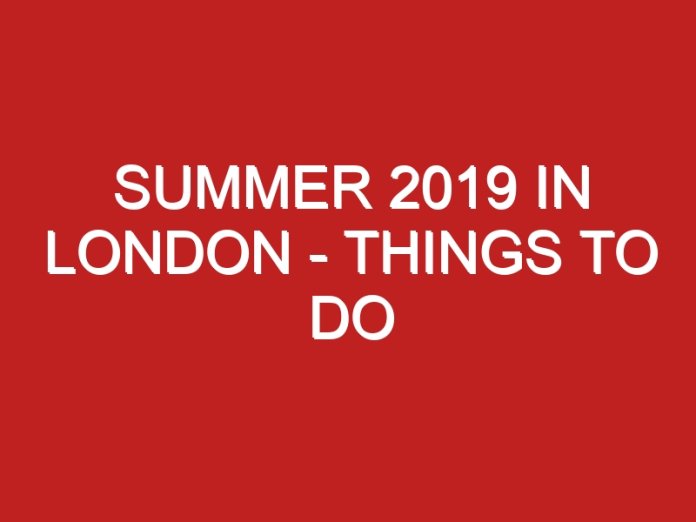 London is a city full of excitement, steeped in rich history just waiting to be explored. For travellers planning a 2019 summer vacation in London, we've prepared a short list of events and festivities being hosted in London, that are surely worth attending!
Fun and Adventure
Notting Hill Carnival (August 24 – 26): Hosted during August's bank holiday in London, the Notting Hill Carnival takes to the streets with dancers, musicians, drummers, and many other forms of entertainment for an entire three days of festivity. This festival goes back to 1966, and attracts around a million visitors annually. So be prepared for huge crowds, but it's definitely worth attending this iconic event.
Zip Now London (June 12 – 15): The world's fastest and tallest zip line is returning to the city, setting up camp in Archbishop's Park. They'll have a 225m-long zip line, from a 35m-high (10 storeys!) launch platform. There are four parallel lines, and when you reach the landing pad, you can take a free-fall Mega Drop to get back to ground level, for even more excitement. It is truly an event worth attending for adrenaline junkies!
London Pride (June 6 – July 7): London's annual LGBT+ community hosts this month-long pride festival, which offers a ton of entertainments, from workshops, karaoke parties, live music entertainment, and a ton more events. It all culminates with the pride parade on July 7. For a full list of events, check out the London Pride page.
Grosvenor UK Poker Tour (June 30 – July 7): The GUKPT is a touring poker tournament, which culminates with a Grand Finale at The Poker Room above Grosvenor Casino Victoria in London. Avid poker fans can of course watch live. If the action slows down you can wander around the casino, or play games online at Casumo kasino if you'd rather not miss a big hand.
Concerts and Music Festivals
British Summer Time (July 5 – 14): British Summer Time in Hyde Park is a 10-day festival featuring six days of music concerts, followed by four days of community activities, including live cinema screenings, circus acts, outdoor bars, and more. This years headlining musical performances are Celine Dion, Barbra Streisand, Florence + The Machine, Robbie Williams, and Stevie Wonder. Entry to the festival is entirely free, though you can optionally purchase VIP experience tickets through the BST website.
Wireless (July 5-7): This annual urban music festival in Finsbury Park has been running for six years. Entry isn't free, but there are several popular hip-hop artists headlining the show, including Carbi B, Travis Scott, A$AP Rocky, and west London's own AJ Tracey, who recently released his critically-acclaimed debut album.
Download UK 2019 (June 14 – 16): Rock and metalheads have an amazing band line-up to look forward to at Download UK 2019, a 3-day concert featuring some of the biggest names in heavy metal. Top billing goes to Tool, Slipknot, Def Leppard, Trivium, Lamb of God, Slayer, Rob Zombie, and many more. There are many different ticket packages, including camping packages, so be sure to check out the official Download UK 2019 website for all the details.
South West Four (August 24 – 25): South West Four, or SW4 as known to locals, is an annual EDM / dance music festival held every August bank holiday weekend. The festival teams up with a host of promoters to showcase the latest and greatest in electronic music. This year's main stage headliners include Martin Garrix, Tinie Tempah, Alison Wonderland, and others. But with 5 stages, there's something to please everyone. So if you feel like dancing to the latest and hottest EDM beats, head over to the SW4 website for ticket info.
Scenery and Leisurely Strolling
Hampton Court Flower Show (July 2 – 7): Avid gardeners and horticulturists will enjoy this event, which promises visitors live music, food vendors, and plenty of garden arrangement showcases to walk through. This year features a garden arrangement by the Duchess of Cambridge, co-designed with award-winning landscape architects, Andrée Davies and Adam White.
London Zoo Late Nights (June): Every Friday for the month of June, the London Zoo will remain open late for adults only. This is a great chance to see some of the nocturnal animals when they're most active, and makes a compelling date for couples seeking a late-night stroll. The London Zoo will also host several special events, including live music, special tours, and a food market.
National Park City Week (July 20 – 28): The mayor of London has put together this festival, together with the National Park City Foundation, which aims to host free events across the entire city. Events include live theatre performances, rooftop garden tours, and plenty of water events such as swimming and kayaking competitions. A full programme of events can be found on the official National Park City Festival page.