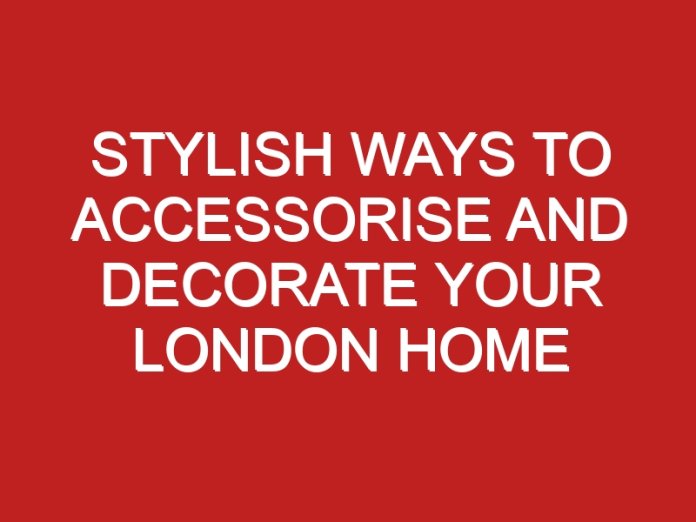 Living in London might be expensive and sometimes lacking in privacy, but it doesn't have to be. It's possible to accessorise and decorate your home without breaking the bank, and to add privacy to your living space at the same time. 
Shutters 
Self-install window shutters are a positive investment when living in a busy city like London. Besides keeping out the prying eyes of people who walk or drive past every day, they come in a variety of styles to suit any room and existing décor. They also make a good starting point for decorating a room if you've just moved into the house. Because you can install them yourself, you'll already be saving money by not paying someone else to do it.
Lighting 
While shutters can help to control how much or little daylight enters your rooms, there are other ways to control light in your home, particularly in the evenings. Lamps are a cost-effective way to highlight the more attractive parts of your home while taking the focus away from other areas. They can alter the mood of a room, changing it from cosy or welcoming to quirky or stylish depending on the style you prefer.
If you're planning to have guests over for dinner regularly, downlights in the dining area are an excellent option. They ensure the light is spread equally around the room, without becoming too overbearing or leaving other parts of the room in darkness. After all, everyone likes to see what they're eating.
Cushions and throws
Comfort and style are the best things to aim for in your bedroom and living areas. Furnishing your bed, armchairs and sofa with brightly coloured cushions can add a comfortable and welcoming feel to the room. You can opt for more subtle colours to match the existing décor and have a variety of sizes (square, rectangle, circular, etc.).
To further improve your room and bring life to furniture that may be looking a bit dull, you can add throws in colours and styles which go with the cushions, transforming your room from cold and lifeless to stylish and welcoming.
Rugs
If you're likely to be having more guests over than you have seats for, your larger cushions might be a good option for some of them to sit on. However, if your carpet is thinning or you have a wooden floor, it won't be comfortable. So, adding a rug can make the floor look more appealing. Having two or three colours that work well together, then buying a rug which matches one or more of these colours will prevent your room from looking as if nothing coordinates. 
Paint or wallpaper and pictures
Plain walls can be a safe option, but if you want to add a touch of personalisation to your rooms, you can opt for wallpaper. It doesn't have to be bright or have any extravagant design. If you want your room to appear larger than it is, using wallpaper with large patterns on all the walls in that room is recommended.
You can try adding pictures to your walls, although buying art can be expensive. Instead, a cheaper option is to print your photos and buy frames to put them in. London has so many inspiring places you could use for the source of your photographs.
Candles
There are other smaller ways to add character to a room. Adding candles is one. If you have enough space, you can add tea lights around the room, or something more stylish such as candle holders. These can add a great finishing touch to the middle of the dining table. Make sure that if you have a lot of candles in living areas or the bedroom, they are a safe distance away from cushions, throws or anything else which could catch fire. 
Storage 
It's often necessary to have storage in most rooms, especially if living in London, where space can be minimal and you have to store your belongings wherever you can find room in your home. This can sometimes make your rooms look messy and cluttered. However, you can make this storage a part of your décor by investing in a wall unit, wicker baskets, stylish bookcases or storage benches. These are just a few of the storage options which can also add something to the room while providing plenty of storage space.
However you decide to decorate your home, it doesn't have to cost a fortune.