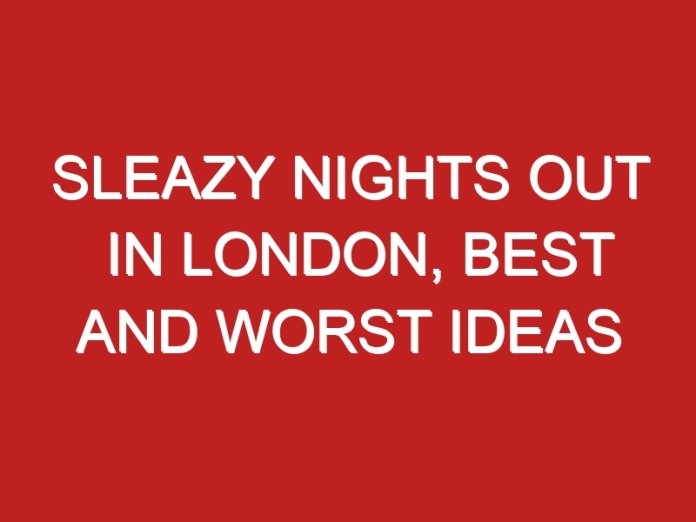 London is constantly evolving but most people who live in the city will agree that it is not quite the same as it was a few years ago, with nightlife options more limited than they were before.
But sleazy nights out in London can still be found, despite a raft of closures affecting some of the most exciting bars and nightclubs that the city has to offer.
Here is our guide to the best and worst ideas for a sleazy London night out in 2020.
Best: Explore Soho and find hidden gems
Soho has been gentrified beyond all recognition compared to a decade or so ago, but it is still without a doubt the top choice of place to go for anyone seeking a bit of sleaze.
While the prostitutes, strip clubs and sex shops might have all but disappeared in this part of the city, Soho still offers a lot more excitement than most other areas within central London.
Some of the best-known haunts in Soho have gone, but there are signs the sleaze factor could be on its way back. For example, while the famous Madame Jojo's club closed its doors a few years ago – which many thoughts would be for good – there are plans to reopen it again.
Broadcaster Stephen Fry has lent his backing to a mooted plan to reopen Madame Jojo's in Soho, writing: "To restore and rejuvenate a noble British institution to its rightful place is a noble and magnanimous duty. Denizens will rejoice at the reopening of a reinvigorated Madame."
Soho is still home to some wonderful hidden gems, but they have to retain an air of secrecy and mystery to prevent them from becoming increasingly overrun and spoiled by the masses. Visitors will have to be quick, though, as there are signs the Soho gentrification is far from over.
Paul Raymond, known by most as a porn baron, owned huge swathes of this part of London, with his death resulting in property being passed on to his family. While two of his granddaughters are behind the plan to reopen the doors of Madame Jojo's, other changes the Raymond family has pushed through might well have been met with disapproval from Paul.
The opening of a flash new venue in the form of the Boulevard Theatre on a Soho site that used to be surrounded by brothels and sex shops could well be a sign of things to come.
Worst: Head to a sleazy casino
The days of visiting casinos seems to be over, with the coronavirus crisis potentially hastening the demise of this kind of business.
While London still has a few casinos to choose from – such as Aspers Casino Westfield Stratford City – the experience these days is quite sad, with the necessary social distancing measures taking a lot of the fun out of a casino visit.
There are still ways to spice things up, even though most people will play online now instead.
Try get your hands-on coupons or get on the guest list. Being a VIP, if you can pull that off, is always nice. We suggest you enjoy these experiences as they are becoming less common – everything moves online and you are able to get the best no deposit bonuses at UK sites all day, every day.
Online casinos have great promotions and welcome bonuses, so people might stay at home a lot more rather than heading out to a casino somewhere in London, which might feel increasingly sleazy due to the type of characters who are usually found hanging out in these destinations.
While casinos used to be a place for the elite, this has not been the case for a long time now. Instead, a lot of casinos now attract late-night drinkers who are searching for somewhere to get one more pint deep into an evening out, rather than casino players looking for some action.
Online casinos, meanwhile, have adapted. There are now lots of sites offering live casino games, which are as close as it is possible to get to visiting a casino through the internet. At the live casino, players have a huge choice of games to play but can interact with both the dealer and others who take a seat at the table through a live chat facility.
The sleaze of London's casinos might hold appeal for some, but they increasingly feel as though they are from a bygone age as the internet, as it does with many things, starts taking over.