It's not just what you see, it's what you hear that makes a trip across the pond to London such a memorable one. From well-known landmarks to a few hidden secrets, here is a list of dog's bollocks (awesome) slang-inspired sightseeing spots every London tourist should visit.
Balk and chalk along the Thames
(Walk along the River Thames)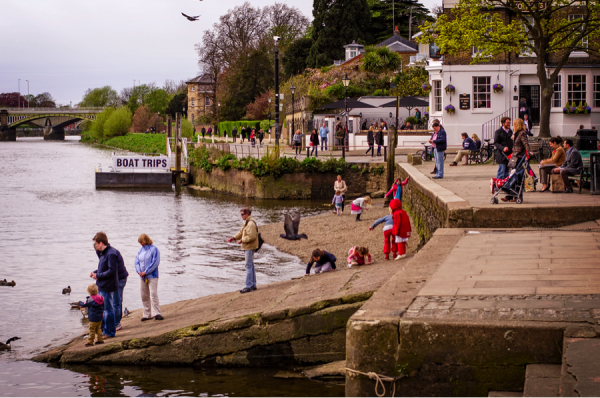 Flickr — Garry Knight
Flowing through Central London, this more than 2000-year-old river provides rich London history and a stunning backdrop for several of London's tourist attractions. The River Thames has peaceful, scenic routes for walking and biking, but there are also river cruises that allow you to see London's story and iconic landmarks from the perspective of its beautiful waterways and do so in a relaxing manner without baggamanz (lots) of people crowding you.
See bits 'n bobs of history and art at Trafalgar Square
(See various things of history and art at Trafalgar Square)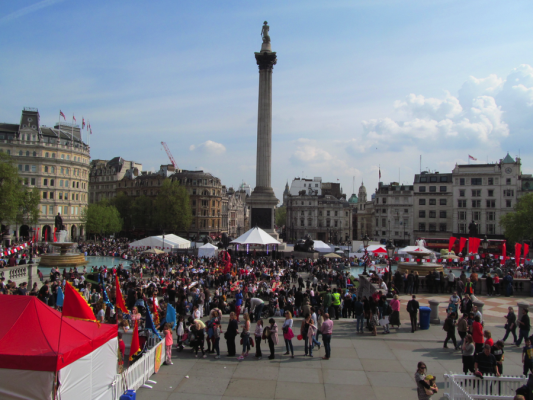 Flickr — David Holt
You'll be gobsmacked (amazed) at how lively Trafalgar Square is once you arrive. Residing in the heart of London, this landmark of a square is appreciated by locals and tourists alike. Filled with history, provoking contemporary art pieces and various special events and celebrations, there's so much to take in no matter what time of year you visit. Besides seeing artistic performances and participating in fun festivities, Trafalgar Square is one of the best places in London for people watching. 
Make a China plate on Columbia Road
(Make a friend on Columbia Road)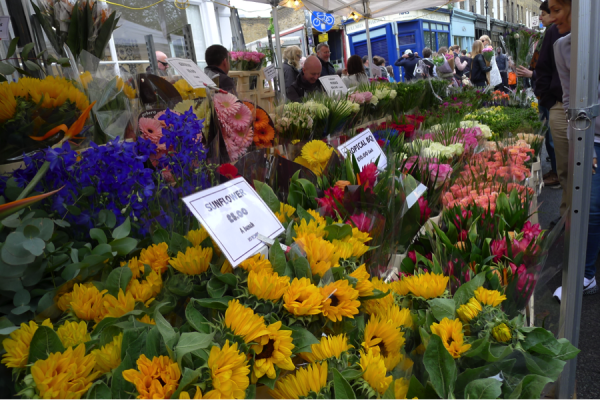 Flickr — Upupa4me
If your stay in London includes a Sunday, then take a sherbert (taxi) to Columbia Road. Every Sunday — rain or shine — Columbia Road transforms from a normal street into a street covered with color and the sweet scent of hundreds of fresh flowers. While the flower market is its biggest draw, welcoming cafes, art galleries, antique shops and other stores line each side of this treasured London road. 
Cotch at Hyde Park
(Hang out at Hyde Park)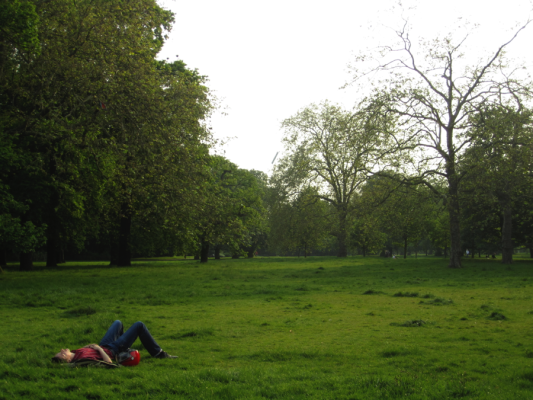 Flickr — La Citta Vita
Of London's eight Royal Parks, Hyde Park should be at the top of your must-visit list. Blimey (my goodness), it delivers an atmosphere of beauty and peace that's simply breathtaking! On a sunny day, pack a blanket and lunch and have a relaxing picnic. Afterward, explore the 350 acres with your camera in hand as you'll come across numerous famous landmarks, including the Princess Diana Memorial and Serpentine Lake.
Enjoy a pig's ear at a local rub-a-dub
(Enjoy a beer at a local pub)
Flickr — Sarah Williams
Grabbing a pint of pig's ear (beer) is no problem as London pubs reside within a stones throw of your London hotel. One thing you quickly learn about many of the local rub-a-dubs (pubs) is they're historic. Ye Old Cheshire Cheese is one of the city's oldest pubs and Charles Dickens used to frequent this one, while this literary great even wrote about The Spaniards Inn in one of his published works. An all-weather pub in Highgate, The Flask has history, but is also one of the better pubs for a tasty evening meal and pint with your friends and even offers free Wi-Fi. 
Sip an afternoon cup of Rosy Lee like royalty
(Sip an afternoon cup of tea like royalty)
Flickr — Gary Bembridge
London is synonymous with having afternoon tea. And sipping a hot cup of Rosy Lee (tea) and munching on scrumptious scones and sandwiches will have you feeling like a London local in no time. For a once-in-a-lifetime experience, head to The Orangery. This elegant setting dwells on the grounds of picturesque Kensington Palace, and it's the only royal palace in all of London that lets you enjoy a traditional afternoon cup of tea.
So, Bob's your uncle (there you go)! Whether your trip has you staying in London for a weekend, a week or a fortnight (two weeks) if you're really lucky, these slang-inspired sightseeing spots give you a glimpse into what locals and tourists love about London.