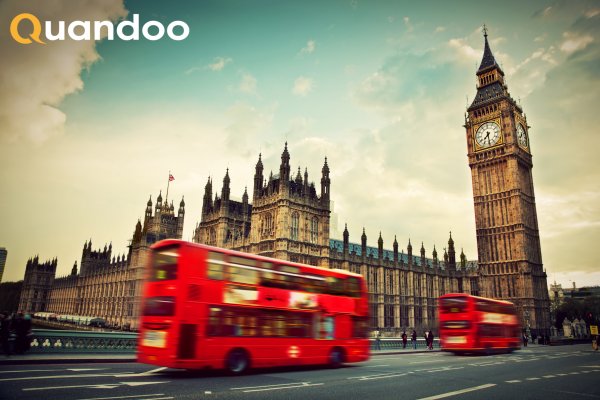 From breakfast to business lunches through to afternoon tea and special date-night dinners, Quandoo's new restaurant reservation portal allows customers to book a table in the best bars and eateries across London and other major centres in Britain.
In fact, Quandoo's online restaurant reservation platform is an international affair, now based in 14 countries. With apps for Android and iOS available in 10 different languages, including Spanish, German, Russian and French, the restaurant coverage and user-base is expanding rapidly.
This portal allows users to find and book tables at nearby restaurants quickly and easily, giving them the option to filter by cuisine (from international to Indian, Thai to Spanish tapas), by price-point or by atmosphere, or according to the aggregate score based on users' reviews. In London, for instance, customers have access to over 700 suggested restaurants.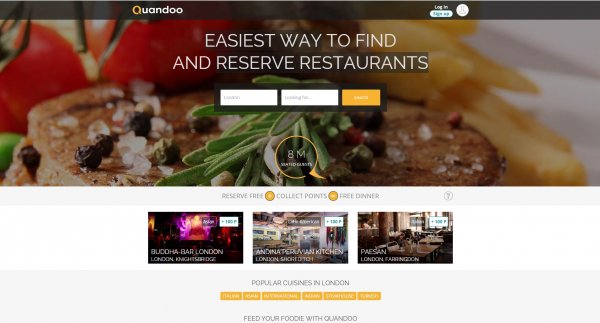 Through the loyalty program, users earn points with each and every booking they make, plus bonus points for referrals and restaurant reviews. Loyalty points can be converted into vouchers redeemable at affiliate restaurants. Taking a look at these user reviews, we've put together a list of Quandoo's top five London restaurants.
Lovers of Latin American cuisine are advised to book a coveted spot at Ceviche Soho, easily one of the highest-rated restaurants in the capital. Founded by entrepreneurial foodie Martin Morales in 2012, Ceviche is regarded as one of the best expressions of Peruvian cuisine in the UK. From the restaurant's buzzing and colourful vibe to the fresh, tasty, and beautifully presented food, dinner here is a fun and unforgettable experience. Another option for lovers of Andean fare is Ceviche's sister Andina, another Quandoo partner.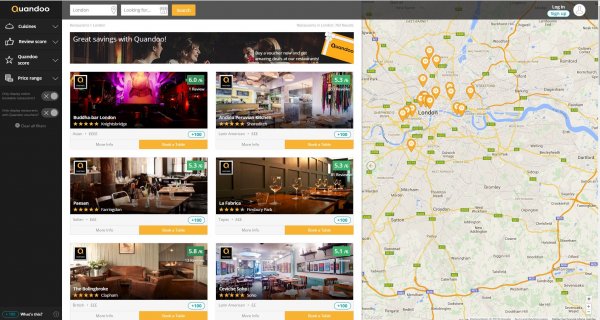 Paesan in London's Farringdon is an unmissable destination for those wanting to indulge in authentic Italian. Dishes like orecchiette alle cime di rapa or proper Tuscan pecorino are just a couple of examples of the excellent food on offer here. Combined with a relaxed, down-home atmosphere, special evenings are born here, and continue in the basement cocktail bar.
Track down The Mayflower at its historic location on the banks of the Thames for a proper British pub that does far more than pull the perfect pint. The menu here is packed with traditional British dishes made all the more enjoyable by this public house's cozy setting. This is gastropub dining steeped in history.
For an international gourmet experience we suggest East London's 100 Hoxton. If you're looking for an innovative Sunday brunch washed down with a curative Bloody Mary this restaurant is the answer. 100 Hoxton is a weeklong solution for those wondering where to find high quality food and interesting culinary combinations in a modern setting, with exceptional service to boot.