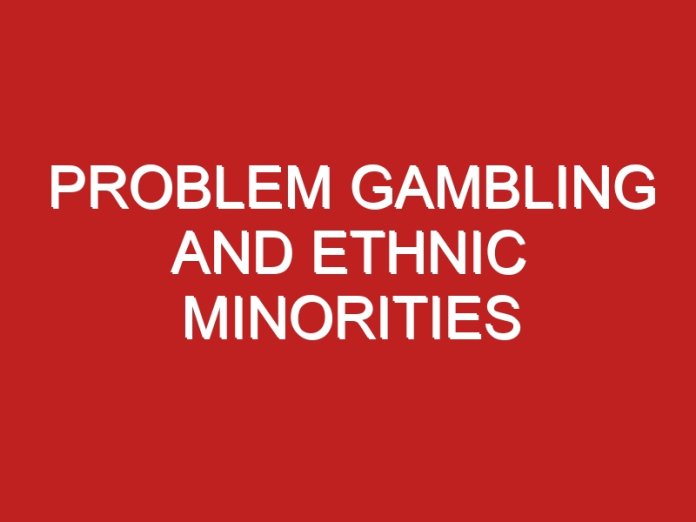 Gambling can be a fun way to relax and unwind by yourself or with friends. It can be a way to build social connections and find a community. However, gambling can become a problem if you don't set limits. Gambling can be fun for everyone but is it more likely to become a problem for certain groups of people? This article will look at whether ethnic minorities are disproportionately more likely to be affected by gambling problems.
What is problem gambling?
It can be very difficult to identify problem gambling because it does not look the same for every person. Many people assume that problem gambling always results in financial ruin but this is only in extreme cases. Like any addiction, problem gambling has many different stages and effects. Problem gamblers can feel as if they have no control over their gambling. They continue gambling even when there are negative consequences, such as losing money they cannot afford or hurting their relationships with friends and family. Lastly, many problem gamblers feel a compulsion to gamble, to the point where they ignore or do not enjoy other activities.
Do gambling problems affect minorities disproportionately?
Recent research on gambling and minorities has some interesting results. A recent poll by YouGov and GambleAware suggested that Black, Asian and minority ethnic (BAME) adults were more likely to have some experience with problem gambling. It also found, interestingly, that BAME adults were more likely than white adults to seek out support and treatment for their problem gambling. Some of the research that has been done so far in the United States suggests that while gambling is a problem across all races, it more commonly affects young Hispanic males. Other studies have tied problem gambling to lower socioeconomic status and cultural attitudes.
Accessibility is a factor, but not in the way you might expect, as one study found that having a casino within 30 miles could increase the frequency of gambling but did not increase the likelihood of developing a problem with gambling. In recent years, online gambling has become increasingly popular. Secure online casinos such as CasinoTopsOnline were not mentioned in this research and do not appear to be as much of an issue. Casinos, both physical and online, provide the opportunity to gamble but do not create problem gambling themselves.
Gambling, minorities and Hollywood
Hollywood has contributed to the view in the Western world that gambling is a major problem among ethnic minorities, particularly in East Asian communities. Popular movies such as the Rush Hour series, The Hangover (2009) and Kung Fu Hustle (2005) feature Asian gamblers or casino owners as the villains, while suggesting that gambling contributes to the power of organised crime groups. A popular plot device in many action films, including Bloodsport (1988) and Enter the Dragon (1973), is the need for the hero to infiltrate a secret martial arts competition where large amounts of money are being bet on the fights. While these movies aren't very serious, the idea that betting on dangerous and even deadly events is common in Asian cultures is presented as if it were a fact.
The most egregious example of this is 1978's The Deer Hunter. This BAFTA and Academy Award-winning film follows three friends through the Vietnam War but the most intense action of the film takes place in a gambling ring in which the primary betting sport is Russian Roulette. The horror of the players risking their lives is contrasted with the excited crowd of Asian gamblers betting on the action. Movies such as these present an image of East Asian communities being dangerously obsessed with betting on anything and everything, and have helped to create an unfair and inaccurate stereotype.
Gambling responsibly
Being able to gamble responsibly means that you can continue to enjoy gambling as a hobby, either online or in person at casinos in exciting locations such as the Las Vegas strip or even London's Piccadilly Circus. GambleAware provides a list of steps that you can take to keep gambling safe and fun. These include setting a time limit and a spending limit in advance to avoid the "just one more hand" trap. They also suggest not gambling when you are stressed or depressed and to take frequent breaks so that it is easier to keep track of time and maintain perspective. One final, but important rule, is to not think of gambling as a way to make money. If you can remember that gambling is a fun pastime and a bit of entertainment, it is easier to stay safe and keep the good times rolling.