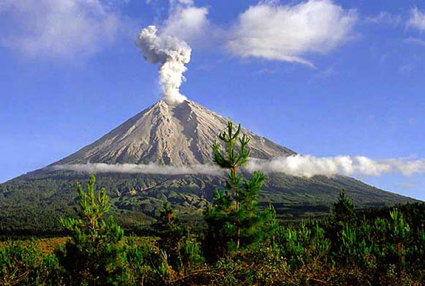 It is true what they say. A picture really does say a thousand words. Perhaps that is why travel photography continues to be popular. It allows people to experience a whole other world. Guess what? You don't have to rely on pictures to see the wonder and beauty that Indonesia has to offer. After all…you are a travel lover. It is your mission in life to experience as much of the world as possible. In person. If you have been dreaming of heading to Indonesia, stop dreaming. Start living! It is time to plan the ultimate vacation. One with views so spectacular your camera could never do them justice. These are a few of the best views in Indonesia.
Mount Semeru. There is an awful lot of beauty in Indonesia. Each city has its own distinct landscape. Take Malang as an example. Not only does it have fantastic hotels like the Swiss Belinn Malang (which you can stay at by checking out Malang hotel deals) but it also has some spectacular views. Take Mount Semeru as an example. This volcano is located in East Java – and is the highest mountain in the area. Visitors to the area can enjoy the view, take pictures, or even hike up the mountainside. The latter is a challenging – but rewarding – activity. Consider adding it to your to do list. After you are done checking out the view, that is.
Komodo Island. Amazing views are not limited to national parks and jaw dropping mountain ranges. There is also Komodo Island to consider. This can be found in East Nusa Tenggara. It is actually the home of one of the most intriguing animals on the planet: the Komodo dragon. (They are the largest lizards in the world – and they have very sharp claws and poisonous saliva.) Here, the Komodo dragons actually live in the wild. Komodo Island, or The Komodo National Park, is actually a protected area in Indonesia. Throughout the year, tourists are able to visit the island and learn more about these unique creatures.
Raja Ampat. Are you interested in diving? That is one of the best ways to discover this next beautiful view. The Raja Ampat is made up of more than 1500 small islands. Underwater? The sights are absolutely breathtaking. There are over a thousand different types of fish nearby as well as over 500 different types of coral. Generally, the islands are quite remote. That makes them the perfect spot for a diving expedition. You get privacy and those fantastic views. Nothing could be better. If you love diving and underwater life then this is an absolute must. Think it over.
Other Beautiful Views In Indonesia: It doesn't end there. Indonesia has more beautiful views than anyone could ever write about. However, these are a couple of other standout spots. They are Lombok Island (where there are gorgeous waterfall views and white sand beaches) and the area of Bandung (the tea plantations are incredible). Visit one and see all of that natural beauty for yourself.