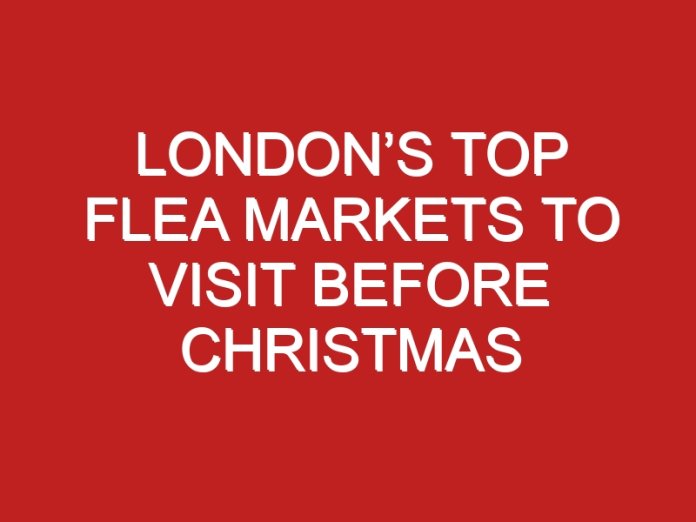 Forget about shopping on Oxford Street. If you're looking for bargains before the holidays, London has many secret gems that will help you pick an authentic and cheap present for your best friend, mom or Secret Santa party. Here are the best places to visit to score a good deal for you, your friends, and your family.
Kingsland Market, Dalston
Waking up early on a Saturday morning may not be your ideal way to start your weekend but when you'll find out how many hidden gems you can potentially discover here, you may want to change your habits. The market has merely 140 years of tradition and you'll find a wide variety of antiques, secondhand bargains, vintage goods, collectibles, and whatnot.
Early birds don't receive a special discount but they get the chance of being the first ones to raid through the goods and pick up the best. Long live Kingsland Market! Well, at least on Saturdays, from 9 AM to 5 PM.
Brick Lane Market, East London
The Brick Lane district is famous for many things, including an impressive and controversial collection of street artworks, and a taste for Curry houses. Overpriced coffee shops filled with hipsters are here to complete the eclectic and colorful scene of what is Brick Lane.
And, if you're looking for a bargain, you came to the right place. A labyrinth consisting of five entwined flea markets, you'll find over 11 acres of goods and tacky merchandise. The Truman Markets consist of The Sunday UpMarket, the Tea Rooms, the Boiler House Food Hall, the Backyard Market, and the Vintage Market.
Each of the names is suggestive of the kind of goods you'll be searching for, so treat yourself with a full day of shopping. From bric-a-brac to vintage crockery, silverware, second-hand clothes, and a weird selection of questionable home decorations, Brick Lane is the right place to find everything you need, including newer goods like wrestling boots you'll normally find recommended on biggerbetterbeards.org.
Flea at Vinegar Yard, Borough and London Bridge
If you're looking for a flea market that's close to the city center, the former Flea at Flat iron Square, now Flea at Vinegar Yard, is the perfect option for locals and tourists looking for a vintage taste.
The market brings heaps of homeware, books, cameras, bikes, and even antique items and clothing, in a colorful background, close to the main tourist attractions. The market is open every weekend, on Saturdays from 11 Am to 6 PM, and Sundays from 10 AM until 5 PM. However, you can only visit it during the holiday season, until January 19, 2020.
Sunbury Antiques, Surrey
The market is only open twice a month but it remains a hotspot for homeware buyers looking for anything but ordinary pieces of furniture and decorations. The location attracts various European traders, so expect to find French furniture and some cool collectibles.
There are 700 traders and everyone is invited to join the party. However, the market will only be open once this December, on Tuesday 10th, so hurry up if you want to complete your house collection of paintings, ceramics, kitchenware, jewelry, clocks, books, and even clothes. If you don't make it before Christmas, January 2020 is the closest time to visit, either on the 14th or the 28th.
Greenwich Market, Greenwich
The best thing about the Greenwich market is that it is open daily, from 10 AM to 5.30 PM, so you'll have plenty of time to stop by and do some last-minute holiday shopping. And, for those who work until late, on Wednesdays 4th, 11th, and 18th December 2019, the market will be open until 8 PM.
On the last Friday of every month, the Moonlight Market on Greenwich Church Street stays open until 11 PM, with plenty of live music and a pop-up bar to compliment the wide selection of old books, ceramics, lamps, vintage clothes, accessories, and jewelry.
Jubilee Market, Covent Garden
Considered London's largest undercover market, the location welcomes its shoppers 364 days a year. The covered market hall is located beside the famous Piazza in Covent Garden, and each day you can find a splendid selection of accessories, according to your tastes.
Reserve a couple of hours on Mondays if you want to shop for antiques and collectibles, including porcelain plates, deco figures, silver cutlery, and old coins.