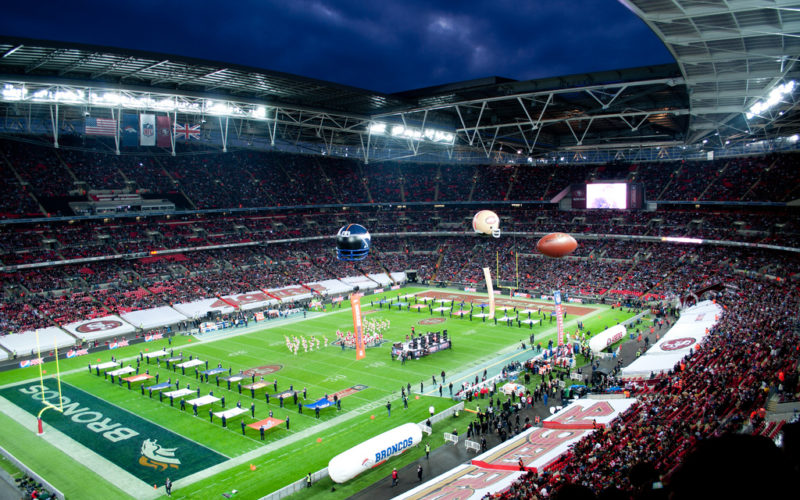 Caption: The 2010 NFL London game between the Broncos and 49ers
In decades gone by, the National Football League (NFL), the biggest American Football league on the planet, used to promote the game of gridiron overseas via its American Bowl concept. These amounted to a cluster of games scheduled for NFL teams during the pre-season, hosted worldwide. The NFL was then alerted to the commercial viability of staging regular season NFL games outside the U.S. following the success of 'NFL Futbol Americano', which was hosted in Mexico City's Estadio Azteca, drawing a staggering attendance of 103,467.
It gave NFL commissioner, Roger Goodell inspiration to consider staging NFL games in London in a bid to ramp up the global exposure of the sport. It was then that the so-called NFL International Series was born, scheduling the first regular season NFL game outside of North America for 28th October 2007. Wembley Stadium played host to the New York Giants and the Miami Dolphins, with 40,000 of the match tickets selling out within 90 minutes of going on sale.
NFL in London has enchanted British NFL fans
Since 2007, all NFL games hosted in London have been just as popular. Pleasingly for the NFL brand, only 3% of those tickets sold are purchased by Americans and American expats, with 82% being bought by NFL fans throughout the UK. Each game has been televised live on Sky Sports, with a highlights package produced by the BBC for terrestrial viewers.
After four years of successful games hosted at Wembley Stadium, in 2012 it was decided that the NFL would experiment by giving one franchise a multi-year deal at Wembley. The St. Louis Rams agreed to play one of their eight home games at Wembley for three successive seasons from 2012 to 2014. However, the Rams only ended up playing in 2012, opting out of their 2013 and 2014 commitments.
During this period, the Olympic Stadium in Stratford was also being lined up as a potential home for an NFL team. However, this bid ultimately fell on deaf ears. Nevertheless, British NFL fans were delighted to see the Jacksonville Jaguars commit to playing once a season at Wembley between 2013 and 2016. So successful has the Jaguars' temporary home been, that it confirmed it would extend its one-game-per-season contract to play at Wembley until 2020.
Could 2020 be the end of NFL at Wembley as we know it?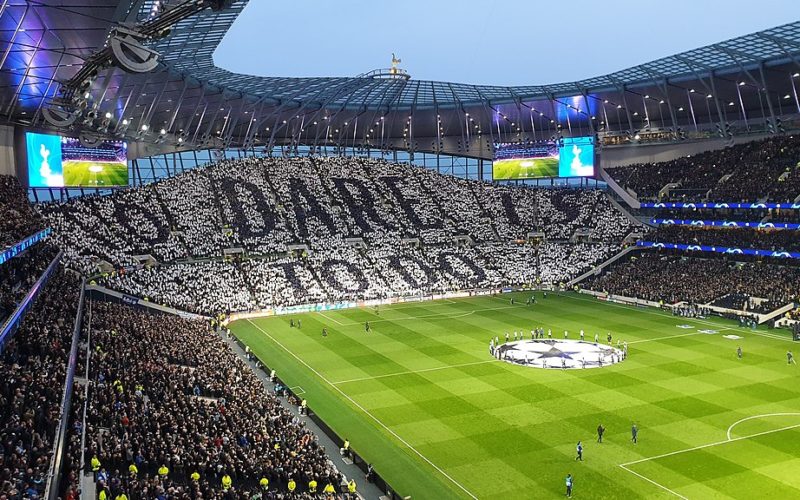 Photo by Bluejam // CC BY-SA 4.0
Caption: Tottenham Hotspur FC's magnificent new stadium could be a long-term home for NFL in London
It appears that 2020 could be the last year of NFL games to be staged at Wembley Stadium, at least in the short-to-medium term. That's because Tottenham Hotspur's new stadium reached a new ten-year agreement to stage two 'London Games' a year from 2019. Unsurprisingly, this year has been particularly popular for Wembley's games, featuring last year's Super Bowl LII finalists, the Los Angeles Rams.
The Rams are one of the latest franchises to feature in 2019, with their recent clash against the Cincinnati Bengals hosted at Wembley on 27th October. Los Angeles are one of the value options for this year's Super Bowl LIV, as they seek to bounce back from their Super Bowl LII defeat to the Patriots. The Rams underlined their superiority at Wembley in front of a packed crowd to comfortably see off the Bengals 24-10.
Tottenham's new stadium will certainly be tailor-made for NFL action, with a retractable grass pitch and an artificial surface installed underneath ready and raring to go for NFL games. The agreement also meant that the new stadium had to alter the size of the previously proposed changing rooms, expanding it to fit NFL squads which can often house up to 60+ players. Roger Goodell has intimated that both the NFL and Tottenham "share a vision", but refused to elaborate on what this really means for NFL in London.
Some NFL experts have suggested that the initial 10-year deal will be used as a trial run for games in North London, before proposing Tottenham as the London home of a permanent NFL franchise – the first overseas NFL franchise in the history of the sport. It's certainly an exciting time for British NFL fans. Watch this space as to whether London will align ever closer to the NFL.