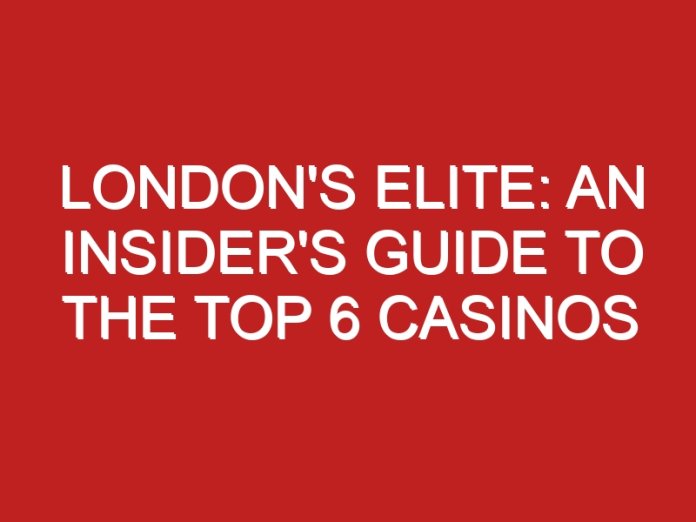 In the captivating world of gambling, a perennial tug-of-war ensues between the virtual ease of online casinos and the unmistakable allure of their land-based counterparts. The digital realm, with its irresistible convenience and burgeoning live casino services, has indeed carved a significant niche in the industry. Yet, for all its progress, it cannot mirror the unique aura that only brick-and-mortar casinos can offer. The palpable excitement in the air, the melodious clinking of chips, the shimmering glamor under grand chandeliers – these are experiences that simply cannot be replicated on a screen. As we embark on an insider's journey through London's elite gambling scene, exploring the top 6 casinos in this dynamic city, one conviction remains steadfast: when it comes to crafting an experience that truly resonates, brick-and-mortar casinos undoubtedly hold the trump card.
In the thrilling world of gambling, an intriguing showdown unfolds between the digital convenience of online casinos and the unmatched grandeur of their land-based counterparts. Online platforms, with their easy accessibility and 24/7 availability, undeniably hold their charm. Yet, they fall remarkably short in echoing the distinctive ambiance that only brick-and-mortar establishments can provide. The intoxicating blend of opulence, excitement, and the tangible thrill of the game – these are sensations that no virtual platform can replicate. I firmly believe in the magic that's woven within the walls of local casinos, a magic that transcends the ordinary and transports you to a realm of unforgettable experiences. If you seek to immerse yourself in London's high-end gambling scene, then this insider's guide to the top 6 casinos is your golden ticket. Prepare to embark on a journey through the dazzling world of London's elite gambling havens, where every spin is a new adventure. Welcome to the ultimate guide for those who don't just play, but live the game!
Maxim's Casino
Maxims Casino Club, a distinguished hub in Kensington, London, is a testament to refined taste and elegance. A sanctuary 'by gentlemen, for gentlemen,' this casino marries state-of-the-art technology with an exquisite design that exudes sophistication. Open 24/7, it offers an array of table games such as Blackjack, Baccarat, American Roulette, and Three Card Poker across three opulent gaming rooms – The Dickens Room, The Kensington Room, and The Palace Room. Each room is meticulously designed to provide a luxurious gaming experience. Although it doesn't feature video slots, Maxims is famed for its high-roller clientele, offering stakes up to £10,000, making it a sought-after destination for elite gamblers. VIP players can elevate their gaming experience in The Palace Room or The Kensington Room, each housing two gaming tables and a plush lounge area. Beyond gaming, the club offers a gastronomic delight at its restaurant, serving an eclectic mix of Indian, Thai, French, and Chinese cuisines. The Whiskey Bar Lounge, renowned for its extensive whiskey collection, offers a perfect spot for unwinding. While the casino requires membership, the restaurant and bar are open to all. Boasting 26 table games spread across three rooms, the casino caters to various stake preferences. The Maxims Club Casino restaurant, hailed as one of Kensington's finest, serves a varied menu until the wee hours. The casino also hosts monthly events and private parties, providing an intimate ambiance.
Crown Aspinalls
Emerging from the ashes of The White Elephant Club, a popular dining destination established in the 1960s in London, UK, Crown Aspinalls stands as an emblem of transformation and luxury. In 1992, Aspinall metamorphosed this elegant dining hub into an exclusive casino, known today as Crown Aspinalls. This prestigious gaming club offers an array of experiences, from diverse dining options to an animated main gaming floor, poker tournaments, and private gaming suites. Prioritizing patrons' comfort, the club features a heated outdoor gaming terrace and a smoking area. Membership at Crown Aspinalls involves a rigorous process that requires an application form, personal information including a valid photo ID, and a business card, all subject to approval by the Membership Committee.
The gaming experience at Crown Aspinalls is unparalleled, with an assortment of games like Baccarat, Roulette, Three Card Poker, and Blackjack offered. The casino's allure extends beyond the main gaming floor, with several private gaming salons showcasing unique themes and decor, some even fitted with their dining facilities. Sports enthusiasts can enjoy live game coverage in the "soft" gaming room, equipped with large plasma screens. The gaming rooms, designed by British designer Tessa Kennedy, ooze classic elegance with ornate fixtures, art, and moldings.
Crown Aspinalls also stands out for its culinary offerings. Nicola Ducceshi, the head chef, along with a dedicated team, presents a cornucopia of international cuisine, including Asian, Italian, and Lebanese dishes, while the Chinese chefs ensure the authenticity of Chinese fare. The dining halls are open to both members and non-members, provided they are at least 18 years old, ensuring an inclusive, yet exclusive, dining experience.
Les Ambassadeurs
Situated in the vibrant Mayfair district, Les Ambassadeurs Casino is a private club exclusive to members, offering an unparalleled gaming and dining experience. It boasts 15 slot machines, 26 diverse table games, poker amenities, and the biggest outdoor gaming area in London, providing a plethora of entertainment options for its members. Enhancing these offerings is the distinctive Smoking Garden, a tranquil oasis separate from the main floor, complete with underfloor heating, marble-finished bathrooms, a shower room, and high-definition televisions suitable for all weather conditions.
For those seeking a more private gaming experience, the casino offers four exquisite private rooms: The Marble Room, The Gold Room, The Leopold Room, and The Penthouse Rooms & Terrace. Each room provides its unique charm, from the oval Renaissance fresco in The Marble Room to the ornate fireplace in The Leopold Room, offering guests an unparalleled gaming experience.
Alongside the gaming facilities, Les Ambassadeurs Casino houses a restaurant that serves a wide array of cuisines, including Arabic, Chinese, and Indian, prepared by specialized chefs. For those with a penchant for sweets, a dedicated pastry chef is on hand to craft delectable desserts.
Adding to the club's allure is The Library Room, a tranquil space perfect for relaxation and leisure. Adorned with crystal chandeliers and intricately carved wood-paneled walls, it offers members a quiet retreat to read, rest, and relax. Whether it's the thrill of the game or the joy of dining, Les Ambassadeurs Casino promises an unforgettable experience for its members, operating around the clock for their convenience.
The Hippodrome Casino
The London Hippodrome, which first threw open its doors as a music hall in 1900, has a rich history marked by transformation and evolution. Its inaugural performance was graced by the young talent of Charlie Chaplin, marking the start of its journey as a premier entertainment venue. Over the decades, it transitioned into the illustrious nightclub, The Talk of the Town, hosting legendary musical icons such as Frank Sinatra, The Jackson 5, Judy Garland, and Ella Fitzgerald. After changing hands to Peter Stringfellow, the baton was finally passed to Jimmy and Simon Thomas in 2009, who transformed the venue into a casino in 2012.
This expansive casino, spread over five floors, is essentially a three-in-one entertainment complex. The Grand Casino on the ground floor is the main spectacle, akin to a vast goldfish bowl of gaming. Lola's, located on the lower ground floor, emanates the lively ambiance of a bustling speakeasy. In contrast, The Craybourn Club on the third floor provides a more relaxed setting, conveniently adjacent to the smoking terrace.
For those seeking a respite from the gaming tables, the theatre offers a captivating diversion with Magic Mike Live, a stage rendition of Channing Tatum's hit film series, promising thrilling performances and minimal attire. For culinary enthusiasts, the Heliot Steak House, one of London's top dining spots, serves as an excellent place to relish your casino winnings.
The Empire Casino
The Casino at The Empire, London's largest casino, is nestled in the heart of the city's West end at 5-6 Leicester Street. This two-story entertainment mecca sprawling over 55,000 square feet boasts an array of gaming options, including more than 100 slot machines, roulette and video poker machines, and 50 gaming tables. It also houses a dedicated poker room, a reasonably priced pan-Asian restaurant, and four distinct bars and lounges offering à la carte menus.
Recognized as one of the UK's liveliest casinos, The Empire welcomes guests aged 18 and above, operating 24/7. The casino floor is designed to cater to all gaming preferences, featuring 20 slot machines each on the upper floor and within the London Poker Room. For players not inclined towards slots, nearly 90 electronic roulette machines provide an alternative, with 28 of them linked to a progressive jackpot, a feature exclusive to Caesars Entertainment UK.
Table game aficionados can choose from 50 games, including the exotic Pai Gow tiles, the elegant punto banco, and blackjack with special rules. Some roulette games even allow a minimum bet of just 10 pence. For poker enthusiasts, the Empire Poker Room is a haven, offering continuous cash games and daily tournaments starting at 2 p.m.
The casino's culinary offerings are just as diverse as its gaming options. The Carlsberg Sports Bar operates round the clock, serving a variety of dishes, from steak and seafood to American classics. FuLuShou, the on-site Asian restaurant, offers affordable traditional pan-Asian cuisine under the expert guidance of Chef Wai, formerly of the prestigious Dorchester Hotel.
Adding to the vibrant atmosphere are the casino's multiple bars, each with its unique ambiance. The Icon Balcony Bar provides a VIP view of the Square, while the Shadow Bar boasts an illuminated dance floor. Vapor, situated at the casino's heart, remains open until 5 a.m.
Adjacent to the casino, the historic Empire Theatre, a landmark venue that opened its doors on 17 April 1884 as a variety theatre and ballet venue, offers additional entertainment options for visitors.