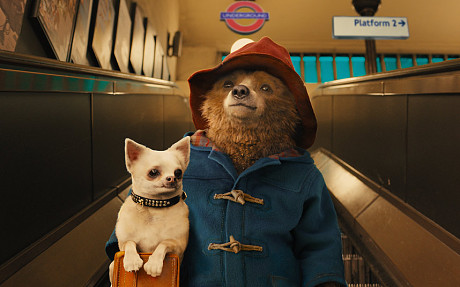 By Andrea Kirkby
Anyone who grew up with Paddington Bear in the UK will remember Michael Hordern's fruity voice narrating the adventures of a jolly little bear, a charming programme which the BBC thoughtfully programmed at tea-time for those of us who had just got back from primary school. And now Paddington the movie is eagerly anticipated to hit our screens on November 28th so I decided to put together a little tour inspired by our furry friend to whet your appetite.
Paddington Bear is immediately recognisable. He looks ever so slightly disreputable, with his battered old hat, blue duffle coat with big wooden toggles, and wellington boots. He looks ever so English too.
But of course he isn't – or wasn't. He's a little bear from darkest Peru, sent to England by his ancient Aunt Lucy, who has gone to live in the Home for Retired Bears in Lima. That explains the other item he's wearing – a luggage tag round his neck saying 'Please look after this bear.'
Well, if you know the story, you'll know that at Paddington Station he bumped into the Browns who took him to live with them in a huge Victorian house in Windsor Gardens. It was the station that gave him his new English name, his Peruvian one being apparently unpronounceable, at least by the Browns; and nowadays – Paddington is an old and famous bear, having been born in 1958 – they've put up a statue to him in the station, sitting there with his battered hat and his old suitcase waiting for someone to rescue him. In fact there is a whole trail of statues around the station…
Follow the escalator up from the statue in the station and you'll find a lovely little Paddington Bear shop. You can buy Paddingtons of every size, with or without wellies; Paddington toast racks and cups and plates and saucers, Paddington books and even Paddington bookmarks and badges.
What you can't get anywhere in Paddington – or at least, if you can I haven't found the right place – is marmalade sandwiches. To which, of course, Paddington Bear was extremely partial.
A long walk or two stops on the tube will take you to Portobello Road, where Paddington frequented the market and was renowned for driving a hard bargain. His legendary "hard stare" (taught him by his revered Aunt Lucy) must have come in useful. He had a particular friend in Mr Gruber, the antiques dealer; an emigré Hungarian, Mr Gruber must have sympathised readily with the little bear's refugee status. You can follow the little bear's footsteps through the market at the weekend.
Half way between the market and Paddington is Windsor Gardens – but the 'real' Windsor Gardens is nothing like the leafy street in which Paddington made his home with the Browns. It's rather ugly, dominated by blocks of council flats. And there's no number 32 (if you're looking for a pretty and traditional street near Paddington, take a stroll to Conduit Mews – a lovely row of pastel cottages which is nothing like the Browns' house either, but much easier on the eye).
Michael Bond, the author who created Paddington Bear, is a long-time Paddington resident and he has now been immortalised with his own statue. At St Mary's Paddington he's to be found in interestingly mixed company, with mathematician and codebreaker Alan Turing and Jamaican-born nurse Mary Seacole. Naturally, Mr Bond is clutching a Paddington bear fondly to his heart.
Now this little Paddington Bear tour won't take you more than an hour or so assuming you start on foot from the Tune Paddington hotel which is at the epicentre of London's bear country. But there's another sight quite close by that, while it has absolutely nothing to do with the little bear, has got the same kind of quirky humour; I think Mr Gruber would have loved it too.
It's the 'rolling bridge' at Paddington Basin, an amazing construction which curls up on itself to open the canal to boats. The rest of the time, it looks quite subdued and normal; but every Friday, at noon, it's taken through its paces. I can't help thinking it looks rather like a woodlouse curling up and uncurling again.
Meanwhile, should you see a woebegone little bear wandering about the station and lugging a large suitcase behind him, you know what to do. Give him marmalade. And plenty of it.