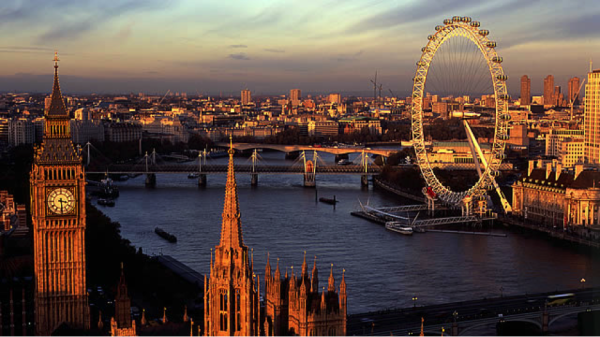 What city has the most multi-millionaires in the world? Yep, that would be London, the still-flourishing hub of global wealth. London has been highly regarded as the epicenter of the swanky soiree for, well, centuries. While England still has plenty of ramshackle, rustic charm sprawling over the rural hills and valleys; the pastoral days of yore in London proper have been transformed into slick, high-tech luxuries. And billionaires from across the globe are clamoring for a piece of the flashy pie.
Even with the cost of living going up (particularly for those in the market for high-end goods and services) money is pouring into London. On that note, let's take a look at living, loving and leaving in this cultural touchstone of a city…
Residing
Even with the influx of foreign buyers dominating the housing market, investment properties are still a hot commodity within the city. Lavish high-rises and towers are still piling up on the skyline dominating construction dockets and, as usual, the majority will not be inhabited as primary residences.
If you're in the mood to spearhead an unusual move, take up residence in one of these extravagant towers and actually live there. I know, it sounds novel, but few of us want to be in the proximity of a multi-million-dollar ghost town.
West London's subterranean phenomenon is still going strong. The 'billionaire burrowers', as they've been called, are still digging under their Kensington and Chelsea boroughs with gusto. The historic neighborhood is filled with the rumbling sounds of conveyor belts, bringing rubble above ground in a steady stream. These controversial renovations show no sign of stopping any time soon.
Recreating
Cash burning a hole in your pocket? Not a problem in a city with endless forms of high-end entertainment. Sure, you can stay at five-star fixture Claridge's, like Winston Churchill and Audrey Hepburn, or just drop in for some afternoon champagne and crumpets, but if you're just dying to drop some serious coin, Le Gavroche is the upper-crust eatery of your dreams.
Pampering is an excellent way to pass an afternoon, and London has plenty of sumptuous spas to treat yourself right. Sanderson's on Berners Street is ideal choice for couples looking for tranquil, relaxing treatments in an opulent setting. Spend an evening at the Royal Opera if you're in need of an extra dose of culture; in a Grand Tier box for the best possible vantage point.
If an afternoon at Harrod's doesn't do the trick (sometimes seven stories of offerings can be slightly overwhelming), shopping on Bond Street, also known as the street with the highest rent-per-square-foot in the country, will inundate you with high-end offerings from stores like Chanel, Dior, Burberry and Tiffany & Co.
Retreating
Among the most popular pastimes for the global super-rich is, strangely, bailing on their country of origin. Renouncing citizenship is at an all-time high and for the same reasons the foundations of original emigration encompassed: the prospect of a better life elsewhere.
United States citizens are jumping ship at a rapid rate, many of those heading for the Queen's turf, so if you're British and eyeballing France, Singapore, or wherever, as your new stomping grounds, the ebb and flow might end up quite even.
For those considering an international move, temporarily or for good, an international wealth manager is possibly the most important step you can take to ensure that you and your money (savings, pensions, investments, trusts…you name it) make it across the borders all in one piece. Funds transfers can be subject to all manner of fees and double taxations, so consulting with a professional is generally the best way to navigate these intricate waters.
Regardless of whether you're residing, recreating or retreating, London is still at the top of the list for world-class luxury and high-end spending. Everybody deserves indulgences once in a while, whether it be a custom-painted Lamborghini, one perfect cup of tea, or acreage in rural Spain full of heirloom tomatoes…
Mario Vitanelli is a blogger who primarily focuses on international finance, investments and travel. When he's not writing, you can typically find him with a crossword puzzle in one hand and a glass of Scotch in the other.