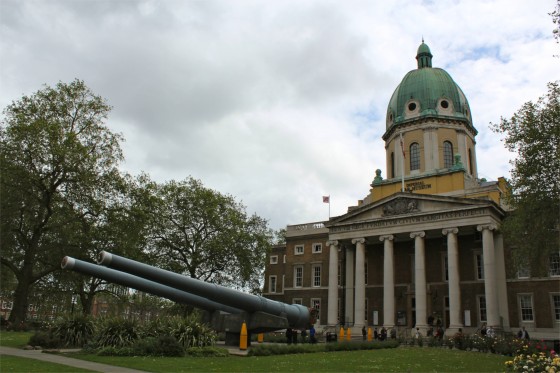 By Andrea Kirkby
I always had a problem with the name. We don't do imperialism these days; it's jingoistic and colonial. And a war museum – well, if an art gallery believes art is something that we need, does a war museum try to make war look good? It's never sounded like the kind of museum I wanted to go to.
It's a pity about the name, because it looks as if the museum is going to be very interesting indeed when it reopens this week, in time for the First World War centenary.
The central atrium will be impressive. Here you'll see a V2 rocket, and a Harrier and a Spitfire 'flying' in the central space – an impressive sight and guaranteed to appeal to little boys who've seen too many war films. But this isn't an army museum, so the atrium will also contain an exhibit that reminds visitors of the work of war reporters and photographers, a Reuters landrover that was damaged by a rocket attack in Gaza.
There will, naturally, be a huge World War One display and the museum will open with a special exhibition of British Art of the First World War, called 'Truth and Memory'. The First World War's poets are probably better known than its painters, but some remarkable art came off the battlefields – both Paul Nash and David Bomberg were combatants as well as artists. While earlier art tended to glorify the warriors – images of Napoleon crossing the Alps, or bird's eye views of battlefield landscapes – this was raw stuff, the story of ordinary men caught up in a war machine. I expect the exhibition to be anything but jingoistic.
Naturally the museum will also have a huge WWI display in its permanent collection. There are some fascinating exhibits; for instance there's a camouflage tree. I must admit when I found the blog entry on this, I looked at the date very carefully, thinking it was an April Fool's prank along the lines of the spaghetti tree; but it is real. And realistic, too – artists made sketches of real trees in the war zone, and models were made exactly like them. The real trees were then cut down at night and replaced by these steel-reinforced hollow models, which could be used as disguised observation posts. There are, apparently, only two left in the world.
The scope of the collection goes way beyond the battlefield. For instance, the new WWI gallery will look at the logistics of the war as well. It made huge demands for materials; both raw materials and productive capacity had to be turned over to the war effort, and lines of supply had to be established (and then defended).
New technology will help tell the story. For instance, some of the museum's vast collection of film can be used, as well as still photographs, and huge digital maps will show how the  war spread and new fighting fronts emerged. Perhaps an understanding of how a little local skirmish spreads to engulf half the globe is the greatest contribution this museum can make to world peace.
The museum has also established two areas for 'quiet reflection'. I dare say this won't appeal to the little boys who watch too many war films and want to run about making aeroplane noises… but they've got the atrium for that.
If you need accommodation just a short walk from the Imperial War Museum then this nearby Westminster hotel which I've stayed in myself offers a safe bet.