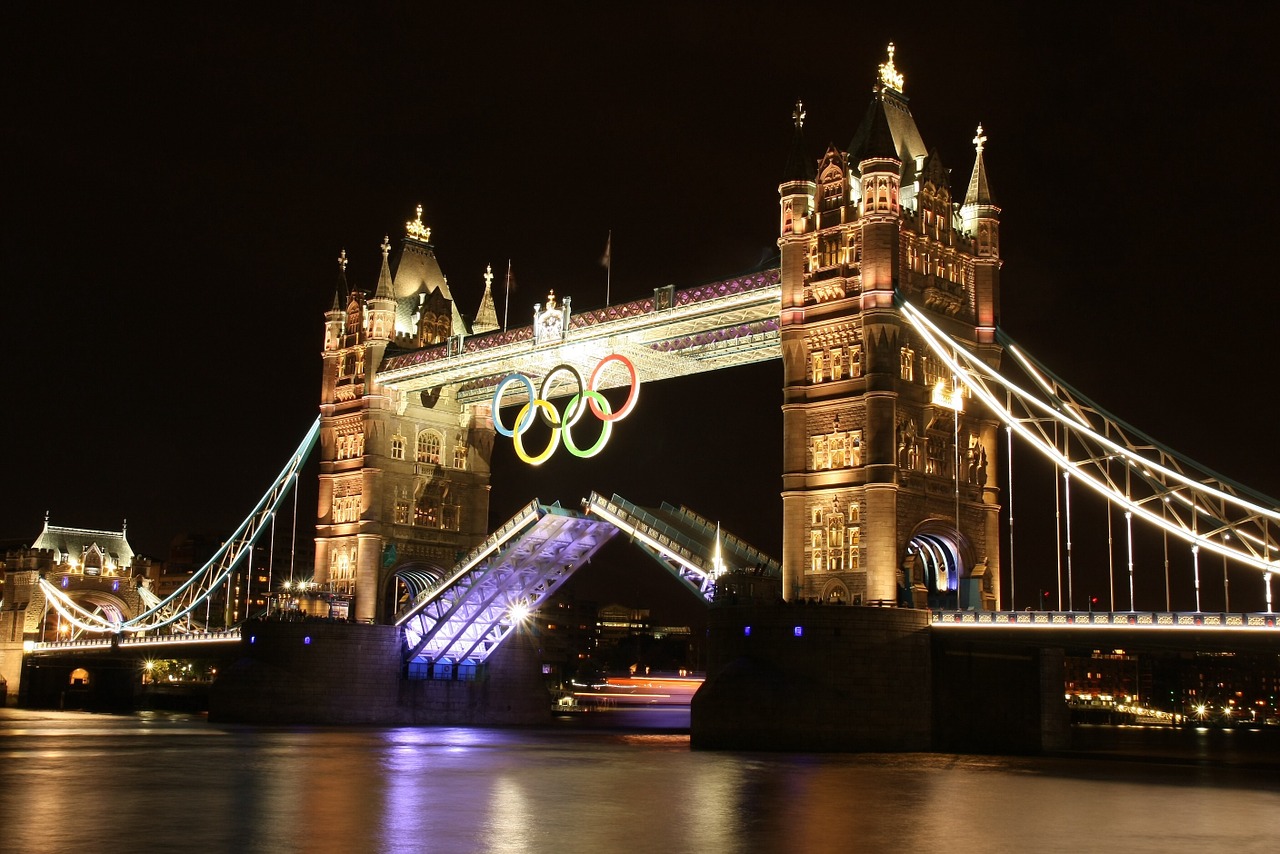 When people living outside the United Kingdom are asked to name one place they can think of in the UK, the answer will usually be London, which is no surprise seeing as it's the capital city and the biggest in the United Kingdom.
In terms of sport, London is well known thanks to the number of big name football clubs based in the city including Chelsea, Arsenal, Tottenham Hotspur, Crystal Palace and Fulham. Outside of football, London regularly hosts major sporting events, including most prestigious tennis tournament in the world that takes place at Wimbledon every summer.
In 2012 the city hosted what was arguably the best Olympic Games to date, and Team GB achieved great success across multiple disciplines.
But when it comes to producing sporting talent, how well does London perform compared to the rest of the country?
No one can deny the popularity of football and in terms of fan base and money, it has to be the biggest sport on the planet.  There are many top professional football players who were born and grew up in London.
One of biggest names to come from London is John Terry, who went on to captain Chelsea and England.  Terry was born in Barking and won the Premier League five times, the FA Cup times and the Champions League.
Looking at the England team which impressed in the 2018 World Cup, Harry Kane is arguably the biggest player to hail from London.  He finished top scorer in the Premier League on more than one occasion for Tottenham Hotspur and also won the Golden Boot award for top goal scorer in Russia.
Interestingly, well over 50% of the England squad which travelled to Russia for the World Cup were northerners, meaning London and the South were under-represented in this particular team.
But what about other sports?  How well is London represented by today's sports stars outside of football?
Anthony Joshua has been making plenty of headlines in recent years.  The boxer was born in Watford and won gold at the 2012 Olympic Games in London.  The heavyweight has since won the Commonwealth heavyweight title, British heavyweight title, IBF heavyweight title and IBO heavyweight title and in the process, has become a world-famous athlete.
Joshua's impressive victory over Wladimir Klitschko at Wembley in April 2017 really put his name on the map outside of the UK.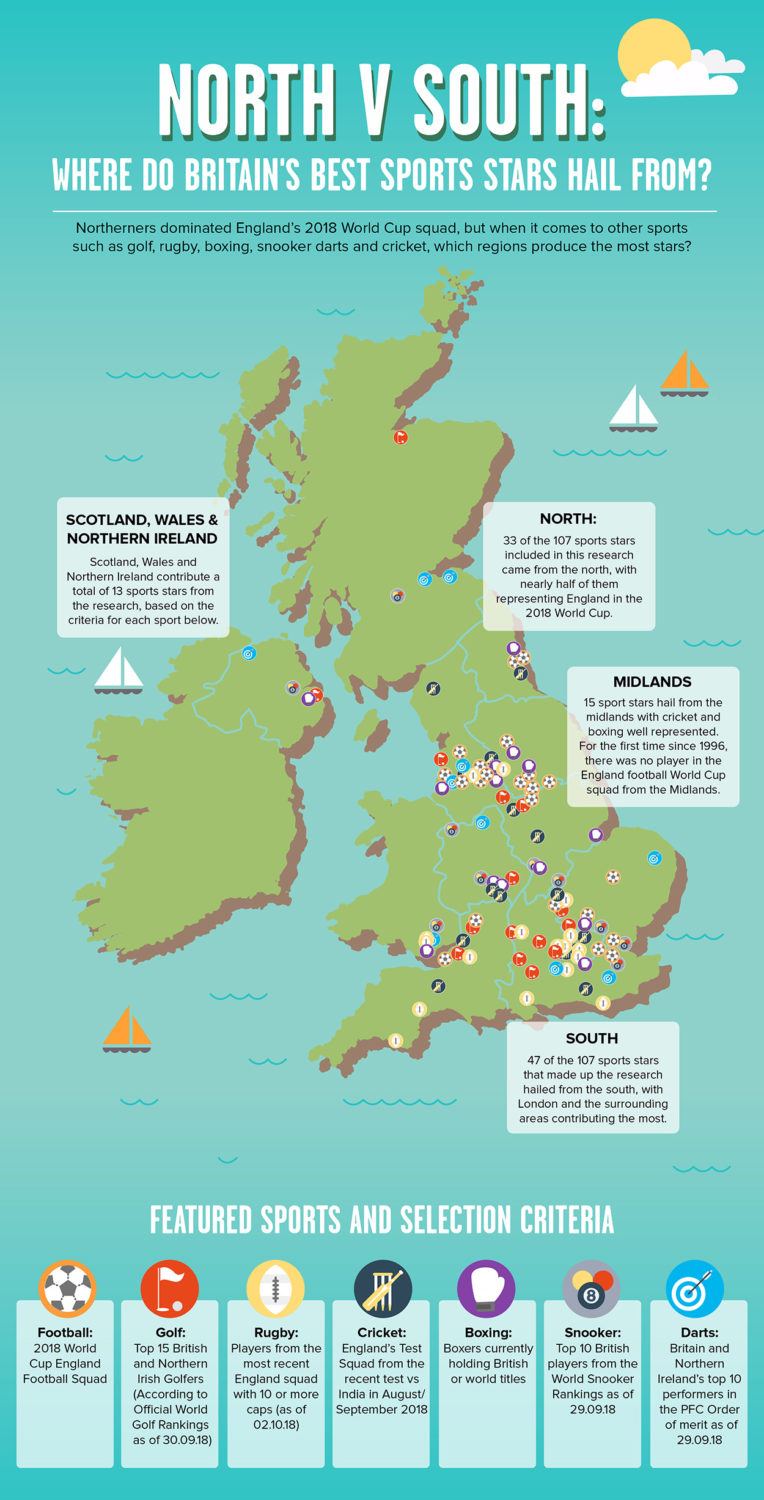 Image Caption: Mapping where Britain's current top sports stars grew up
Another athlete who also achieved great success at the London 2012 Olympics is Mo Farah.  Born in Somalia, Farah moved and grew up in London, attending Isleworth and Syon School plus Feltham Community College.  Farah participated in the London Youth Games and went on to win gold at multiple European Championships, Olympic Games and World Championships.
In one of his most recent successes, Farah broke the European record at the 2018 Chicago Marathon and continues to represent the United Kingdom and London with distinction.
Other sports where London is well represented include rugby and cricket.  Joe Marler, Kyle Sinckler, Harry Williams, Maro Itoje and Chris Robshaw are five of several players in the current England rugby union set-up who have their roots in London. Robshaw was captain of the England rugby team for over three years and has twice won the Aviva Premiership Player of the Year award.
Dawid Malan, Ollie Pope and Jamie Porter were part of the England cricket team which faced India in 2018 and both Malan and Pope have travelled to Sri Lanka with the squad for the autumn series.
While many of the names above may not have won all the major titles within their chosen sport, they are representing their country at the highest level.
For many Londoners, and indeed Brits in general, sport plays a very important part in their lives. Participating in and watching sport is a favourite pastime for many and the city is well equipped to help develop up and coming talent across many different disciplines.
London 2012 may have passed quite a while ago, but it left a great legacy behind in the city and was instrumental in encouraging youngsters to get involved in sport. As a result, it surely wont be long until the next generation of athletes born in London make an impact on the world scale across a variety of different sports.