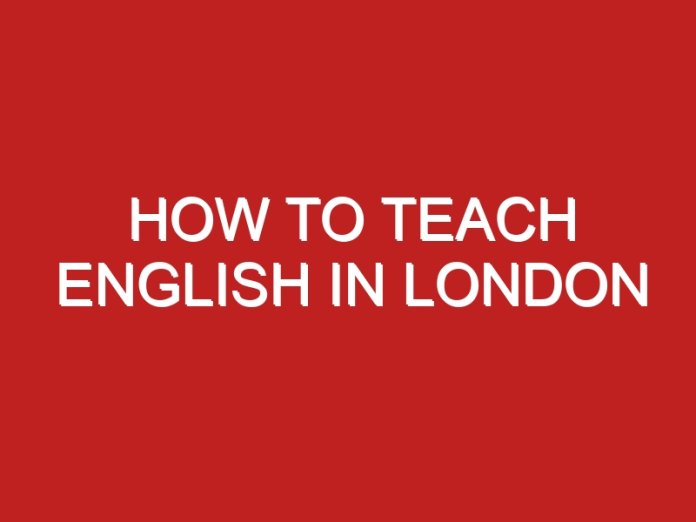 If you're based in London and looking for EFL teaching jobs, you'll find no shortage of options. The last BBC census in the UK revealed that around 8% of the population don't speak English (or Welsh) as a first language, but in London, that rises to 22% – around 1.7 million people. Many of those who speak English as a second language in London will be seeking to improve their skills, whether through full-time study, part-time classes or language clubs. If you're looking for a TEFL job in London, read on to find out what is available.
 What Kind of Job?
Whether you're currently based in London or looking to relocate, you'll have to consider what kind of job you're looking for. Full-Time TEFL jobs will typically be through professional language schools, and though some people manage to find enough TEFL teaching online to consider it a full-time job, this can be tricky for two reasons – firstly, the work might not be guaranteed, and secondly, you're unlikely to make enough money from this to cover London rental rates.
Other options include part-time teaching, which can be a great way to get TEFL experience while still working a full-time job. Many people learn a language by attending an evening class or a study session on the weekend – something a newbie teacher can fit into their schedule. There are also options for voluntary teaching programs across the capital.
 Full-Time TEFL Jobs
Finding a full-time TEFL job in London can be tricky. While there's a huge market of students to tap into, with many local residents being bilingual there is still competition for full-time teaching jobs in the capital. Jobs can be found using regular job search sites such as Indeed, Reed, Totaljobs, Gumtree, and Monster. 
Competition is fierce, and if you're inexperienced then it's unlikely that you'll land a full-time teaching job in London unless you manage to wow the interviewer. Check out whether the school is right for you before applying and check criteria carefully.
 Part-Time TEFL Jobs
Finding a part-time TEFL job in London is much the same as finding a full-time one – positions have many applicants, but they also come up frequently and can be found using the same job search websites as listed above. Part-time jobs will often be available during the weekends or in the evening so that people can come to class after work.
Summer Schools
Over the summer holidays, London is flooded with tourists who want to learn English while having a great trip. This is particularly popular for teenage and university aged students who want a cultural experience and the chance to make friends alongside their studies. The summer school will typically provide lessons for half of the day and then an activity (such as sports, visiting a museum, going to a cultural site, etc) for the other half of the day.
Summer school jobs vary depending on whether or not they're BC accredited. Top schools won't accept applications from teachers who just have a TEFL certificate, but there are plenty of opportunities for TEFL teachers who like to join in with the games and activities so that the students can enjoy the trip. Search on Summer TEFL Jobs and other good TEFL job sites.
 Voluntary Teaching
If you want to gain experience as a TEFL teacher before embarking on a full-time teaching career, volunteering can be a great way to do so. There are many reasons why people need to rely on free classes to learn English. Refugees who have sought asylum in the UK are often keen to learn English so that they can get jobs, go to school and become an active member of the community. People on lower incomes who want to improve their job prospects mightn't be able to afford an expensive language course. Volunteering as an English teacher will bring you a great sense of satisfaction as well as vital teaching experience.
English for Action organises English lessons for communities in London, and while their teachers are paid professionals, they seek volunteer teaching assistants to help out in class. This would be a great first step for you if you're not sure about a teaching career and want to get hands on experience and see what it's like.
As well as looking for specific TEFL volunteering companies, remember to check out websites like Workaway that offer all sorts of volunteering opportunities. Workaway is a great choice if you want a 'gap year' experience where your room and board is provided in exchange for your skills.
 Skype/Online Teaching
If you're based in London and want experience as a TEFL teacher, remember that you don't have to be bound by what jobs are available in your local area. While London is a bustling, cosmopolitan city and is never short of TEFL teaching jobs, you will certainly have more choice and flexible options if you're able to consider teaching online.
Being an online TEFL teacher is a very different skillset to teaching face to face. For starters, an online class will usually be 1-to-1 rather than a group class, and the classroom activities will be different too. Teaching English online works well for teenage or adult students, but it can be challenging for children or those with very basic English skills. However, despite these challenges many TEFL teachers thrive in this line of work and love the freedom and flexibility that the job offers.
To teach online, you can either work totally freelance (finding your own students through adverts like on Gumtree, Facebook, etc), working on a platform (where students can view your profile and contact you for lessons, but the platform takes a cut of your earnings) or for a company (where the students and lessons are all arranged for you, with a cut coming out of your earnings).
There are pros and cons to all three approaches. Working completely freelance offers the most freedom, but you have to organise all your lesson materials by yourself, find all your own students and accept that it will be hard to find many students in this fashion. Working on a platform can be attractive as it offers some freedom but the hard work of finding students is much easier, although you might baulk at the platform taking a cut when you do most of the work. Working for a company can be the best option if you want regular classes and materials provided for you, but the experience depends entirely on the company you work with.
 Summary
Finding a TEFL job in London isn't always easy – while there are jobs being advertised year-round, there is also a large pool of applicants and competition can be tough. For the best chance of landing your dream TEFL job in London, follow these tops tips:
–          Brush up on your interview skills. If it's been a while since you've had a job interview, ask a friend to help you practice
–          Know your stuff. Make sure you're familiar with the materials and ethos of the school you're applying to and have some intelligent questions to ask in the interview
–          Read the literature. Read up on trending teaching methods, how to us interactive whiteboards, top games to play with students… any information that can be of use
–          Get experience to put on your CV. With so many applicants, you need to stand out. If you don't have much teaching experience, try to gain some from voluntary teaching or teaching English online before you apply to a top school. Also bear in mind that word of mouth is a great way to get hired – ask around to find out where is hiring. And remember good luck!
If you are moving from another country to teach English in London, but don't know where to start, then read this TEFL guide