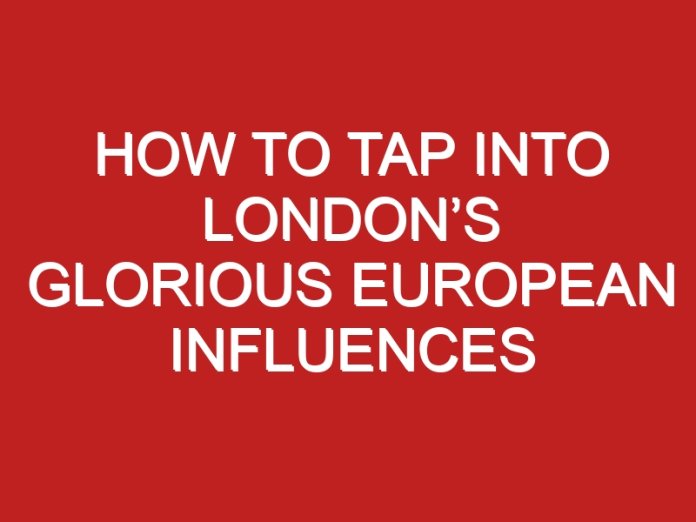 Throughout its history, Great Britain has been invaded over and over again. Never a fortress of any kind, the British Isles have been invaded by the Normans, Romans, French, Dutch, Germanic peoples, and, of course, the Vikings. This, coupled with the rise of the British Empire, led to a country influenced by whole hordes of overseas nations and cultures. Britain is, essentially, a mongrel nation – which is great.
To this day, we can still see the influences and even the presence of other countries – particularly continental European countries – in the capital city. London is both parts quintessentially British and a very international city. While many think of the range of food and cuisines available thanks to its vibrant community, you can find many other spots and activities that are unashamedly imported.
Here, we're exploring ways to tap into the continental European heritage, influences, and inspirations that can be found dotted around the city, from popular forms of entertainment to grand designs.
Discovering Little Paris in the heart of London
There are so many great things to do in South Kensington of Central London, but the focus here is on a small area once known as 'Little Paris.' While the area suffered from heavy bombing during World War II, much of Little Paris remains or was rebuilt, with there being several distinctly French points of interest to explore. First and foremost is the bronze Charles De Gaulle statue in Carlton Gardens, which is where France's government in exile operated in the early 1940s and where you can still find the Forces Libres Françaises.
You'll also find the bookshop Librairie La Page on Harrington Road, as well as the central hub for the estimated 300,000 French citizens who call London home, the Institut Français du Royaume-Uni. Of course, you're never too far from a classic eatery, with rasserie Zédel being a must-visit for anyone seeking some distinct Frenchness in the city of London.
The grandeur of 17th-century Italian architecture
In most capital cities around the world, there's at least one grand piece of architecture that has been meticulously designed by a foreign creator. It's not uncommon, and it's why you can experience some of the finest Baroque architecture across London. Superbly theatrical, the style hailing from 17th-century Italy can be seen from Russia to France and is distinctly European Christian in its design.
The most famous example in London is St Paul's Cathedral. Now accepting of photography within its walls, it was built by Sir Christopher Wren between 1677 and 1697, who had studied architecture in Paris 12 years prior. More English-built Baroque designs came into being in the years that followed, including the Old Royal Naval College in 1712 and the majestic Blenheim Palace in 1722.
Of course, the most infamous legacy of Italy in London was laid by the Romans. Billingsgate Roman Bath House, the Roman Amphitheatre, the Roman Fort, and the wide-spanning London Wall are all very popular among history buffs. Then, there are the more secret sites. The cultist temple of London Mithraeum is the best of secret old Londinium that is worth a visit.
A hands-on embrace of continental Europe's ways
For decades, even centuries, London has been flooded with exciting and interesting tastes developed on the continent. Lifestyles and ideas have come flowing into the capital, leading to a grand diversification of modern-day life that has evolved greatly from the once-standard ways of the British. Among the leading ideas and ways of Europe that continue to make an impact are found in entertainment and, of course, cuisine.
It may come as a surprise, due to its distinctly American connections, but even the game of blackjack in London and that which is offered by online UK platforms uses European rules. In European blackjack, rather than the dealer getting two cards during the set-up, they only get one, with the other coming after the players have all decided to stand or have gone bust. As the name suggests, the twist hails from Europe, and the most famous of London gaming houses use it to this day.
To enjoy a diverse selection of the most famous European cuisines, you'll want to go to Jubilee Market. From Italian dinners to French treats, you'll be able to jump around the continent on a fork in this convenient location. For some fun in the evening, you can visit the Cervantes Theatre – London's first venue that's dedicated to Spanish plays. They're performed in English and Spanish so that more people can enjoy the tales told on stage.
You don't need to look closely to see that London is teeming with European influences, and each helps to give the capital its vibrant persona.