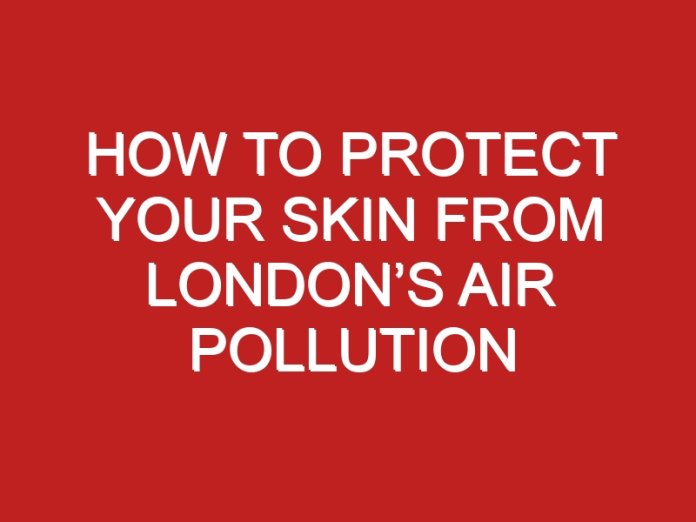 Whether it be the packed underground stations, the high numbers of cars or the various airports located throughout the city, it's safe to say that life in London can be pretty grubby.
And now, in light of the coronavirus pandemic, more people than ever before are growing concerned about their health while living in the capital, looking for effective ways to keep their skin looking as fresh and youthful as possible.
After all, research published in the Journal of Investigative Dermatology has found that high levels of nitrogen dioxide – a pollutant regularly pumped out by cars and other vehicles – can increase the development of age spots and skin-related issues like hyperpigmentation.
This finding, coupled with the fact that London's Oxford Street is now recognised as one of the most polluted areas in the world, goes to show just how dangerous life in the city can be, and how important it is to keep on top of our health.
With this in mind, join us as we run through some of the most effective ways to protect your skin when living and travelling around London, highlighting what you need to do to ensure it retains its elasticity for as long as possible. 
Consult a professional 
If you have lived, worked and travelled around London for many years now, you may have noticed your skin already worsen over time. And, while you may think it's too late to do anything about it, that isn't always the case. 
Many skin-related conditions can be helped or reversed by utilising the help of a professional dermatologist – and London is home to a lot of well-known clinics. 
Whether it be through laser skin resurfacing, dermal rolling or performing a chemical peel, thanks to the number of medical advancements in recent years, there are now a number of tried and tested techniques available to get your skin back to looking its best.
Drink lots of water
As you will probably know already, keeping hydrated is imperative to maintaining your skin's complexion. However, in light of how polluted London's air is, hydration is arguably more important than anything else mentioned on this list.
This is because skin cells are made up of approximately 64% water, meaning that the only way you will be able to maintain a healthy balance is by ensuring you are regularly replenishing any water you lose as you go throughout your day.
Wash your face more often 
If you are looking to keep your face looking younger for longer, it could be worth moving your bedtime skincare routine up by a few hours, washing your face as soon as you get home.
Thanks to the movement between cold and warm environments in London – from the cold outside weather to the warm jam packed tubes – your pores will be constantly opening and closing, allowing nasty toxins to become trapped in your skin cells. 
Therefore, to remove these toxins more quickly, thoroughly washing your face as soon as you get in could help prevent a wide variety of skin-related issues, like acne or rosacea, manifesting over time.
Get more sleep
Another piece of advice that you will likely know but not abide by, getting a good night's sleep can not only work wonders on improving your skin's complexion but it can also benefit your overall health at the same time.
This is because sleep provides the body with an opportunity to repair itself, increasing the amount of blood flow to your skin, helping rebuild collagen and undoing any damage caused by excessive UV exposure.
This, in turn, can then limit the onset of a wide range of age-related skin issues, such as wrinkles, fine lines or age spots.
To summarise…
There's no beating around the bush – London is one of the world's most polluted cities and that is unlikely to change anytime soon. However, that doesn't mean you simply have to put up, shut up and allow your skin to suffer with it.
By following the advice listed above, you will not only be able to help restore your skin back to its former glory but you will also be able to rest easy in the knowledge that London's high level of air pollution won't be affecting you in the same way it was before.