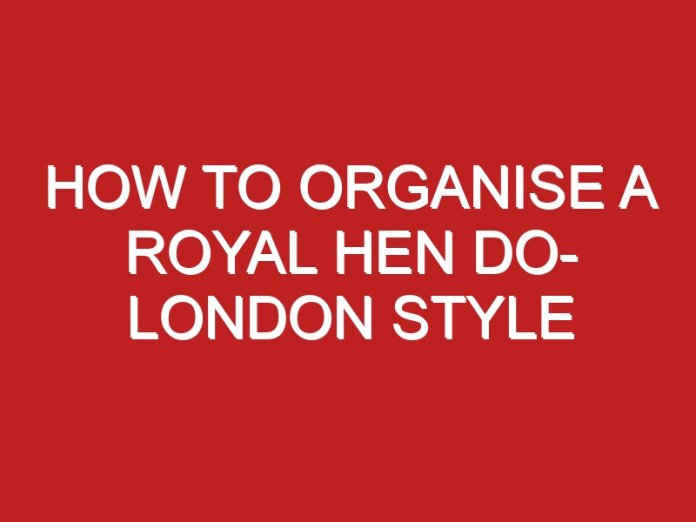 London, the fashion capital, the city of the Royalty and platform 9 ¾ is going to be an absolutely stunning host for your hen do. Planning a hen do for the bride-to-be can be a very challenging responsibility for the bridesmaids. But if you've chosen London as the destination for your hen do, then here's everything you need to know about a London style hen do.
Places To See
There's no dearth of places to see in London and get some amazing clicks with your girls. The must see places of London would include the Buckingham Palace, where you must also experience the unique changing of the guard ceremony. Once you're done visiting the royal residence, you should then check out the famous London Eye. The Coca Cola London Eye is the tallest ferris wheel in all of Europe, located on the south bank of river Thames. The view of the London city from the top of the wheel is absolutely breathtaking.
If you girls want to have some fun then the Madame Tussauds of London is another great establishment, worth visiting for all the wax statues that it inhabits. You should also check out the Tower of London which is a beautiful, old castle on the north bank of river Thames.
For the potterheads among your hen gang, don't miss out on the Warner Bros. Studio Tour London- The Making of Harry Potter. Your hen gang will have a great time visiting the sets of the Harry Potter films, checking out the real costumes and props that were used in the film and having an absolutely magical time.
Party Time
When it's time for a hen party in London you won't be disappointed. London boasts of a great nightlife and rightly so. There are a range of bars, pubs and clubs for all kinds of hens. There are pubs with live music performances, comedy clubs, pubs with happy hours, karaoke bars etc. There will be no shortage of places to party in London. Some of the best clubs of London are Fabric, Heaven, Cargo, Ministry of Sound, Printworks London etc. Brixton is one area of London where you can find a variety of bars and cafes, a little something for everyone and anyone.
If you girls want to check out some good British theatre then head to West End, where all the major theatres are located.
Hen Do Activities
After doing some London sightseeing and all night partying, you girls can indulge in some of the many activities that London has to offer to hen gangs. You can take a fun dance class like bollywood dance, 70s dance class, 80s dance class or go for an afternoon tea bus tour. There are also some adventurous and fun activities like battlezone archery, it's a knockout, where you dress up in silly costumes and try to knockout your partner. You can also play a treasure hunt, go on a Bridget Jones Tour, go for bubbly or wine tasting etc. London has more activities than can be mentioned here.
Shopping
A London hen do will be incomplete without maxing out your credit cards in the fashion capital. So definitely visit the core of London's shopping, the Oxford Street which has more than 300 stores for you to shop at. If you want the best of the best, then Bond Street and Mayfair is the place to splurge on high end designer stores. For an average priced shopping area, visit the Regent Street, which also has some of the most famous and oldest shops of London.
Conclusion
London is a beautiful destination to have your hen do in. The British culture and atmosphere of London will make all the bridesmaids want to get married and have their London style hen do. The history, culture and atmosphere of one of the most famous tourist destinations in the world, is the best way to bid goodbye to your single life and welcome the married life!