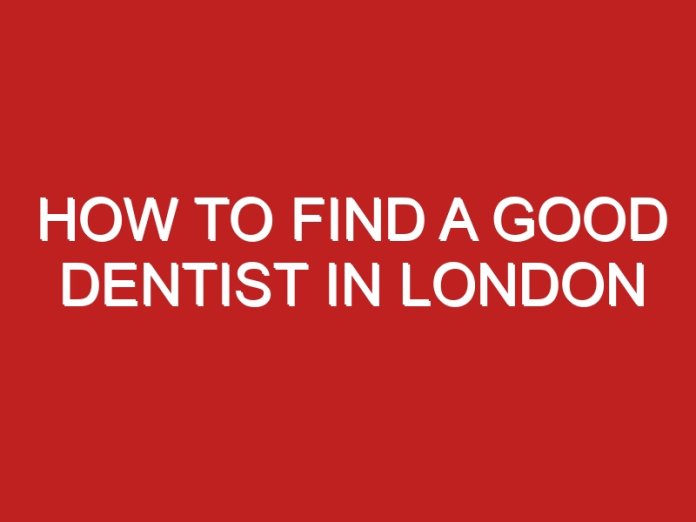 Finding a good dental clinic in London can be difficult, as there are many factors to consider. As teeth are such an important part of our health and overall image, deciding on a dentist can be a real challenge. You will want to make sure you have the best experience possible when it comes to your dental care. Regardless of whether you have just moved to London or are simply looking for a new dentist, you will need to know exactly what to consider. To make this decision easier for you, we have prepared top tips to help you find the best dental care team and ensure you are in safe hands.
Review Medical Accreditations
The first step is to research more about the training and certifications of different dentists. This information should include where they trained for dentistry and the type of degree they hold. You will also want to ensure the dentist you are considering has notable recognition from professional bodies. Use the search option of the Care Quality Commission or look for symbols and recognition on dental websites you are reviewing. Another logo to consider is that of the British Dental Association. These medical accreditations are essential in ensuring that every patient receives fair and safe treatment.
Check The Quality Of Service
It is best to find a dentist in London who will be empathetic and understand your specific needs. Dental appointments can be nerve-wracking for many patients, and because of this, customer service must be exceptional. This dentist in London offers a wide range of dental treatments and will be happy to discuss different options with you. The dental team at Covent Garden Dental Spa are friendly and approachable and ready to answer any concerns you might have. Finding a dentist such as this can help you feel like you're being properly looked after and feel as comfortable as possible.
The location of your dentist is another crucial factor to consider, particularly in a busy city, such as London. If it is difficult to get to and from the dental clinic, this can lead to missed appointments and putting off important check-ups. You do not want to travel too far to get to your dentist every time you need them, especially in an emergency. Ensure that your dentist is located conveniently for you by researching different areas. For example, it may be useful to look at dental clinics near your home or place of work.
Examine Their Website
Another great way to search for proof of excellence is to look at your potential dentist's website. Apart from ensuring that your dental practice is registered correctly, you can also find out more about their team and services. Their website can provide you with valuable insights into how well everything is organised. The information must be up-to-date and transparent with complete details about dental procedures and staff qualifications. There should also be a dedicated section for customer testimonials and reviews. Ideally, you should also be able to find accurate contact details that you can make a note of.
Look At Price Lists
The cost of different dental treatments will vary considerably across dental clinics. However, you should ensure that what you are paying for is well worth it. All dentists in London must have their prices listed in the waiting room or shown upon request. You should also be able to access price lists on their website. This may be a warning sign if costs are hidden or difficult to find. Although prices differ, you should at least try to determine the minimum of what a dentist charges. This way, you will be prepared and can avoid unexpected bills later.
Research Dental Procedures
If you are looking for more than just a bi-annual dental check-up, you will want to ensure your dentist boasts a breadth of dental procedures. For example, you may be interested in improving your smile and achieving brighter and whiter teeth through teeth whitening. Alternatively, you may want to have veneers installed and customised for your teeth. Veneers can be used to treat several cosmetic issues, such as broken, chipped, or discoloured teeth. While some patients may want to get a veneer in these cases, others may use them to create a symmetrical smile. This means that your dentist will need to understand different procedures in-depth.
Read Testimonials And Reviews
Testimonials and reviews can be helpful in evaluating the service at a dental clinic. It may be helpful to look at the dental website and Google and social media reviews. You can then get a good perspective of what to expect. If a dental clinic has received an overwhelming number of negative reviews, this may be a cause of concern. Also, if there is a particular procedure you are looking for, it may be beneficial to read specific reviews about it. Alternatively, you can ask your family and friends for recommendations of a dentist they were satisfied with.
Meet Them In-Person
It is worth scheduling an appointment with a dentist so that you can meet the team in person and determine if they are right for you. Consider any questions you may want to ask and take notes while you are there. Look at the surroundings and note the atmosphere of the clinic. The space should be well-maintained and clean. Likewise, dental professionals should be polite, well-groomed, and personable. Some warning signs you will want to avoid include rude or unhelpful staff, a cluttered or disorganised waiting room, and not adequately cleaned facilities.
Consider Time Management
Finally, it is essential that your dentist has sufficient time for you and will not allow for other appointments to overrun. This is an important factor, especially if you are a busy professional who needs to schedule appointments during lunch or after work. Check how easy or difficult it is to make an appointment. For example, if you need to wait for more than a week or two, it may be better to consider a different clinic. Also, as we cannot always be in control of our teeth, you will want to check out their emergency dental care offers.