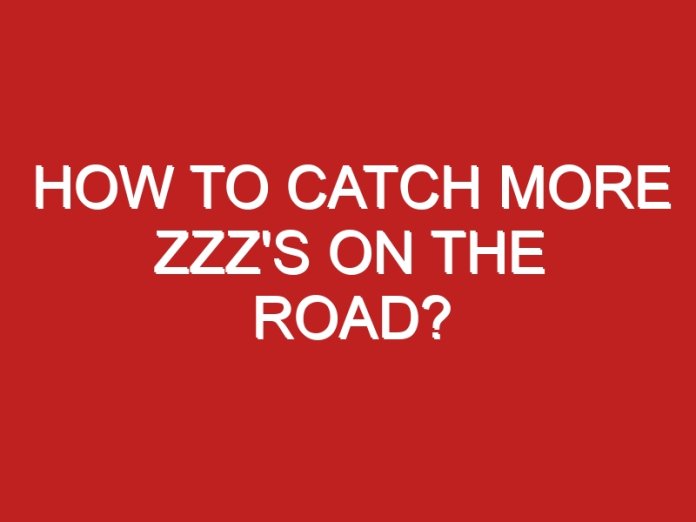 Traveling on the road to reach your dream destination can be quite fun and memorable, however, sleep can be your worst enemy on a road trip. When you're deprived of sleep, especially if you're the one to drive the car, it can lead to adverse consequences as your ability to concentrate and think drops. In addition to this, lack of sleep can also prevent you from having fun on your road trip. The first step that you can take to ensure you don't compromise on your sleep during your road trip is by getting a super cozy Mela Blanket that is engineered to calm down a person and help them get a deep sleep.
Furthermore, if you don't want to miss out on the scenic views on the road, the tips mentioned below will help you get enough sleep. Read on!
Pack a Few Travel Essentials
If you want to bring comfort to your road trip, you just need to pack a few items.
Pillow
You should start with a pillow if there's enough room for you to sleep in the car, bus, or train. Your own pillow can also bring a sense of protection and calmness to help you sleep better as if you were in your bedroom.
If there won't be enough room, having a neck pillow is always a great option. It will allow you to rest comfortably while preventing any kind of neck pain.
Noise-Cancelling Headphones or White Noise Machine
Going on a road means you have to also deal with non-stop honks and traffic noise and it can be very disturbing when you want to catch some extra zzz's. Therefore, you should consider taking along noise-canceling headphones that help to sleep better without any distractions.
If you can't sleep while wearing headphones, packing a compact white noise machine will be worth it. You can purchase the one that comes with different nature sounds as well to help you soothe and dream calmly.
Get an Eye Mask
Constant flashing of the lights on the road can cause a major hindrance to your sleep, especially if you're a person who is unable to sleep with lights on. You can invest in an eye mask that is soft to the touch and completely blocks the lights without making you feel suffocated.
Other Items
If you want to create a proper "sleep environment" in your vehicle, you can bring your diffuser with you, and adding a few drops of lavender essential oil can help you unwind and eventually fall asleep.
Bringing your favorite soothing chamomile tea can also help you deal with sleeping problems while on the road, so you can enjoy your trip to the fullest.
Maintain the Temperature
Maintaining the temperature of your ride can prevent the number of tosses and turns you take while sleeping. For instance, if you're traveling during the winters, it's best to turn on the heater after a few hours at night or a sleeping bag can also help you trap your body heat inside of it to keep you warm and toasty.
On the other hand, during the summers, you can take advantage of the shades to help you keep the temperature of your car low during the daytime and the car AC can be your best friend during the night.
Choose the Most Comfortable Sleeping Position
To help you figure out the most comfortable sleeping position in the car, you can get some hints from your last road trip. If it's your first time, you can try which one makes you feel relaxed, and you can always ask your travel buddy to switch positions with you.
For example, if you're sitting in the front seat, you can recline the seat completely backward to create the perfect sleeping position. Whilst in the back seat, you can sleep in a curled position.
Take Turns Driving
Although you should try to break up your trip into parts and everyone in the car should be allowed to sleep for at least seven hours at night, this is not always possible, especially when you have to directly reach a certain destination on the go.
Therefore, you should consider switching turns with another passenger to make sure everyone gets enough sleep to drive safely and cautiously. You should always plan before leaving and assess when you should switch turns with someone else.
How to Sleep Safely on the Road?  
The above-mentioned tips will allow you to catch more zzz's on the road, however, you also need to be safe and sound while sleeping. Hence, take into account the following:
Ensure that you park in a safe area such as a parking lot or a local rest stop to prevent any kind of unfortunate accident.
Lock your car completely and close all the windows properly to ensure no one is able to get inside.
Keep the car keys hidden from the outside and consider keeping your valuables completely out of sight from outsiders.