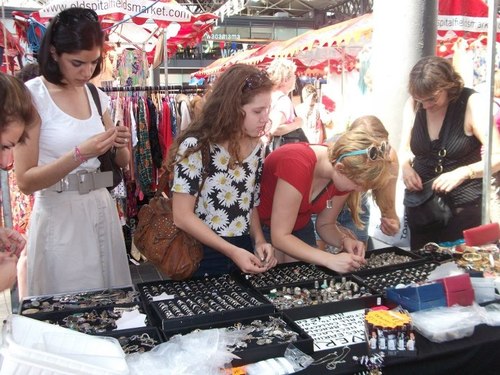 When we think of London, images of big red buses, Buckingham Palace and Union Jacks immediately spring to mind. But if you want to forgo the traditional tourist spots and try something a little different, here's out pick of the five unusual must see spots in London.
Spitalfields
A cultural paradise with interests for people from all over the world, Spitalfields has a market for a range of tastes, from lovers of vintage fashion and arts to historical events celebrating the best of all creeds and colours from around the globe. For free markets, community concerts and more, you can find Spitalfields from Liverpool Street Station, accessible from the Central, Hammersmith and City, District, Circle and Metropolitan lines.
Charlton House
This Jacobean treasure is a world away from the grandiosity of Buckingham Palace, but has its own unique charm in the heart of Greenwich. With period décor, beautiful gardens, a toy and book library, you can meet friends here for a catch up in its Mulberry Tea Rooms or simply peruse the site away from the hustle and bustle of the city centre.
The Empire Casino
When tired night clubs aren't enough to keep your thrill levels up, The Empire Casino promises all the glitz and glamour of Vegas without a ten-hour flight. First time gamblers should be aware that there is a strict dress code in certain sections of the casino such as the Rendezvous Mayfair area, and would also be advised to get in a little practice at Euro Palace Casino before taking on the real thing. But with restaurants, bars and even themed evenings, there's something for anyone who wants a non-conventional evening out.
The Vinyl Library
This new establishment was first created as a community space in 2013 by co-founders Sophie Austin and Elly Rendall, who dreamed up the idea of a lending library for classic vinyl records. The space encourages listeners to come in and donate their records in exchange for hiring out others, and there are also a number of community events from DJ mixing lessons to live concerts. You can access it easily from Stoke Newington station.
Camden Market
If you're tired out from visiting all the animals over at the nearby London Zoo, take yourself on a completely different trip altogether at Camden Market. Featuring some of the best alternative music, clothes and shopping, don't be surprised at any of the sights you see in Camden, from mods and rockers to Turkish incense and vintage fashion shops.