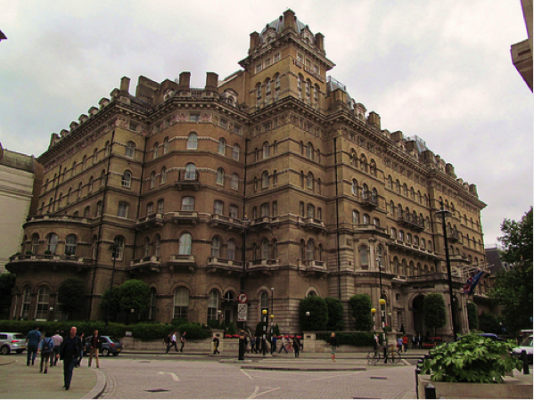 Photo by David Holt
If architecture is your passion, you will be spoilt for choice on a visit to London. Famous architectural masterpieces abound within the capital and from St Paul's Cathedral to the Shard, there are dozens of amazing buildings to admire.
However, whilst everyone has heard of the most famous landmarks, there are plenty other lesser-known buildings worthy of your time. So the next time you are in London, take a walking tour and check out the constructions below. Charge your phone and use it as a satnav device if you aren't sure where to go – that way you won't miss a thing.
The Langham Hotel
There are plenty of luxurious hotels in London, but the famous Langham Hotel is one of the most prestigious. It was built in 1865 at a cost of £300,000 and was the height of luxury for its time. The hotel had its own steam pumped well, air conditioning, toilets in every room, and a world first: hydraulically powered lifts. Over the years, many famous people patronised the Langham Hotel, including the Prince of Wales, Oscar Wilde, and George Orwell. Today the hotel is considered to be very haunted, so pay a visit there and you can do some ghost spotting at the same time as admiring the wonderfully ornate architecture.
London's Smallest House
There are plenty of people who think property in London is overpriced and way too small for the money. Well in this instance they would be right. The smallest house in London is only three feet wide at its smallest point, so not even wide enough for a full-sized bed. You can find it at 10 Hyde Park place in Marble Arch, but don't blink or you might miss it. This teeny tiny house was built in 1805 and legend has it that it was constructed to prevent body snatchers slipping through an alleyway into the nearby St George's Graveyard.
Hornsey Road Baths
The Hornsey Road Baths is a Victorian masterpiece. Built in 1895, the original structure was the largest public leisure facility in the UK. It houses four swimming pools, a laundry and washhouse for the general public, and lots of slipper baths. The gatehouse entrance is a listed building, but the old boiler chimney has since been turned into a glass masterpiece, which serves as a lobby for the new apartment block development and offices for Islington Borough Council. At night, the integral lighting installation is amazing.
Canada Water Library
If modern architecture is more your thing, make your way down to London's Docklands to see the spectacular Canada Water Library. Designed by Piers Gough, the Canada Water Library is clad in anodised aluminium. It contains a theatre, café, meeting rooms as well as a library, and is very environmentally friendly thanks to a ground source heat pump.
Charlton House
Lastly, for a taste of history, you must visit Charlton House in SE7 as it is one of the finest Jacobean houses in England. As well as boasting fine views, it also has a resident ghost.