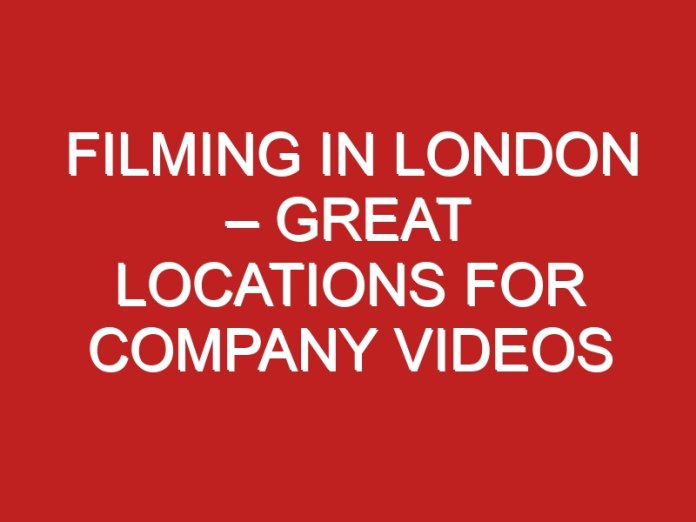 London has the lot. As one of the most popular tourist destinations and a centre of international business it's no wonder that individuals and companies want to get a feel for the place – and to be part of it.
And for those brands who want to be identified with this iconic city, one way to benefit from all that can be enjoyed in the UK's capital is by associating your brand with it – on filming in London. Of course  there are several things you need for a great video – such as hiring a great company, using the right equipment, including the right people, content, and so on. However, one aspect of your video that can affect its quality greatly is the location.
A good location can boost the quality of your company video – as it is what will give the footage its overall aesthetic quality. This is what makes London a great city for filming; it is a vibrant city with several historic buildings, iconic landmarks, recognisable streets, and other great landscapes that are perfect for location shoots. Below the guys from Tech TV's Corporate Video Production Team take a look at some of the top locations in London, which are guaranteed to make your company videos great:
Borough Market
Market places are great filming location, as they showcase a people's way of life and culture. Add the amazing variety of foods, clothing, crafts, and other merchandise at the market stalls, and you have a great background for your video. This is the reason why the London Borough Market is http://boroughmarket.org.uk/ is one of the top locations for company video production in the city.
Notting Hill
Notting Hill is an iconic neighbourhood in London, which attracts a lot of tourist due to its rich culture and the classic London experience it offers. It is a vibrant area, which is especially famous for the Notting Hill Carnival. It is also famous for the Portobello Road Market, a two-mile stretch of the area that is home to antique shops, pubs, clothing stores, food stalls, etc. You will also find amazing things like graffiti art and shops with quirky storefronts. All of these features provide great aesthetic appeal, which makes Notting Hill a great location for shooting company videos.
London Royal Parks
Parks are other ideal film locations. The luscious green landscape of a park provides a beautiful backdrop for your video. The breeze and serenity of these locations also help to create a relaxing atmosphere, which is perfect for engaging your audience. This is what makes the London Royal Parks perfect locations for filming https://www.royalparks.org.uk/media-centre/filming-in-the-royal-parks. There are a total of eight parks to choose from: the Bushy Park, Green Park, Greenwich Park, Hyde Park, Kensington Gardens, Regent's Gardens, Richmond Park, and St. James Park.
London Eye
The London Eye is one of the most iconic attractions in London, and simply having it in your video will capture the attention of your target audience. The eye makes a great background for videos – you can capture it when shooting underneath or from other areas, for example, across the Thames River. You can also capture great footage of the London skyline when shooting on the Eye – from the Houses of Parliament to Westminster Abbey, the Shard, River Thames, Buckingham Palace, the London Tower Bridge, parks, and others. It is thus no surprise that several top brands have shot their company videos at the London Eye https://www.youtube.com/watch?v=LlZ_xDx2Zl0
Big Ben
The Big Ben clock tower is another iconic landmark in London, which makes a perfect filming location. The 1859 neo-gothic tower can offer a great background for your videos, and its recognisable structure will be ideal for grabbing the audience's attention. If you are looking to create an even more aesthetically pleasing video, you can shoot at the tower during the night – when it is illuminated. The night lights of the city will also offer a great aesthetic appeal for your video.
Waterloo station
Train stations are great locations for filming, especially if you are shooting anything travel related. The huge crowds are also ideal for showcasing the urban craziness of a busy city. Add bullet trains to the list, and you have an amazing location that will make your video a hit. In London, one of the best places to find all these is the Waterloo station. It is one of the most preferred filming spots in the city, and it has even been featured in popular films such as the Bourne Ultimatum.
London Underground
The London Underground (the Tube) is a rapid transit system for London city. It is one of the most popular filming locations in the city, with several spots of the system appearing in popular movies. The Underground was covered in the Crossrail Project footage https://www.tech-tv.co.uk/crossrail-by-drone-and-timelapse/, which featured the construction of a new railway line.
There are several great filming spots on the underground network, top among them being the Aldwych station, Charring Cross station, Temple tube, and Fulham Broadway.
South Bank
The London South Bank is another popular location for filming. Sitting beside the River Thames, it is the perfect place to shoot your company video if you want to capture this popular river. The South Bank also boasts of a great landscape – a tree-lined walkway along the river, lines of restaurants, shops, and pubs, and several social benches. On top of that, it offers great views of several London's attractions, for example, the Houses of Parliament, Big Ben, and the London Eye, all of which can make a great backdrop for your video.
Westminster Bridge
The Westminster Bridge is another location from where to shoot your company video(s) in London. It is an iconic landmark, which makes it a great addition to your footage. It also allows you to capture the Houses of Parliament and Big Ben in the background. You can thus showcase a classic London setting in your videos using this location.
The Tower Bridge
If you want to capture your audience's attention and wow them, the Tower Bride is another perfect shooting location in the city. The suspension bridge technology has been one of the most popular attractions in the city. Due to its iconic structure, it has been featured in several TV and film scenes, for example, the Fast and Furious 6, Mission Impossible, Spectre, Tomb Raider, and others.
If you are looking to film your company video in London, there is no shortage of filming locations. The above are some of the top spots where you can film, but there are several others not on the list. Let us know your favourite locations for filming, photography and well, anything else…