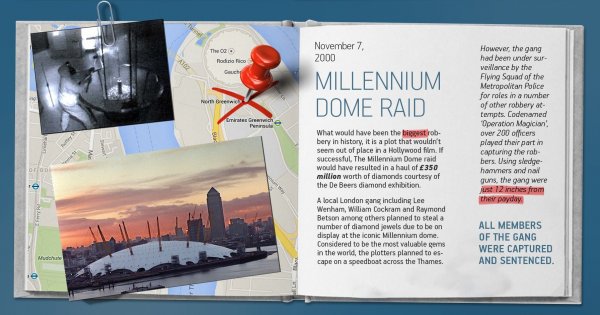 There are many famous crimes throughout London's long history – one of the most recent was the Millennium Dome raid where a gang of blokes tried to rob the De Beers exhibition. They didn't get away with it.
The Millennium Dome raid was an attempted robbery of the Millennium Dome's diamond exhibition in Greenwich on November 7, 2000. A local gang planned to raid the De Beers diamond exhibition which was being held in the dome at the time (along with several other major exhibitions that were largely considered failures).
The gang had planned to escape via the Thames in a speedboat. The De Beers diamond exhibition had a number of major jewels on display including the Millennium Star, a flawless 203.04 carat gem with an estimated worth of £200 million (about $300 Million) and considered one of the most perfect gems in the world.
The attempted robbery was foiled by the Flying Squad of the Metropolitan Police Service, who already had the gang members under surveillance for their suspected roles in a number of unsuccessful armored vehicle robberies. The operation to foil the robbery was the biggest operation undertaken in the Flying Squad's history and at trial the judge in the case commended the way it was carried out.
If the heist had succeeded, then with a haul of £350 (about $400 million) million worth of diamonds, it would have become the biggest robbery in history at the time. There has been a recent development with the case with two of the raiders having their sentences reduced.
There's also a cool graphic that shares many of the world's most famous raids – London is one of the chosen few.
Check it out below: