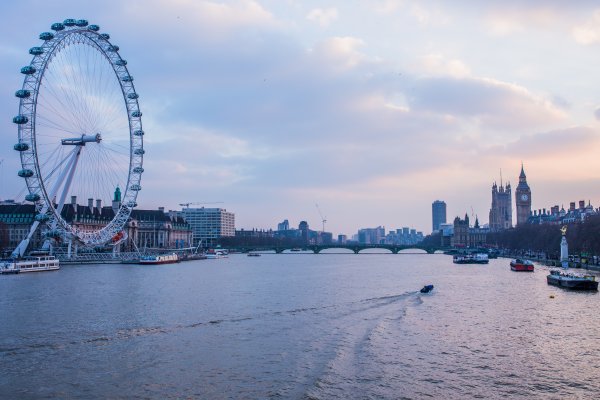 London is one of the world's busiest and most culturally diverse cities With 8.7million residents calling it home. It is full of choices and opportunities, both exciting and overwhelming and sometimes it can be hard to know where to begin. Randstad's research shows that based on various lifestyle preferences, there's somewhere in London to suit everyone, so we've made it easy for you by breaking it down into boroughs to give you a bit more of an insight into some of the many aspects that make up our city.
West London
If you've ever sat on the Piccadilly line until it goes overground then you'll already be familiar with some of the places West London has to offer. With plenty of green spaces (and we're talking real London countryside here), great transport links into the centre and Heathrow Airport making it a hub of cultural diversity, international travel and high employment, West may well really be best.
Brent
Not only is Brent the second most culturally diverse borough in London but it is also one of the most diverse places in the UK. Home to Irish, Caribbean, Asian and Brazilian communities to name a few, the area is a vibrant place to explore. With more affordable rental properties than other areas of London and the pull of trendier areas such as Kilburn and Kensal Rise, Brent is becoming popular choice amongst young adults and families alike.
Ealing
Whether it be shopping, partying or a relaxing Sunday stroll, Ealing has it all. A mixture of green spaces, delicious restaurants and thriving nightlife, Ealing also has a strong cultural history, ranging from the long standing annual Jazz Festival to Ealing Studios, centre of the British Film industry. A borough both beautiful and bustling.
Hammersmith and Fulham
As one of the most central areas of West London, Hammersmith and Fulham really feels like part of the city. Full of shops, bars and clubs and just over half an hour into the centre there's plenty to keep you occupied. Sports fans will know of the area's reputation for a range of games from tennis to polo as well as playing host to both Chelsea and Fulham football clubs but if you prefer something a little more relaxed, why not go for a cycle along the river or in one of the many parks this bike-friendly borough has to offer?
Harrow
For a Borough that leads the way in recycling, falls well below the London average for carbon emissions and is classed as the second safest area in London you can already guess that Harrow is a pretty lovely place to go. Famous for being home to one of the UK's most elite public schools, its quintessential Britishness mixes seamlessly with the area's thriving multiculturalism making it a vibrant place to live for first time buyers.
Hillingdon
Despite being one of London's most distant suburbs, Hillingdon is offers an easy commute into the centre, making it popular amongst city workers who want to get away from it all. With gorgeous scenery and canals you can explore a more rural side of London whilst staying connected to all the city has to offer.
Hounslow
The London borough of Hounslow is not only one of London's happiest, but also one of its most diverse. From the bustling Hounslow high street, filled with Indian fabric shops, cafes and restaurants to the quieter riverside town of Old Isleworth and the classier high end shopping of Chiswick, there really is something for everyone. Home to Heathrow Airport, Sky and Gillette, the area is thriving with jobs and opportunities making it perfect for young professionals working in London.
East London
East London already has the reputation of being one of the coolest areas of the city, with London's first Cat Café and village, the world's most instagram friendly street art and the Olympic Stadium to its name, but there is so much more to explore in this hipster paradise than meets the eye.
Tower Hamlets
Whether you're travelling by bike or DLR or Jubilee line, Tower Hamlets is just a stone's throw away from the city centre and people are cottoning on. Recently ranked amongst London's best boroughs for both new homes and active businesses, the area is thriving. Home to the financial district of Canary Wharf and boasting large stretches of urban riverside, the high rise flats springing up give you some of the best views the city has to offer.
Newham
As London's most culturally diverse borough, Newham is a vibrant area to explore whichever mode of transport you chose to take – you can add cable car and ferry to the usual list! Take a walk around the world famous Olympic park or shop till you drop in Stratford Westfield. Redevelopment of the area for the 2012 Olympics has brought new life to Newham and whether its sports, live music or a trip down the canal in a barge you enjoy, this area of East London has it all on offer.
Waltham Forest
One of the more suburban areas of East London, Waltham Forest is divided in half by the North Circular, showing visitors both sides of its personality. The Northern half of the borough is filled with green space and the Southern half has a busier, more urban feel to it, meaning whatever your mood, there is always something to do. Great transport links into London make it popular with both young professionals and families.
Barking and Dagenham
As London's most eco-friendly borough, with the lowest carbon emissions across the board and large amounts of green space, Barking and Dagenham is more than its stereotype suggests. Dagenham village, a quaint and ancient site might surprise visitors expecting a more industrial area and low house prices make it an affordable choice for first time buyers.
Redbridge
Far from East London's hipster reputation is family friendly Redbridge, an area known for its good schools, green spaces and leafy suburbs. but with just under an hours commuting time and good train links into London, the city's hustle and bustle remains at your fingertips.
Havering
With more green spaces than any other London borough, Havering is another East London area perfect for families. The historic market town of Romford is a vibrant community with good shopping and restaurants and the introduction of Crossrail in May 2019 suggests that the area will quickly become a property hotspot for Londoners.
Hackney
Hackney is probably where East London got its cool reputation from. With more bikes, coffee and hipsters than you can shake a stick at and full of weird, wonderful and artsy establishments , young Londoners need look no further for a good time. For some time out, why not go for a walk along the canal or read a book in London Fields? Be sure to bring cash for your lunch at Broadway Market though!
South London
South Londoner's live in a London of their own, jokingly marking 'here be dragons' on maps of the city and scorning their kin who dare to cross the river. Why? Because South London contains some of the capital's best kept secrets. A fierce community thrives in this area of commons and buses. And then of course there's Morleys..
Bexley
Not only one of London's safest boroughs but also gaining top marks when it comes to household recycling, Bexley is a great place to explore. From parks and gardens to the bustle of Bexleyheath high street, it offers the best of both worlds, with affordable housing and a quick commute into the centre.
Bromley
Bromley is one of London's biggest boroughs and as such, feels like a place unto itself. It feels spacious, with large houses, beautiful scenery and a historical town centre making it perfect for families and those settling down. this leafy suburb is full of culture, playing home to a young David Bowie and offers an ideal retreat from the busy city.
Croydon
With more new housing than any other London borough and a wealth of businesses setting up base in Croydon, this area of London is set to boom. A redevelopment project set to transform the location to a hot destination boasts a Westfield, new housing and over 600 new shops. With easy transport links into both London and Brighton, Croydon is full of choices and opportunities to explore. Oh and there's trams too!
Greenwich
Greenwich is another area of South London benefiting from new housing projects, with buyers flocking to the area for its great transport links and cultural history. Home to the Royal Observatory, the O2 Arena and one of the best parks in the capital, it's easy to fall in love with this unpretentious area of London, for its good looks and wealth of options to explore.
Kingston
As one of London's happiest boroughs, Kingston is full of opportunities, whatever mood you're in. Whether it be shopping in the town centre, catching some live music or relaxing by the river, Kingston proves that you don't need a tube station to be part of the city. National Rail offers excellent transport links into the centre but everything you need can be found in this gorgeous medieval borough.
Lambeth
As one of the more central South London Boroughs, Lambeth is home to world famous landmarks like the London Eye and Royal Festival Hall. Just a spit away from the centre it is a vibrant area known for its delicious food, live music and good nightlife. With a high number of new homes being built, young professionals are flocking to live here.
Lewisham
Up and coming Lewisham has one of the highest number of new homes being built across the London boroughs. Whilst it may not quite have the reputation of Hackney for hipsters, the area is full of exciting art projects, new bands and independent retail with the recent Deptford Market Yard redevelopment attracting young entrepreneurs to the area. It is an exciting and vibrant mix of multiculturalism and gentrification on the edge of becoming one of London's trendiest locations.
Merton
For a trip into to the suburbs you couldn't do much better than exploring Merton's 1700 acres of open space. This sparsely populated area of South London is the perfect retreat from city life with gorgeous scenery to help you escape from the hustle and bustle of London. Made famous by the world renowned Wimbledon Tennis Championships, the area is sophisticated and affluent, making it an ideal place for settling down.
Richmond
Low on crime and high on cycling, it is easy to see why Richmond is often voted as one of the happiest London Boroughs. With over 100 parks including Richmond Deer Park and Kew Gardens all on your doorstep it's hard not to feel relaxed in this historical borough. Why not sip a cocktail by the riverside or explore Eel Pie Island for some artistic inspiration?
Southwark
With over 17000 active businesses, Southwark offers some of the best job opportunities in the city. Its proximity to the centre of London means that there is always something going on and that something is usually in Timeout. Whether it be a play at the Globe or drinks up the Shard, Southwark gives you the true 'Londoner' experience.
Sutton
This South West London suburb has a strong community that work to make it one of London's happiest, safest and greenest boroughs, with Sutton carbon emissions coming close to bottom in the capital's rankings. Good schools and beautiful scenery make it an ideal location for families with trains into central London taking just over an hour.
Wandsworth
As one of London's most desirable areas to live in, Wandsworth has the most new homes being built out of any area of London. The inner city borough provides a good mix between the green spaces of Battersea Park and the more vibrant areas of Tooting and Balham known for their nightlife.
North London
Alexandra Palace, Camden Market, Hampstead Heath and Highgate Cemetery – North London landmarks are known across the world and now the nighttube has started running on the Northern line, these places are easier to get to than ever…
Barnet
Despite being at the other end of the Northern Line, Barnet is a thriving business hub, with many active businesses providing job opportunities for people in the area. Whilst it is not cheap to buy, rental prices are very affordable, bringing young professionals to the area to enjoy the green space and spectacular views. The recent introduction of the night tube also makes it perfect for getting your city fix any time of the day or night.
Camden
For alternative culture you need look no further than Camden, whether you're shopping for a steampunk ballgown or seeing the newest punk band, the noisy, the fantastic and the hedonistic all flock to Camden to spend their time. However, so does everyone else… No longer reserved by the goths, Camden is home to a number of celebrities and also many active businesses. this boost of affluence to the area also makes it the perfect destination for fine dining, gastropubs or a walk along the canal.
Enfield
For a village like feel and plenty of green space you couldn't do much better than Enfield. Whilst it is popular amongst families for its low crime and open spaces, it is also one of London's more affordable boroughs with great links into the centre and as such is attracting many new buyer to the area.
Haringey
A vibrant and diverse area of London, Haringey is famed for its Turkish food, pop up bars and trendy young parents. Exploring where the hipsters go to have children is a lot of fun. The excitement and interest of East London mixes is tempered by the relaxation of green spaces and play areas to form the perfect balance.
Islington
As London's most densely populated borough, Islington is busy and brilliant. Explore the high end fashion shops, grab some food on Upper Street or enjoy some live music in the Union Chapel that will send shivers down your spine. The options are endless, making it easy to see why this area is so popular amongst Londoners.