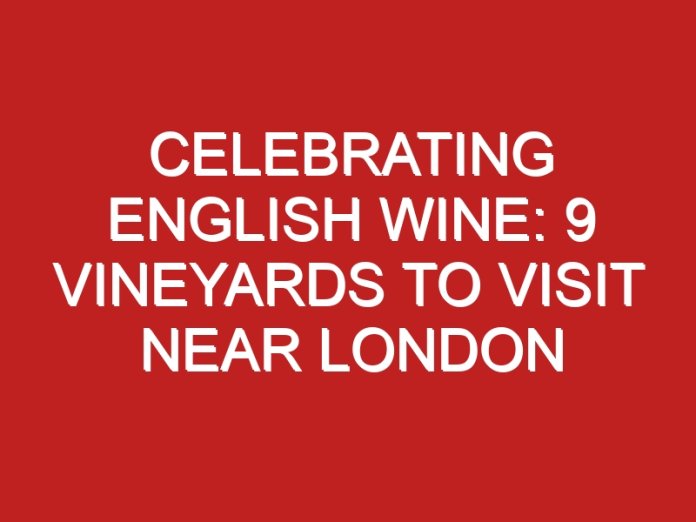 Let's be honest, England isn't exactly the first country that comes to mind when you're thinking of fine wines. How could this region possibly compete with top quality wine producers such as France, Italy, Spain and the United States? Well, you may be surprised to find out that over the last decade or so, English wine has been steadily growing in popularity. According to Decanter magazine, England is now "a premium wine-producing region, with more than 450 wineries and around 3.15m bottles produced a year." Who knew?? 
Chardonnay, Pinot Noir, Bacchus, Pinot Meunier and Ortega are the most popular grape varieties grown here. The South and South East have the most favourable wine-growing climate, with Sussex and Kent being favourite locations. And before you start wondering if English wines are actually any good, let me tell you that especially our sparkling wines are internationally recognised for their superb quality, great flavours, creativity and flair, and with medals and awards to prove it!
Of course, the proof of the wine is in the drinking, as it were – and with that in mind let's take a look at some of the best vineyards near London where you can sample the good stuff.
Bolney Wine Estate, Haywards Heath, West Sussex
A 15-minute taxi ride from Haywards Heath station is a bucolic spot in the Mid Sussex countryside where luxury English wines have been produced for 50 years. Explore the collection of award-winning reds, rosés and white as well as traditional method sparkling wines. Book in for the full vineyard experience on one of Bolney's tours and tastings, and chill out on the balcony of The Eighteen Acre Café with stunning views overlooking the ripening vines.
Chapel Down Winery, Tenterden, Kent
Take the train from St Pancras to Ashford International and a taxi to Tenterden to find one of the UK's best known wine producers for a chance to sample their collection of aromatic white wines, fruit forward rosé wines, exclusive red, and world-class award-winning sparkling wines. There's a choice of guided tours and tutored wine tastings with lunch in The Swan restaurant, all designed to give you a relaxed insight into the vineyard and winery set in the High Weald AONB (Area of Outstanding Natural Beauty).
Rathfinny Wine Estate, Alfriston, East Sussex
A short bus ride from Polegate, near Eastbourne, is the decade-old Rathfinny Wine Estate, producer of the finest, low-intervention, traditional method Sussex sparkling wine. Pre-book to arrange for a bespoke group tour and tastings where you learn about the wine making process led by an experienced guide. Situated in the beautiful South Downs National Park, this is a popular events venue for weddings, business meetings and private dining, with two venues – Flint Barns and Tasting Room Restaurant – available to create memorable visitor experiences.
Gusbourne Wines, Ashford, Kent
Elegant sparkling wines are the result of minimal intervention in producing wine from Chardonnay, Pinot Noir and Pinot Meunier vines at the Gusbourne estate near the village of Appledore. Guests can visit anytime to explore the slopes, and self-guided tours with wine picnic together with fully guided vineyard tours are available. Why not choose a hosted tour of the estate followed by an extended tasting and lunch, or book a wine blending masterclass or one of many other special events?
Ridgeview Wine Estate, Ditchling, East Sussex
Just a 10-minute drive from Brighton on the South Coast, Ridgeview Estate is nestled in the picturesque South Downs, a pioneer of English sparkling wine production for more than 20 years. Enjoy a tour of the vineyard, winery and England's only bespoke underground sparkling wine cellars, followed by a tasting of some of their award-winning sparklers. The Wine Garden restaurant offers a great ambience and is the perfect spot for intimate dining. Also look out for the upcoming Ridgefest Wine Festival!
Hush Heath Estate & Winery, Tonbridge, Kent
Take the minibus shuttle from Marden railway station to the home and heart of Balfour Wines and a huge vineyard reminiscent of the Californian Napa Valley or Stellenbosch in South Africa. Since 2002, Balfour have been at the heart of the growing English wine industry, winning national and international awards and the acclaim of sommeliers and wine experts, especially for their flagship Balfour Brut Rosé. For visitors, there are self-guided tours or the private Balfour Wine and Dine Experience where you're met at the train station, given a tour and tutored tasting followed by a wine-paired lunch.
Nyetimber Manor Vineyard, West Chiltington, West Sussex
Situated in the heart of rural South England, the medieval Nyetimber estate has been producing award-winning world-renowned wines for over 30 years to create a range of traditional method sparkling wines. You can experience Nyetimber through a variety of unique experiences, from sampling award-winning wines to enjoying an exclusive dinner by a leading chef. Look out for Open Days, or book the Nyetimber Bus, a vintage Routemaster double decker bus that's a quintessentially British setting for luxury corporate entertainment.
Denbies Wine Estate, Dorking, Surrey
The family-run Denbies Estate overlooks picturesque Box Hill in Surrey and is a mere 15-minute walk from Dorking station. It is the UK's largest vineyard, having produced excellent English wines since the early 1980s. Denbies has an impressive choice of tours for guests as well as a 17-room hotel, two restaurants and a bar. Opt for an indoor wine tasting winery tour, or choose an outdoor vineyard train tour. A recorded commentary enhances the trip and makes this a particularly comfortable and informative experience among the panoramic views of the North Downs.
Terlingham Vineyard, Folkestone, Kent
Finally, if you're into natural winemaking methods, this small boutique vineyard in Kent is a must-visit for unique, artisan English wines. Book in for a guided walk in the beautiful vineyard and get a behind-the-scenes view of how natural farming methods are used to grow grapes. Then, try a selection of award-winning English natural wines. Tours are an 'intimate experience' and by appointment only. Look out for special events including wild woodland meditation retreats.