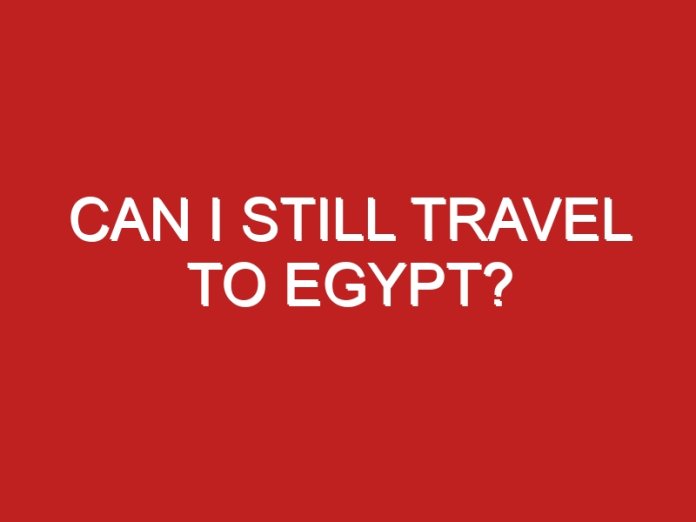 As is the case with most countries around the world, the coronavirus also left its mark in Egypt. The African country has struggled with keeping the virus in check. Following in the footsteps of other nations, Egypt also implemented a comprehensive travel ban. This naturally also affected the issuing of visas. As it stands, applying for a visa is still possible, but one should take note that travelling to Egypt is subject to restrictions.
All international trips to Egypt are currently no longer possible. This travel ban, which was instituted in March, was originally set to last until mid-April. As expected, it has since been extended. There is currently no definitive date when the international travel ban will be lifted. The government of Egypt has allowed for certain exceptional cases to still be allowed to enter, though even these special travellers are forced to undergo a two week quarantine on arrival.
The international travel ban isn't the only measure the government in Egypt has taken in the struggle against the coronavirus. For instance, Egypt also has a curfew. From 7 in the morning until 6 in the evening, nobody is allowed out on the street. Shops are only allowed to be open for a limited time, and most government agencies are flat-out closed.
If you plan to travel to Egypt later in the year
In recent weeks, Egypt has floated the idea of slowly reopening the country to international traffic. Tourism is one of the pillars of Egypt's economy, making up a hefty 11% of the gross domestic product. Millions of Egyptians work in the tourism sector, and it is therefore no surprise that the government is eager to get things running again. While no concrete dates can be given at this moment, it is expected that the Egyptian government will issue a statement in the near future informing the world that it slowly plans to open up the country again.
This also impacts the visa system. A visa for Egypt can be applied for online, and is mandatory for any trips made to the country. It is advised to temporarily hold off on applying for a visa, at least until the government in Egypt has provided concrete dates on when the country will open again. The reason for this is that while travelling to the country currently isn't possible, visas will still be issued as normal if applied for. Issued visas cannot be refunded in any way.
Applying for a visa online with your passport
Should the time come when Egypt opens up again, you will first need to apply for a visa. To submit a visa application, a valid passport is required. Furthermore, if you are visiting family or friends you need to be able to present a letter of invitation. You also need to be able to show reservations of all of your booked hotels or other accommodations in Egypt. The Egypt visa system differs for people travelling as a group. In these cases, it is mandatory to submit a group application. You cannot submit separate applications per person.
The visa is valid for ninety days, and with it you can stay in Egypt for thirty consecutive days. You can only enter and leave Egypt once on the standard visa. A multiple entry type also exists, which allows you to leave and re-enter Egypt as often as you like.