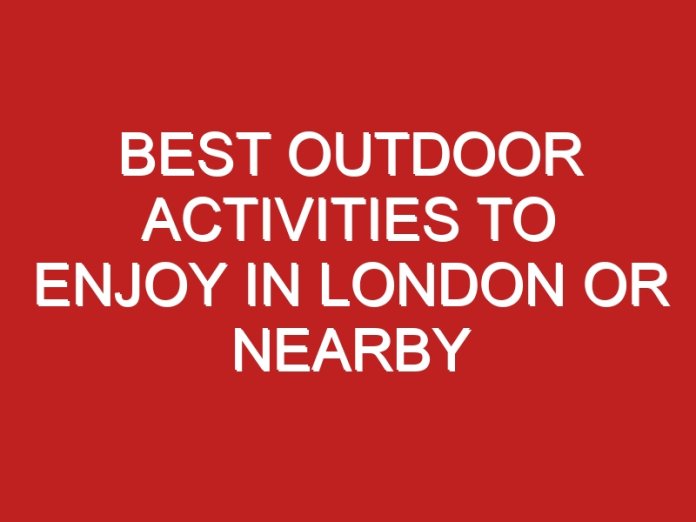 This year, we have all been through a long period of time being cooped up indoors. Now that the restrictions on movement are starting to be gradually lifted, it is time to start thinking about how best you can spend your socially distant days outdoors. During the lockdown in England, many people have been trying to get outdoors more to stay active, stretch their legs, and keep up with their regular workout routines. Now that the public in England are allowed to go out more, and visit places that have reopened, here are just some activities that you can enjoy during your time outdoors, either in Central London or in nearby areas.
Go for a socially distanced walk
When living in Central London, or in an apartment, there are many households that do not have a garden or green space to enjoy. When lockdown was at its tightest, many couldn't travel to nearby parks or woodlands for a walk if they lived too far away. However, now that restrictions are lifting, there are many great parks to visit in London. Hyde Park, St James's Park , and Regent's Park are just some of the most popular parts to visit in the city.
Whether the weather is nice and sunny, or a bit grey, going for a solo walk or a socially distanced one with friends or family can clear your head and help you relax more. There are also many iconic locations to see at London parks such as the Albert Memorial and Kensington Palace by Kensington Gardens. If you want a fabulous scenic view of the London City skyline, then Primrose Hill in Camden at Regent's Park provides a stunning view.
Taking part in paintball & airsoft games
Another great example of a fun activity that you can still complete whilst socially distanced is good old fashioned paintballing! The bigger the battle area, the better, and paintballing is the kind of fun that doesn't feel like exercise at all, even though you are definitely raising your heart rate. Go Paintball London and Delta Force Paintball have both opened their doors again in London and are operating at a reduced capacity with many safety measures in place too. Airsoft experience providers have also opened their doors again with social distance safety measures too. Airsoft rifles and pistols have also seen a surge in popularity during lockdown, but it's important to understand the Airsoft UK Laws & Regulations before you think about purchasing an imitation firearm or replica imitation firearm.
Take the family on a socially distanced picnic
If you're thinking about taking the family outside of London for some fresh air, there are plenty of woodland activities that can keep kids entertained for hours. Hatchlands Park in Surrey and Modern Hall Park are just some great National Trust parklands for you to enjoy, whether you are walking, running, or having a family picnic. Especially when you're used to busy London traffic and the tiring commute, getting out into beautiful parklands can help you relax and unwind.
Run with a friend down by the River Thames
With the lack of open gyms for the past few months, exercise is something that a lot of people have been struggling with. However, many people have been purchasing their own gym equipment, creating exercise circuits at home, or going out running. Couch to 5k and Nike Run Club are just some mobile apps that have helped people get into running and beat their personal bests. If you live in London, there are plenty of places for you to run, you just need to be aware of busy pavements and roads! South Bank is a great place to run down by the River Thames and check out some iconic London landmarks. On your running route you can rush past Big Ben, the London Eye, and the Houses of Parliament. If you carry on your route further down the river you can also come across the Millennium Bridge, St Paul's Cathedral, Tower Bridge, and much more!