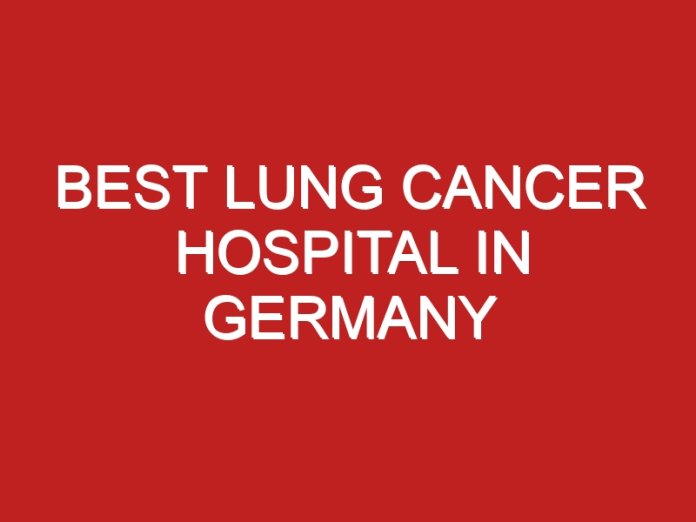 Despite all the efforts of the healthcare community, lung cancer remains a pressing global health challenge. Data from GLOBOCAN 2020, produced by the International Agency for Research on Cancer (IARC), reveals that it led to an estimated 1.8 million deaths in 2020. Every year, thousands of people seek an effective cure, and many of them turn to Germany for its advanced lung cancer treatments. But with so many excellent clinics, it can be difficult to pick the best lung cancer hospital in Germany. Let's walk through what the country's healthcare system offers to help make that choice clearer.
How to select the best hospital
When facing a serious disease, dealing with choices and organizing treatment on top of that can be overwhelming. There a few factors to consider when selecting a lung cancer hospital, particularly in Germany:
Specialization and experience. A hospital's reputation in thoracic oncology is what you need to pay attention to in the first place. Top hospitals are recognized by respected groups such as the German Cancer Society. This tells you that they are dedicated and skilled in treating lung cancer.

Innovative approaches. For serious cases like stage 4 lung cancer, the best hospitals use the latest treatments. They focus on constant research to offer the newest and most effective methods.

Diagnostics. A quick and accurate diagnosis is the key to effective treatment. Top hospitals use the best equipment and methods to get a full picture of the disease. This approach ensures that the choice of targeted therapy is right for each patient.

A variety of options. Lung cancer treatment has many options, from surgery to radiation therapy. Leading hospitals offer a wide range of these treatments, ensuring that each patient gets the tailored care.
Getting the best diagnostics and treatment is what you need to concentrate on, but doing so is difficult without understanding the cost. It's important to choose a clinic that provides top-quality care at an affordable rate. When looking at cancer clinics, you need to find the right balance between price and the quality of care they offer.
The top 5 hospitals for lung cancer treatment in Germany
The country is home to a number of world-renowned specialists and best equipped clinics for lung cancer treatment, but there are a few which stand out:
St. Vincentius Hospital Karlsruhe – Academic Hospital of the University of Freiburg. Known for its specialization in endoscopic interventions and bronchoplasty, this hospital ensures sparing therapy, especially at the early stages of lung cancer.

University Hospital Heidelberg. With a strong reputation in the medical field, this hospital is amongst the leaders in oncology. Their thoracic surgery department treats over 800 lung cancer patients annually.

University Hospital RWTH Aachen. This facility has over 60 specialized departments with a wide range of treatment options. For example, they are known for tumor removal with high doses of radiation without surgery.

University Hospital Frankfurt-am-Main. A global leader in medical care. This hospital offers innovative treatment methods and top-tier equipment. They also provide specialized care protocols for bronchogenic cancer.

University Hospital Jena. This center is often listed among Germany's best medical institutions. Their approach is integrative, ensuring that all aspects of the patient's condition are addressed. In particular, they use the da Vinci robot for video-assisted lobectomy.
How to make your treatment easier
While planning treatment, especially in a foreign country, you can find yourself lost among the variety of decisions, procedures, and protocols. Understanding the German medical system is no exception: It can be challenging, especially for those coming from other countries.
Language barriers, understanding treatment options, obtaining estimates for prices, and coordinating with hospitals are just a few of the challenges that you may face. Moreover, the price for treatments becomes a critical aspect to consider.
Here, you can consider getting professional help in organizing your trip abroad and the therapy itself. Booking Health offers international patients a guided pathway to receiving the care they need in Germany. With such a plan created for your needs, you can:
Eliminate language barriers. No need to search for translators or risk misunderstanding important medical information.

Get cost estimates. Understanding the price beforehand, you can be sure there are no hidden costs or surprise bills.

Streamline processes. Things like making appointments and treatment schedules can be organized for you in the most efficient way.

Find expert guidance. This way, you get insights into the most suitable treatment options and the best cancer clinics, tailored to your individual needs.
Selecting the right hospital in Germany for lung cancer care involves many factors, apart from the hospital's reputation. Among them are treatment methods, costs, and more. It's important to have all the facts to get the best care, having a guiding hand can be invaluable. Consider your options carefully and get the best assistance you can have.