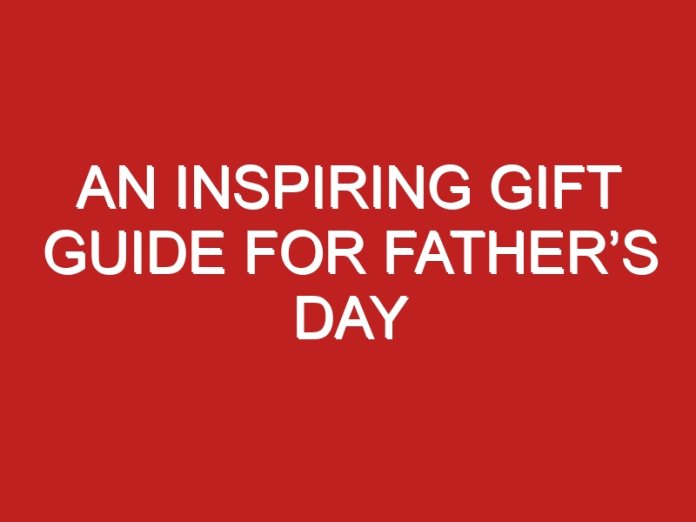 Father's Day is just around the corner, and it's the perfect opportunity to show the father figure in your life just how appreciative you are of him. Whether he's a sports fanatic, a keen gardener or enjoys listening to his favourite music, there are plenty of gift ideas you can buy to make his day special. Here are a few suggestions to inspire you in preparation for Father's Day, from products he'll enjoy to food and drink and non-materialistic experiences. 
Treat him to a pampering day trip to the spa
Your dad has no doubt done a lot for you over the years, so what better way to say thank you than with a pampering day trip to a spa for indulgent and revitalising treatments where he can relax and unwind. It's the type of experience he'd never book for himself, but is sure to enjoy immensely. With a spa experience, your dad can enjoy massages, spend time in the sauna and truly relax for a wonderful day out. 
Buy him a gift voucher for a luxury grooming experience
Few men can resist a great smelling cologne or the feeling from a great haircut, but your dad may not be the type to buy those things for himself. Father's Day is the perfect chance to gift your dad a luxury grooming experience, such as a haircut and a hot shave to make him feel like a brand new man, or a new cologne for a fresh scent that he can wear every day. It's an indulgence that will last beyond Father's Day and something that's guaranteed to make him feel great. What more could you ask for from a gift?
Take him to a wine or whiskey tasting
For the fathers out there who are passionate about a good glass of wine or a peaty whiskey, a day trip to a local vineyard or a whiskey tasting experience is guaranteed to be a lot of fun. Whether he goes with friends or you join him for some quality time with your dad, it's a memorable experience that he'll be talking about for years to come – plus, he'll gain some knowledge about his drink of choice too! 
Dive into a new skill or hobby with online classes
If your dad is always saying he wants to learn how to cook or improve his guitar playing skills but never has the time, a membership to online classes could be a great present for Father's Day. Easy to do around work and with a wide range of hobbies and skills to learn, platforms such as Masterclass or Skillshare are the perfect solution to learning anything he's interested in, on his own schedule. You never know, he might discover a whole new hobby to keep his evenings and weekends occupied with that he had never even considered. 
Spend the day on the racetrack
A high-octane driving experience spinning the wheels of luxury race cars, from Ferraris to Lamborghinis and Aston Martins, can offer the chance for him to feel like an F1 star hurtling around the track. It's a great day out that your dad is sure to love and he'll have his pick from a wide range of luxury vehicles that he's no doubt always dreamed of sitting behind the wheel of. With locations all around the country offering luxury driving experiences, there are driving experiences to suit all, from thrill seekers and car enthusiasts to rally driving and off-roading. 
Coffee subscription service
Coffee is something that has become a popular hobby in itself over the past couple of years, and the culture surrounding this morning beverage has grown exponentially. If your dad is passionate about the different brewing methods and flavour notes, a coffee subscription can make for a great gift that will enable him to sample coffees from around the world every month and explore the regional coffees that he enjoys the most. 
Make those home movies shine
If he's always been the one whipping out the camera at events and birthday celebrations, or recording those school plays, help him upgrade his set-up with a portable projector that has high definition and onboard audio, So, whether you're playing old home movies in the living room or enjoying an outdoor cinema screening, he'll have the tools to provide a great show. 
Help him learn about his ancestry
Learning about your past is always a fascinating dive into history, so why not make this Father's Day a personal one and gift your dad an ancestry kit so he can learn about his family tree? With services such as Ancestry, you input the details you know and they do the heavy lifting for you. This means you get all the benefits of learning about the people who have come before you without needing to sift through documents and records. It's a really personal and thoughtful gift that he can dig into even more once he has the key pieces of information. 
It can be tough sometimes knowing what to buy for Father's Day. You want to buy something he'll enjoy but also give him a gift that's memorable and special. No matter what your father loves, he is sure to find something he'll enjoy
in luxury hampers. Whether you choose a gastronomic gift, an unforgettable driving experience, or a pampering treat that will make him feel refreshed and relaxed, hopefully these gift ideas will inspire you when it comes to buying your dad a special Father's Day present this year.