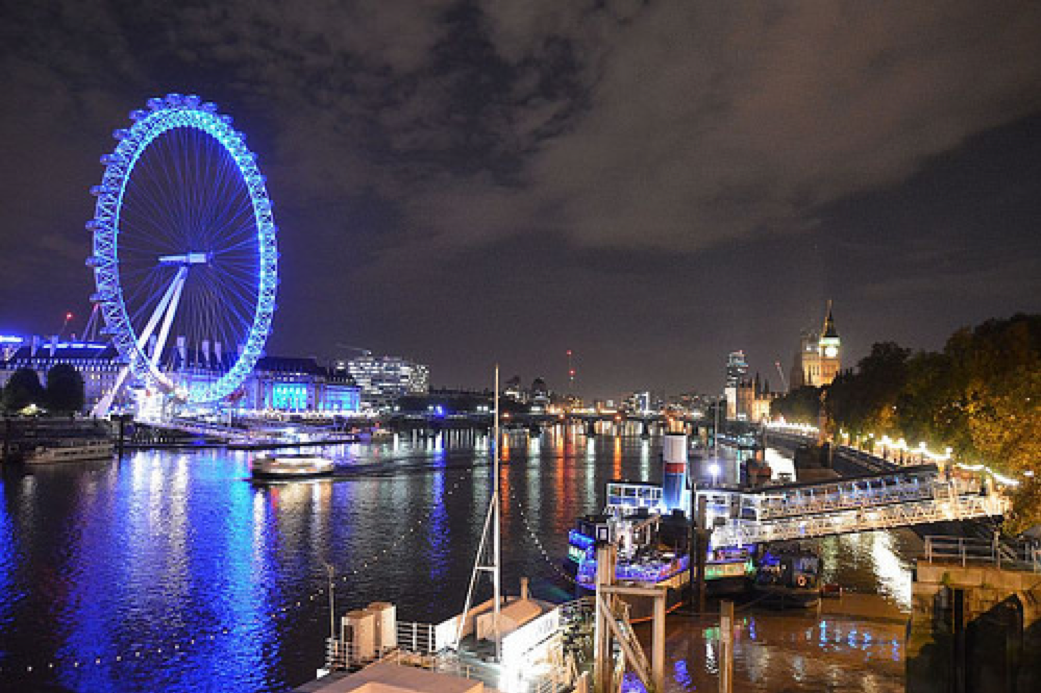 "The London Skyline 18. The London eye & County Hall Night" (CC BY-ND 2.0) by Robert.Pittman
Over the last few years, a new trend known as activity bars has been taking over London. Here, we'll be exploring the roots of pub games and looking into how activity bars became what they are today.
A Brief History Of London Pub Games
According to English journalist and author Richard Boston's book Beer and Skittles (1976), the first national law regarding pubs was actually more to do with pub games than anything else. It was published under the authority of Henry VII in 1495 and placed a restriction on "the indoor games which were distracting Tudor pub men from archery."
Though we can't say specifically which games these were, there are plenty of contenders. The United Kingdom, and London, in particular, has always loved pub games, and some were distracting pub men from archery long before Henry VII's reign. For instance, what we recognise today as bowls can be traced all the way back to the 12th century, when it was played outside on luscious green fields, on sandy beaches and, you guessed it, in pubs.
In fact, jactus lapidum, as it was once known, is thought to have inspired the very first bowling alleys in London back in 1455. These bowling alleys were usually attached to or installed in taverns, ensuring that both bowls and bowling became pub game staples. They were so popular that, in 1541, a law stated that bowls in all forms (including early versions of shuffleboard) were not to be played by artificers, labourers, apprentices or servants, except for on Christmas. This was not repealed until over 300 years later in 1845.
Not long after the law passed stopping workers from playing bowls, a new pub game entered the fray. The card game was known as Noddy and was added to the Oxford English Dictionary in 1589. The game required two or four players, with the latter choice meaning two pairs of partners. Each player received three cards from a 52-card deck, and the aim was to gain points by forming combinations in the hand and during play. Sound familiar? Well, if you're a frequent London pub dweller you may recognise Noddy as an early form of cribbage. It didn't adopt its new title or rules until the early 17th century, but cribbage has remained one of the most popular pub games in London and the rest of the English-speaking world for hundreds of years.
Over the years, even more pub games began to appear in taverns throughout London, including the Lamb & Flag, Cittie Of Yorke, and Ye Olde Watling, all of which are almost as old as the games themselves. Some pub games like bingo got so big that entire clubs and halls were dedicated to them between the 1930s and 70s. Darts, dice games such as Shut The Box, dominoes, skittles, board games, and Aunt Sally all became hugely popular, and even now some continue to attract players all around London.
Where Can You Play Classic Pub Games in London Today?
Though the rest of the UK may no longer associate some of these games with pubs and bars, London has started adopting these ye olde pub games again over the last few years. These London venues that host everything from cribbage to bowling are known as activity bars, and they are extremely popular. One of the most famous activity bars in London is All Star Lanes, where bowling continues to thrive – possibly because workers are now allowed to play any day they like instead of just on Christmas. At All Star Lanes, pub men and women can enjoy fabulous cocktails while they bowl or indulge in some authentic American grub while you watch others attempt to knock those skittles over.
Baranis in Temple has also continued the tradition of bowling in the pub, though they've opted for the older, more traditional version of bowls. In this basement cocktail bar, you can sample Provencal snacks then head to the gravelled petanque court to play a European version of bowls using metal and wooden balls. If you prefer shuffleboard to traditional bowls, then you can always head to London Shuffle Club in Shoreditch to have a game or watch others while you snack on pizza or dance the day away. Alternatively, head to Nine Lives for tabletop shuffleboard and cocktails.
If these activity bars have a bit too much activity for your liking, there are plenty of other venues around London that have embraced the kinds of games where you can at least sit down. At The Grapes, a pub so old it is said to have been a favourite of Charles Dickens', you'll have the chance to play dominoes, cribbage, and even shove-ha'penny. Meanwhile, over in Greenwich, you'll find the Ashburnham Arms where they have a plethora of board games for you to play.
Surprisingly, one of the biggest pub games to gain popularity in 21st century London is bingo. As we mentioned earlier, there was a time when bingo became the biggest pub game ever, but it did look as though bingo would revert back to being a weekly pub night game for a while. That changed in the late 1990s when online bingo soared in popularity. Over the last decade, online sites have transformed bingo into one of the modern world's most popular games, with brands offering brand new varieties such as Slingo, which combines slots and bingo to create a simple but exciting variant. Another new development is bar bingo, where the numbers are replaced with words that players look out for during the course of a night out. Companies like Bongo's Bingo and Rebel Bingo have taken this idea further and have created their own versions of the game; they're loud, rowdy, and are probably coming to bar near you soon!
Pubs Are the New Gaming Arcades
Online bingo isn't the only game that has managed to make its way from the PC to pubs though. Now, even video games are appearing in London activity bars. London has always loved video games, something that is clear from the fact the Museum of London hosts the London in Video Games exhibition and the Victoria and Albert Museum was home to the London Games Festival back in April.
Now, pubs and bars across London are also embracing video games. The Four Quarters in Peckham specialises in arcade games, including Pong, Asteroids, Pac Man and Street Fighter II, allowing players to relive the golden era of retro arcades. Over in Battersea, Four Thieves have gone in the opposite direction and are offering virtual reality experiences and remote-control car-racing in addition to a collection of retro arcade games. Finally, Urban Golf in Soho has gone a little more specific by offering virtual reality golfing games that'll have you believing you're on an actual course.
With so many modern pub games to try out, which will you be heading to? Are you ready to dance the night away at Rebel Bingo or do you fancy a good ol' game of bowls? Perhaps you'd rather try out VR for the first time instead, or relive your youth at an arcade?