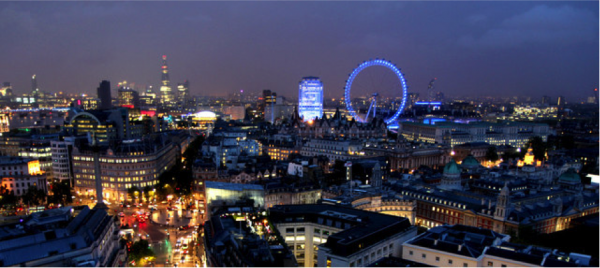 One of the biggest myths surrounding the capital is that it is so large you'll never find the time to get around. To an extent maybe this is true if you're only visiting for a few days, and yes, London spreads over an area of about 1600 km2, and yes, it is larger than other cities in the UK, but the rest is a load of mythical junk!
The great thing about London is that it's divided into several boroughs (32 to be precise) and regions, and of course with the beauty that is the London Underground, it makes it very easy to get around. So, believe it or not, you can actually get from the North to the South and the East to the West in under a couple of hours.
Being the wonderful city that London is, it attracts millions of visitors every year and often leaves people wanting to stay (that explains the overpopulation). The problem most newcomers have, like when moving to any place is finding the right location to reside. Castle Estates letting agency, is just an example of a London based company that will help you to find the perfect property for the right price.
If you need a little bit of inspiration and direction, here is a small guide in helping you to choose the right place for you to live in London:
What are the best areas in London and why?
With approximately 8 million inhabitants, London as we have established is a big city that fortunately has an excellent transport system. When choosing your accommodation, the location will firstly rest on the reason you moved to London in the first place. This might be for work reasons, studies, to be closer to family, etc. In all cases, it is advised and more beneficial to live in and around somewhere that has efficient access to a tube station. The closer into central London you look to move, the higher property prices will be. Living just on the outskirts however, for example in areas near zone 2 will cut the cost of living as well as only taking you a few minutes to get into the city. If you are unsure of the areas zone 2 occupies, this map can help give you a clearer understanding.
Some of the places it does cover are Docklands, Bow and Canary Wharf representing East London, Clapham Junction, New Cross and Brixton in South London, Arsenal, Camden Town and Holloway in the North of London, and areas in West London such as Wimbledon, Wood Lane and White City which compared to the other areas are a little bit more expensive to live.
This is not a guide trying to sugar coat how great London is. Of course, it has the places that visitors and tourists visit when they come and there are many benefits of living here, but like any city there are also the more deprived and not so nice areas for many different reasons in every one of the four regions of the capital.
Put your needs before desires
Of course, we all want to live in a plush London penthouse with a skyline view, balcony, and garden. For most, this is a little out of our depth and more importantly, price range. That's why it is important that when finding a place to live, you prioritise your financial situation, along with considering these few other little details to make life that little bit easier for yourself:
Find out about the nearest public transport available to you as driving through London is not advisable
Use theTFL journey planner to work out how long it will take you to get from place to place around the city
The proximity and quality of schools is an important factor for families residing in the capital
Get to know where and what's around you, for example, find where the nearest supermarket is and local restaurants are. Lucky for you though, when living in London, nothing is ever too far away!