As one of the most visited cities in the world, London has something to offer every kind of tourist. Steeped in history, and home to a huge variety of museums, theatres, shopping districts and excellent eateries, London truly is a city of ideas and imagination.
In 2018 alone, it is estimated that nearly 20 million visitors came to eat, sleep and explore the capital, while visiting hundreds of attractions from Oxford Street to Westminster and everywhere in between.
Getting Around
London has one of the most comprehensive and easy to use public transport systems in the world and its also renowned for having transport options that are accessible for people with various disabilities. Not only do these transport systems cater effectively for individuals with mobility issues such as paralysis as a result of a spinal cord injury or another medical condition, they also have accessible features to help those with visual limitations and hearing impairments travel safely and comfortably throughout the city.
Below are the main methods of transport available in London, together with details of their accessible features.
London Underground (Tube)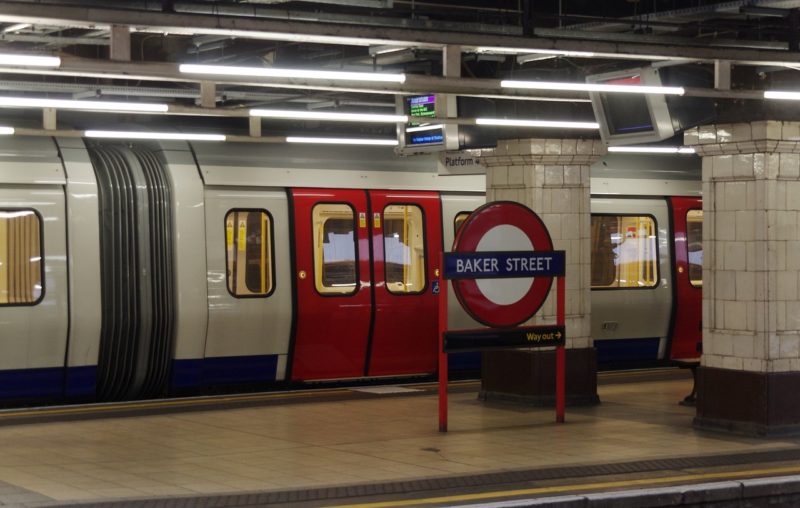 The London Underground – colloquially known as the Tube – dates back as far as 1863 when the Metropolitan line serviced 6 stations between Paddington and Farringdon. It now covers 270 stations and offers 11 lines stretching deep into the capital's many suburbs. While it is an important part of the city's transport infrastructure, the sheer age and design of some of the stations means that travelling on the Tube can sometimes still be challenging for wheelchair users or those with limited mobility.
At present only 78 Tube stations offer some degree of step-free access, while manual boarding ramps at certain stations and interchanges provide additional step free access.  When looking at the 70 step-free stations, only around half are step-free from the platform on to the train. If you want to know which ones are step free, the TfL Tube Map marks stations with a white wheelchair symbol if they are step-free to platform, but may have a gap or step to the train. Look out for those marked with a blue wheelchair symbol to find the stations which are step-free from street right onto the train. Looking at the map prior to traveling on the Tube is certainly advised.   There are plans in place to roll out improved access to more stations, and all stations on the new Elizabeth Line with have step-free access.
Of course, many of the older Underground stations are set far below street level. This should not be a problem though, as lift facilities are available across the Tube network.
Bus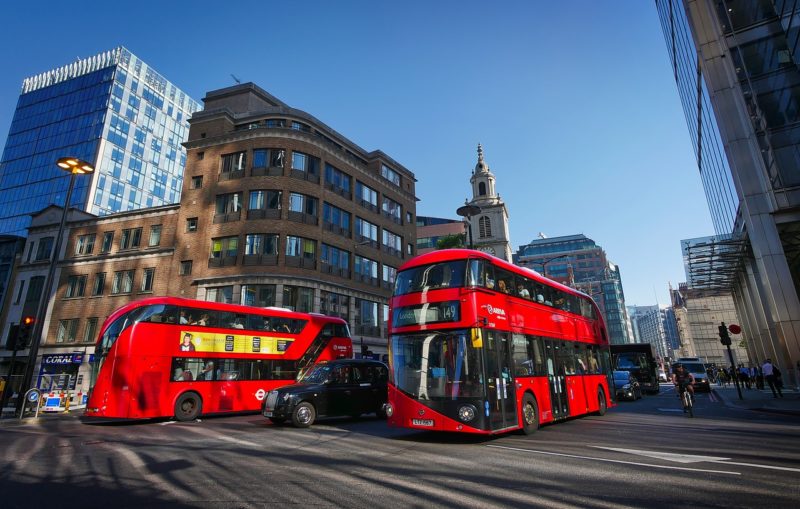 London has the largest accessible bus fleet in the world, and all 8000 London buses are wheel chair accessible. On each bus, you will find at least one space in which wheelchair and mobility scooter users have priority over other passengers. Most wheelchair users will be able to travel comfortably in the designated spaces, but those in very large electric wheelchairs or mobility scooters may not be able to ride.
Guide dogs are welcome on all buses, and audio-visual announcements are available on all routes. There are also priority seats on the lower deck for people who find it difficult to stand. London buses usually have a ramp at the middle doors for wheelchairs and scooters to use, and manual ramps can be lowered if you need assistance with a mobility walker. With their low-level entry points, London Buses are very much designed with easy access for all in mind.
Taxi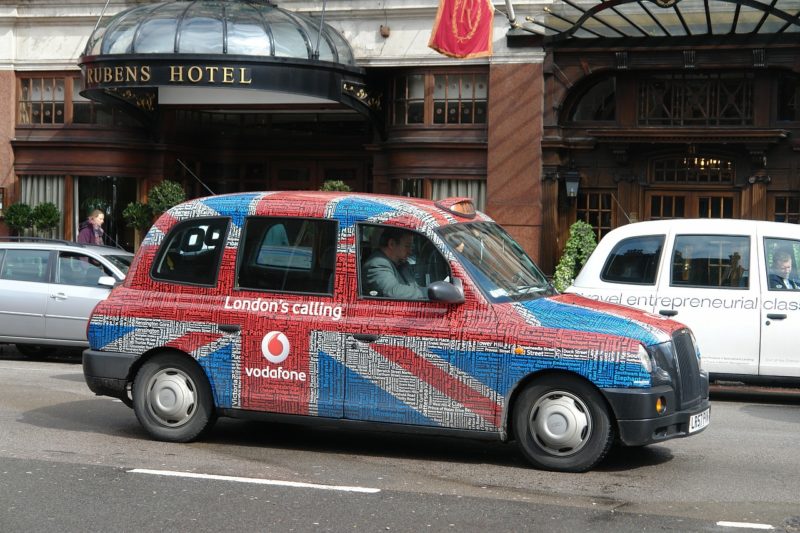 A journey in any of the iconic black cabs you see whizzing through the city streets is part and parcel of a trip to London.  Whether you are taking a scenic tour through the West End or heading back to the airport, black cabs are available everywhere.
Because London is so very well set up to welcome all visitors, every licensed London taxi is wheelchair accessible and features a host of accessibility aids including wheelchair ramps, swivel seats, intermediate steps, high visibility seat panels, coloured grab handles and low level floor lighting. They are also fitted with induction loops for hearing aid users, and guide dogs are welcome to travel with their owners for free.
London Overground and Docklands Light Railway (DLR)
The Docklands Light Railway runs to East London from Bank or Tower Gateway stations and is actually designed to be the first fully accessible railway in the UK. To this end, all DLR stations have lift or ramp access to the platforms and mostly level access to the trains. Most DLR stations are, however, often unstaffed and the trains have no drivers, which can make it difficult to get assistance if you need help while travelling.
The Overground rail network consists of over 80 stations in and around central London. Currently, around half of the stations have step-free access from the street to the platform. All of the stations have manual boarding ramps which can be used by anyone with restricted mobility, and staff are on hand to offer assistance at the station.
Getting there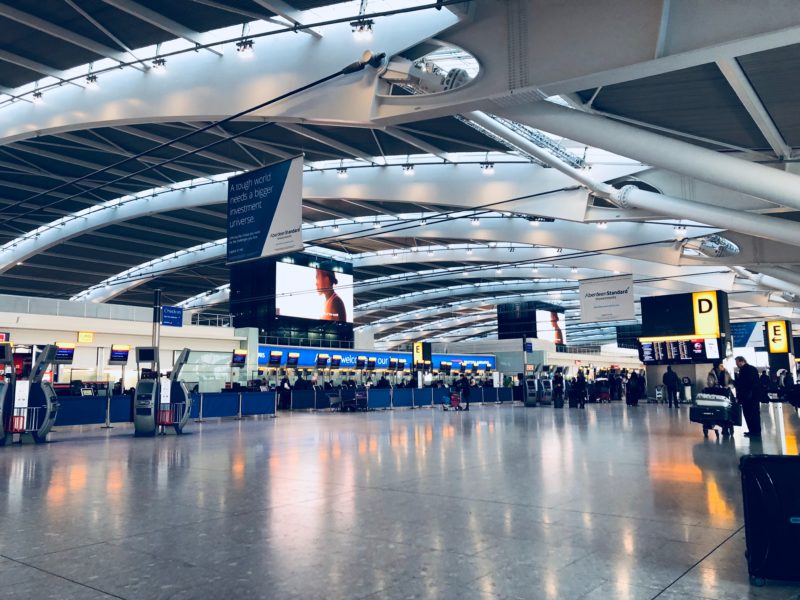 London has four major international airports outside of the immediate city centre, all of which offer public transport into the city itself. Heathrow, Gatwick, Stanstead and Luton all offer fully accessible services. When travelling from the airport to central London, visitors should be able to continue their journey via any of the following options:
London Heathrow – Both Heathrow and Paddington stations are step-free between the train and the platform and the trains are accessible for wheelchair users. National Express buses operate regular accessible services into the city and can stow wheelchairs up to 23kg in the hold. Terminals 1-4 have station access to the platform and staff on hand to help.
London Gatwick – Gatwick Airport train station has step-free access and a ramp to help visitors board the train. National Express buses operate regular accessible services into the city and can stow wheelchairs up to 23kg in the hold. There is no Tube station that services Gatwick airport.
London Stansted – Stansted station has step-free access and a ramp to help visitors board the train, or they can take the National Express coach into London. The buses operate accessible services regularly and can stow wheelchairs up to 23kg in the hold. There is no Tube station that services Stansted airport.
London Luton – Luton Airport Parkway train station has step-free access with lifts and escalators from street level to all platforms. Local buses run towards London, but there is no direct link. There is no Tube station that services Luton airport.